Growing in faith
A young man makes a life-changing decision on a quiet mountain bike trail.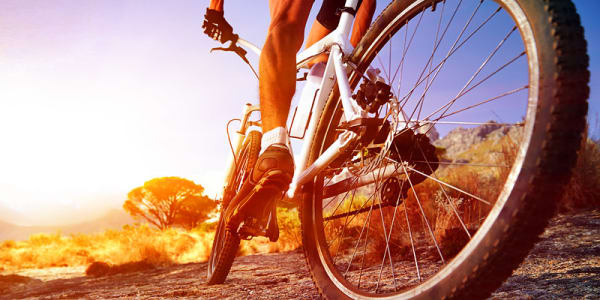 It's a bright and sunny Sunday morning many, many years ago. I'm tuning up my mountain bike and looking forward to having some fun riding the nearby desert canyon trails.
I consider myself a Christian and read my Bible from time to time, but I haven't been to church in over a year now. I'm an analytical person and I'm much too occupied in the "here and now" to concern myself too deeply with matters of faith. For me, God exists somewhere "up there." In fact, everything I've experienced seems like it could be summed up with the statement: "God does not involve Himself directly in my life." Faith has a place in my life, for sure, but certainly not in the events of daily life. Faith is something for me to think about on Sundays and at funerals.
As I tinker with my bike, the thought suddenly comes to me: "Today is Sunday, and it's been a long time since you read your Bible – even longer since you went to church." In that moment, something that a friend had said to me recently begins to tug gently at my heart: "Jesus wants to live in your heart, but you have to let Him in by faith. He won't force His way in. Your heart has a door into it, but there is only one handle on that door, and that handle is on the inside. Only you can open the door and let Jesus in."
Think if what my friend said was true! A hope starts to grow in my heart that I can come to more than just a theoretical, intellectual, lifeless faith. Instead, I can begin an incredibly exciting adventure with God's Son alive in my heart and involved in every detail of my life and for that, my life will never again be the same. Do I dare to believe it? Do I dare to put it to the test?
Bible verses from my childhood start to come back to me: "… that Christ might dwell in your hearts through faith." "The kingdom of heaven is within you." "According to your faith let it be to you." "If anyone loves Me, he will keep My word; and My Father will love him, and We will come to him and make Our home with him." "Behold, I stand at the door and knock. If anyone hears My voice and opens the door, I will come in to him and dine with him, and he with Me."
Though it can seem incredible that Jesus truly wants to live in my heart and be involved in all the details of my life, the possibilities that come forth from this are so overwhelmingly great that I just have to put it to the test.
Mountain biking will have to wait for another day. I dig out my Bible and begin to read – this time with a living hope that Jesus wants to come into my heart and dwell there, and have fellowship with me. In that hope, I surrender all of my heart and life to Him, instead of holding onto a portion of it for myself.
On this day, my life anchored in a lifeless faith and impersonal God comes to an abrupt end, and a new life is born! This life is anchored in the God of the Bible, and Jesus His Son, who has numbered every hair upon my head, and all of my days here on earth!
That fantastic experience was a long time ago. In the many years that have followed, Jesus has more than lived up to His promises and my expectations. And that faith, which began as a tiny mustard seed, has developed more and more each year into a deeply rooted tree. And along with it, there develops the very same life that Jesus promised to all those who believe.
"Today, if you will hear His voice, do not harden your hearts." Hebrews 3:15.
Scripture taken from the New King James Version®, unless otherwise specified. Copyright © 1982 by Thomas Nelson. Used by permission. All rights reserved.