E61: How victory over sin is possible for even the weakest person – What does the Bible say?
PODCAST: It doesn't matter how weak you feel; there's one thing that matters more than all that. Listen to this interview with Vern for more!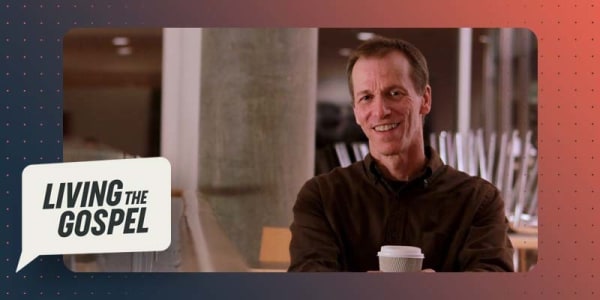 What convinced Vern that victory over sin was possible for him personally, despite how weak he felt? What does it mean in practical daily life to overcome sin? Join Milenko and Eunice in Part 2 of this interview with guest Vern for more!
If you missed Part 1 of this interview, click to listen to "Don't let anyone tell you victory over sin is impossible – What does the Bible say?"
Transcript: "Living the Gospel" podcast, Episode 61: How victory over sin is possible for even the weakest person – What does the Bible say?
Welcome to ActiveChristianity's "Living the Gospel" podcast. Join us as we talk about how we can "live the gospel" every day, no matter who we are, where we live, and what our circumstances are.
Eunice: Welcome to another episode of "Living the Gospel." I am Eunice, here with ...
Milenko: Milenko.
Vern: And Vern.
Eunice: And we're back with part two of "What does the Bible say about victory over sin?"
Milenko: That's right. Last week we talked about this topic and we had so much to say that we really had to round off.
Eunice: OK, so after reading all these verses, Vern, what convinced you that victory over sin is possible?
Vern: Well, it really – I have to say – it really was the word of God. What the word of God said. And the testimony of the Spirit in my own heart. That this was my calling. But it was certainly a battle for me to come to faith that victory over sin was possible for me personally. And that's because I tried and I failed, I tried and I failed. And oftentimes I only saw my own weaknesses and shortcomings. And that's the truth; that's how we are as people. We're quite weak, as people, when it comes to continually saying "No" to our own self-will and "Yes" to God's will. And if we have only our own strength in the battle against sin, then it really would be impossible to come to a life of constant victory. And for me it seemed, many times, it did seem totally impossible. But again, when I would read the word of God it spoke to me that He will give us grace to help us and strengthen us in the battle, so that we can come to a life of victory over sin.
And there are different definitions of grace, and theological definitions and all that, but someone, quite simply, once described grace for me as, "all the help, all the power, and absolutely everything a person needs to be thoroughly saved." Saved from sinning, saved to the uttermost, as it's written. Possible to live a life in victory over sin, by grace. And that understanding of grace, I'd never quite understood it that way before. And that's been a real help to me. Because it takes my weakness out of the picture and brings God's mighty power, which is available to each and everyone us by grace, into the picture.
So I'd have to say that, actually, coming to faith in the word of God's grace is what convinced me. Paul, he writes in Ephesians that by grace we are saved, through faith. So, in a way it's not our own efforts. It's not because, "Oh, I'm so good, and I'm so holy, and I can manage this." Not at all! It's by getting grace over our lives and through faith! I have to believe in that grace and then humble myself and acknowledge, yeah, I need help. I need a Savior. I also like very much what Paul writes, that Jesus appeared to him and said to him, "My grace is sufficient for you, for my power is made perfect in your weakness." (2 Corinthians 12:9.) And think, there where I'm weak, there where I can't manage to live a life of victory over sin, then I have to come to faith in that grace that's made perfect. The grace that makes the power of God perfect in my weakness. His power. God's power made perfect in your life as a young person. For me that has been a huge help to think about.
Milenko: And that's really an important point, that it is God's power made perfect in my weakness. Because then it's not mixed with anything that I've managed to do myself.
Vern: No.
Milenko: So all the glory has to go to God.
Vern: Yes.
Milenko: And the victory doesn't come to someone who's really talented and really, by nature, such a kind person, and so on. That's not where the victory lies. The victory lies in my weakness; in the fact that I'm being tempted, right now, to this sin. That's where sin gets overcome. And if I stop relying on my own strength, or weakness rather – that's how we experience it – and my inability to overcome. Then God can come in. And then I can, by obeying Him and trusting Him, that's where the victory takes place. And we really have to look at it like that. Because in reality, we will experience that we are totally useless when it comes to this. We cannot overcome in our own strength. We're too weak. And we will experience that. We can go on for a while maybe, with our talents and so on, but we meet the point where we can't go on anymore in our own strength. And that's where God comes into the picture.
Vern: Yeah, exactly. That's like, the nail right on the head. For my own life personally, you know, I believed in victory over sin and I believed in grace and that, and that OK, I was weak and God would be strong, but I still didn't manage it until that day when I came to face to face with my own weakness and said, "You know God, it's really impossible. It is absolutely impossible for me to live a life of victory over sin." And I remember my whole world just crashed down, and I thought, "This is it. This is the end of it. Like, I can't go on being a Christian, because I can't live this life! It's just impossible for me." And I remember weeping and then suddenly, a verse came to me. Just a few words, "By grace you are saved." (Ephesians 2:8.) And I thought, "What? By grace I'm saved? Yeah, yeah! By grace I'm saved!" My weakness doesn't mean anything. That I can't manage it doesn't mean anything. By grace I'm saved! And I grabbed a hold of that verse and I held very firmly to it. And that verse has brought me through battle after battle after battle after battle. Still the same weak, wretched creature as before, but full of faith in one word of God. That grace would save me. And that grace has saved me.
Milenko: So what you're saying there is that the grace is not limited to forgiveness of sin. Grace goes further than that.
Vern: Yes, much further, yes. And Titus writes about that. He writes about the grace that instructs us, he says, to live a godly life, he says there. The grace that brings salvation and teaches us that "denying ungodliness and worldly lusts, we should live soberly, righteously, and godly in the present age." Titus 2:11-12. That's the grace, the true grace that we're called to live in.
Milenko: That's interesting. I was just thinking of this verse in 1 Corinthians 10:13. It says there: "No temptation has overtaken you except such as is common to man; but God is faithful, who will not allow you to be tempted beyond what you are able, but with the temptation will also make the way of escape, that you may be able to bear it." This verse could almost seem like we've got enough strength to overcome temptation and God knows that, and He won't let us be tempted more than that. But I think each one of us will have to say, will have to admit, that there are many times in our life where we have actually come to our limits and it's been more than we are able. What do you think about that, Vern?
Vern: Yes. I think that's a very interesting verse. And yes, I have to say I've experienced it exactly that way, that I've been many times tempted over what I myself am able to bear. But I know God's word is true, always true. And that it's just my own understanding that needs to be corrected. So I really prayed to God to give me light over this verse, that I could understand it. And the revelation that I got was that this verse has absolutely nothing to do with the boundaries that we have as people. It has nothing to do with what I can bear as a human. Because if that was the case, then none of us would ever be tempted beyond what we could bear in our own human strength. And the fact is, we can't bear hardly anything in our own human strength. And then there wouldn't be any progress, right? There wouldn't be any development at all. You would continue as the same person the rest of your life.
Milenko: And we wouldn't need God either, if we could do it ourselves.
Vern: Wouldn't need God. Wouldn't need grace. Wouldn't need a Savior. Wouldn't be much of a battle, or much of a temptation, because you're not really tempted beyond what you're able. Well, so after I asked God for revelation over this verse, then three words in that verse, actually, became alive for me, that I had read many times, but hadn't really seen. It says there, "God is faithful." And God is faithful. And those three words suddenly lit up for me. "God is faithful." This verse is not in any way about what we can bear in our own human strength, but what we can bear when we come to faith in God who is faithful, in God's mighty power, to save us. He will give me grace to bear the unbearable. So many Christians, they only look at their weakness in the time of temptation and that's why they fall. But a Christian who's come to faith in grace that can save them from falling, chooses to look only upon that grace in the time of temptation. It's still a battle; it's still a fight. But by grace we will be saved. I struggled in certain areas for many, many years to get victory. But on the same day that I came to faith in God's grace that could save me, I came, in that very instant, to a life of victory. Constant victory.
Milenko: That's really amazing. That we actually can come to such a life. So, we've talked a lot about this now, that we believe in victory, it's something that God wants for us. But how, when we come to the practical life, how do we actually overcome?
Vern: Yeah. The mind to suffer in the flesh. Peter writes that, 1 Peter 4:1-2: "Therefore, since Christ suffered for us in the flesh, arm yourselves also with the same mind, for he who has suffered in the flesh has ceased from sin, that he no longer should live the rest of his time in the flesh for the lusts of men, but for the will of God." It says here this is actually a weapon. It says to arm yourself with this mindset to suffer in the flesh. And like Milenko spoke earlier, to really bind your thoughts to the word of God there, in the time of temptation. And don't give yourself to what you're tempted to. That is the way a person overcomes. Nobody likes to suffer. It doesn't feel good for any of us when we suffer. But the end result is that we become more like Jesus when our own self-will is denied and poured out in life's situations so that the will of God can be done instead.
And as an example … For example, I'm in a difficult conversation, but I consciously choose not to let anger or frustration get the best of me and take over control in the conversation. That's what suffer in the flesh means. It means that my own will, what wants to come out there in the situation, is not allowed to come out. Something that always helps me too is to remember what's written, where it says, "Here I am," as Jesus said. "Here I am to do Your will, O God." And that act of surrendering myself to God in the time of temptation, especially when I feel so weak, and in that way, that's really what it means to choose to suffer rather than to sin. And then little by little, sin loses its power over me. And my strong nature slowly goes into death. And to have that goal before me in the daily life. You wake up in the morning, yeah, what's your goal? Uh, get to the job, go through school, and ... What about ceasing from sin and living a victorious life, and have that as my goal? Then I willingly choose to suffer. It's not a heavy thing!
It's also written about Jesus, "For the joy (that was) set before Him [He] endured the cross." Hebrews 12:2. When I have that joy of being like Jesus and being a new creation, living a life of victory over sin, when I have that joy before me, then the sufferings, it gives me the strength to hold out and not give in and to suffer rather than sin. We could also say this life that we've been talking about here now, to arm yourself with a mind to suffer in the flesh, that's the same thing as taking up your cross daily. And Jesus, He exhorted all of His ... He said, "He who would come after me, let him deny himself, take up his cross daily, and follow me." (Luke 9:23.) That's to arm myself with that mind to suffer in the situations of life.
Milenko: And if you follow Jesus, you come to where He is. And where is He today? He's sitting there at the right hand of the Father as an overcomer, who conquered death. Death couldn't hold Him because He had conquered sin. And that's what He says. If you want to follow Me, do what I did. Deny yourself. Take up your cross. And this is of course this figurative cross that we're talking about, where sin in my life, the temptation to sin, is crucified and is not allowed to rule.
Vern: Right.
Milenko: And I do that, then I overcome.
Vern: Then I overcome.
Milenko: And then I end up where Jesus is. Isn't that amazing?
Vern: Yeah! Really is an amazing life.
Milenko: So you can think, OK. This is a life of suffering; it's a life of denying myself, taking up my cross, battling, not doing what I want. And it can sound very dismal. The opposite is in fact true. Because giving in to sin actually makes me unhappy. It breaks down relationships; it never satisfies. It's this egotism that is never enough. So when we actually come to this life of overcoming, then we actually receive incredible promises. And we're not talking about only promises sometime in the future, in eternity, but we're talking about our life here.
It's written there in Galatians 5:22: "But the fruit of the Spirit ..." so this is the fruit of living according to the Spirit. And the fruit of that is, "... love, joy, peace, longsuffering, kindness, goodness, faithfulness, gentleness, self-control." And then it says in the next verse, "And those who are Christ's have crucified the flesh with its passions and desires." (Galatians 5:23.) It goes straight back to it. Overcoming sin. And this is the promise you get. And if you've got these in your life, and they increase, just imagine what your life is going to be like! Your relationships. Love and joy and peace and longsuffering. And your own ... you come to this rest, you know. This is a result; it's a fruit, it's not something that is, like, full-grown on the first day that you start this life. But it starts. There's a little seed that starts growing.
Vern: And then the book of Revelation, the first chapters, two and three, are full of exhortations, and also promises. To each of the seven churches he writes, "to he who overcomes." And verse 21: "To him who overcomes I will grant to sit with Me on My throne, as I also overcame and sat down with My Father on His throne. 'He who has an ear, let him hear what the Spirit says to the churches.'" Revelation 3:21-22.
Milenko: That's really interesting. It says that. All these letters, or these exhortations to these different churches, it was full of things that they also should be doing. And then it says, "… to him who overcomes," then comes the promise, and then comes the words, "He who has an ear, let him hear what the Spirit says to the churches." And the Spirit speaks about overcoming.
Vern: Yes.
Milenko: The Spirit speaks about this life of following Jesus, taking up our cross, denying ourselves. And overcoming. And it speaks to the promises. So, we have to have this ear to hear that. This is what the Spirit's saying to us.
Vern: Yeah. And that's so important, especially for a young Christian that falls. Because all they hear is the accuser, right? "Oh, you fell, you fell! And it's not right. It's not going to go well for you, it's not going to succeed." And you read these strong exhortations to some of these churches and you think, wow, that must have been hard to swallow. And I'm sure it was, but then Jesus, He also comes, just as you say, Milenko, He also came with a future and a hope. He who overcomes! Not in his own strength, not by his own power. But by the grace that's available through faith in Jesus. He who overcomes, He shall obtain the promises.
Milenko: And no matter who they were or what they'd done, the exhortation came, "He who overcomes." So it's a possibility. It's there. We have to grasp it. And we have to trust God, believing Him, obey Him, and then He will give us the victory.
Vern: Yes.
Eunice: If you're listening now and you're thinking, well, is it really possible, and you know, I'm not quite sure ... Why don't you just try it, you know? Go ahead and take one word of God and hold on to that in your temptations like we heard. Bind your mind to God's word and see if it works!
Milenko: Right. And pray about it. Like, you don't have to do this in your own strength. In fact, you can't! So, we need to pray. Go and pray. And God, He wants to help you. Jesus is ... that's what He came for, that's why He died for us. He did this so that we should be able to follow Him. So of course, He wants to help you. And He will send the Holy Spirit to help. So, pray and start doing it. Then we'll experience that we can overcome. Not only that, but we do overcome, and we start reaping these fruits of the Spirit.
Vern: Yes. I would say one of the things to pray for is a Spirit of wisdom and revelation so that whenever you read the word, the Spirit that's in there, the Spirit becomes alive for you. Because that's what makes the word living for me in my situations. And then, when I get connection with the Spirit in the word of God, then I really have a power that I can draw upon. Something to really bind my thoughts and my mind firmly to in the time of temptation.
And I highly encourage you to underline those verses that you sense, "Wow, look at this!" It becomes ... You get power from that verse. And underline them in your Bible for several reasons. One is that they're easy to find. Secondly, you'll see that, "Wow, the word of God speaks over and over about coming to a life of victory over sin!" And then if your faith is failing, pull out your Bible, "Oh, there it is!" And it's underlined, so it stands out, or it's highlighted so it stands out for you. And read it and read it and read it and speak it to yourself and speak it to yourself and speak it to yourself, until you sense, "OK, yeah! My faith ... That's what the word of God says; I'm going to bind my thoughts to this word of God, and I'm going to hold firmly here, and I'm not going to give in. Because the word of God says, and I believe in grace that can save me!"
And it says that God, He is the God of all grace. (1 Peter 5:10.) That's how the Bible refers to Him. The God of all grace. I thought I was the weakest person on the planet. And I probably was, but what does that have to do, when you have to do with the God of all grace! How much grace do you need? He's the God of all grace. And that's been a huge help to me, to think that way too. All grace. Sufficient for me. It's in the word of God, I just have to lay hold of it. Bind my thoughts there. And fight to the bitter end, not letting go of the word of God.
Milenko: On that note – I don't think we can end on a better note. So, I think we'll end here. Thank you so much, Vern, for coming to the studio today. This has been an incredible encouragement for me personally.
Vern: Thanks for having me.
Milenko: So, everybody, we wish you a victorious week. Go there and start working with this. And it will be a really good week. So thanks everyone. Remember to tune in next week. Until then, bye-bye.
Eunice: Bye!
Vern: Bye.
Like what you're reading?
Scripture taken from the New King James Version®, unless otherwise specified. Copyright © 1982 by Thomas Nelson. Used by permission. All rights reserved.