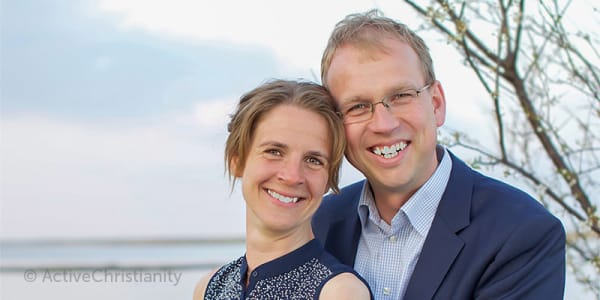 In God's hand everything is as it should be
When faced with a cancer diagnosis, Connie chose to hold on to God's word and it became an anchor for her.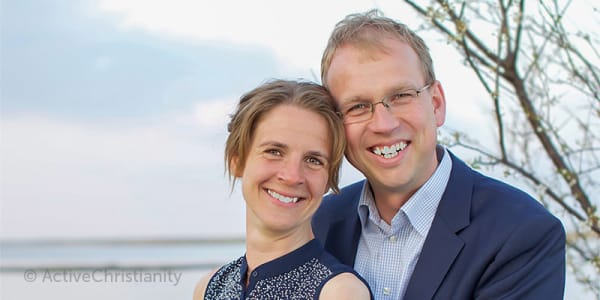 When faced with a cancer diagnosis at 37 years of age, Connie Christensen chose to hold on to God's word instead of letting uncertainty weigh her down in discouragement. God's word became an anchor for her and a salvation from an abyss of worry and depression. During that time she wrote a song which is a result of her battle for faith and rest in God's hand.
Words from heaven
In April 2013, Connie Christensen was 37 years old, happily married, and the mother of four children. She was very involved in church life in her home in Copenhagen, volunteering wholeheartedly for Sunday School and music ministries especially. But that April, Connie knew that something didn't feel quite right.
She went to the doctor who sent her for some tests and scans, but she had to wait a while before she got any answers. During that time her husband Jens received a message from a good friend at church. "In God's hand, all things are as they should be," were his words of encouragement for them.
"I seized hold of that," said Connie. "In God's hand everything is as it should be."
Shortly after that came the results of the tests: Connie had cancer. After receiving this life-changing diagnosis, Connie then had to wait a month and a half to get an answer as to what kind of cancer it was.
"Psychologically, it was probably the most difficult period, because I lived in the uncertainty of not knowing," she shared. "If the cancer suddenly developed, I wasn't being treated and knew nothing. There was one night where I – almost physically – felt like I was at the edge of an abyss. I believe I was at the border of what could be called depression. And suddenly it came down from heaven, I can barely describe it, Psalm 23 came down from heaven, down into my heart, and it never departed from there. It was an incredibly powerful experience. Psalm 23 and Philippians 4 became my anchor points."
Eventually she found out that she had a rare form of appendix cancer, which is incurable. Danish experts gave her no hope. She could have palliative surgery and some chemotherapy, but in reality she would be waiting to die. But Connie and Jens did not give up the fight that easily. In March 2014, she managed to get surgery done by a skilled specialist in Oslo, and for a while this increased her quality of life.
A song is born
While she was in that first, difficult stage, when Philippians 4 and Psalm 23 were such a great help and support to her, Connie wrote a song, based on those verses.
In God's safe hand I always rest secure.
In God's safe hand I have no cause to fear.
He leads me to where peaceful waters flow;
With care He shows me where green pastures grow.
And if my path through valleys dark should lead me,
I will not fear; His staff brings comfort true.
My cup runs over; He with blessing fills me.
He gives new strength; His mercy's ever new.
(Psalm 23)
With thankful heart, to God bring all your need.
In His good time from trials you'll be freed.
The peace of God, more than we understand,
Will through Christ Jesus guard our heart and mind.
Do not be anxious! In this world there's nothing
That's worth exchanging for our faith in Him.
The Lord is near, by faith I understand it.
Rejoice in Him; each day with this begin.
(Philippians 4:4-7)
Listen to the song here: (the article continues after the video)*
God's word is true!
Throughout Connie's illness, her family experienced how she remained in the hand of the Lord throughout everything that happened. By grasping hold of the word of God, Connie preserved the faith that she had brought with her from childhood, into adulthood. Although she went through surgery, chemotherapy, great pain and innumerable hospitalisations, her family never saw her lose heart and never heard her complain. On the contrary, her children experienced an incredibly good and caring mother who was always there for them! There were also some better periods in the course of her illness where the family was able to spend quality time together.
In an article she wrote in 2015, Connie testified:
"If I only had my own strength, then despairing thoughts would have long since consumed me. But I have received help; I have received true, genuine help in my childlike, simple faith in God's word."
Read the entire article here: Worry and anxiety – is it a necessary part of life?
On August 10, 2019, Connie was taken home to Jesus, aged 43. Throughout her long period of illness, she maintained a living faith and received strength in her spirit to emerge victorious from the tribulations. Instead of letting the disease and uncertainty drag her down into the abyss, she clung to the word of God, and this led to the song "In God's Safe Hand." Because she chose to share the song, it has also become a help and comfort to many others. Connie's life testifies to what she herself said: "God's word is true!" She leaves a great example to follow – especially in always resting in the Lord's hand.
"No one can tell me how long I'll be well or how long I'll live. But I am a believer – in the true sense of the word – and firmly believe that God controls my life, and the length of it, for the very best. I believe in Jesus' words about not worrying about tomorrow, and I practice – and get better and better at – focusing on today and getting the most out of it!" – Connie
* Lyrics: Connie Christensen
Melody: Jacob Eisenberg and Dag Helge Bernhardsen
Arrangement: Dag Helge Bernhardsen
Vocals: Dorothy Cinnamon
©Stiftelsen Skjulte Skatters Forlag | ActiveChristianity.org
Scripture taken from the New King James Version®, unless otherwise specified. Copyright © 1982 by Thomas Nelson. Used by permission. All rights reserved.