E10: God is faithful to His promises
PODCAST: Do we believe, like Sarah, that God is faithful to His promises?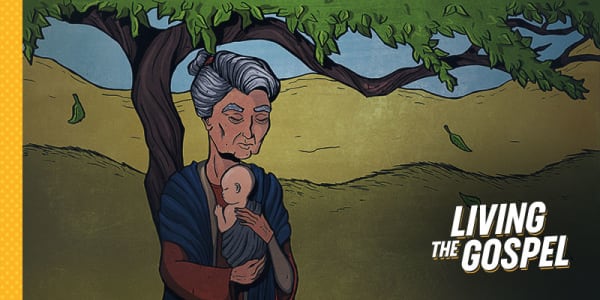 When God promises us something, we can be sure that He will carry it out! Sarah believed in "the impossible" because she judged Him faithful who promised. Listen to this podcast episode about Sarah, and how her faith can inspire us today!
Transcript: "Living the Gospel" podcast, Episode 10: God is faithful to His promises
This is ActiveChristianity's "Living the Gospel" podcast. Join us as we explore the different aspects of the gospel according to the Bible, and how we can put it into practice in daily life.
Kathy: Hi everyone, welcome back to "Living the Gospel." I'm Kathy.
Julia: And I'm Julia. We started off this podcast with some stories about heroes of faith, and today we're going back to that theme.
Kathy: There are a lot of good stories in the bible and a lot of interesting people that we can read about.
Julia: Yeah, a lot. Like Moses, Gideon, Joseph. They all such interesting experiences of faith. It would actually be awesome to meet these men of God and hear some of their stories first-hand.
Kathy: I think we'll get to, someday, don't you?
Julia: I hope so.
Kathy: Someday I think we will go into eternity and we'll get to meet these people.
Julia: Yeah, that would be fantastic, but these are actually more than just interesting stories. They are examples of the power of a living faith in God. Examples of how God rewards those who trust in Him and live for Him.
Kathy: So, today we are going to talk about one of those really good examples. And that is Sarah. So to me she is an example. We talk about heroes of faith. Like, she is a true hero of faith. She actually had an unbelievable faith in God when she was told something that literally seems like an impossibility.
Julia: Today we're going to listen to an article that we have on the website about her, called, "Sarah: She judged Him faithful who promised."
Kathy: And today we're going to do things a little bit differently. Normally we'd chat a bit first and then listen to an article, but today we're going to start off by listening to the article. So, here it is.
(Click to read:)
Sarah: She judged Him faithful who had promised
Julia: The article ended with that verse in Peter about the great and precious promises God has given to us. What are those promises?
Kathy: Well, when I think about the promises that we have, then first and foremost, I think about the fact that I can be free from sin. So, me who has this flesh, which as we read, nothing good dwells in my flesh. But I can be changed from that and be conformed to the image of the Son. And that is an unbelievable promise.
Julia: That is incredible! But it can seem impossible when we look at ourselves and the way we are as people. When I see for example how incredibly selfish I am by nature. The pathway away from that seems insurmountable. To imagine that I could go from that to someone who always thinks of and does what's best for those around me? A complete 180? We can almost feel like laughing at the impossibility of it sometimes.
Kathy: It's true. But God has promised that we can be free and in Romans it is written like this, that we no longer have to be slaves of sin. And it can feel like that, that we are slaves to things. Like you mentioned, selfishness or, you know, maybe someone has a really bad temper and … or someone, you know, who feels like they can never stop with looking at impure things, for example. Things can be a part of us and have been a part of us for so long, that it seems ludicrous to us that we could ever be free from it.
Julia: Having a child at a hundred years old like we heard about Sarah, is a very obvious miracle. But actually, we also can experience great miracles through faith in God.
Kathy: And that is the key, actually. That it is only through faith in God that these things can happen, like Sarah was a hundred years old, like we heard, and we know so well. And she knew that at a hundred years old a body doesn't have a child. That's just not realistic. But she knew that with God it was possible. Like I know that on my own. without help, there's no way I can overcame the things that I see in myself. Like selfishness, and like you mentioned and so on. But it won't happen if I'm just relying on myself and fighting in my own strength to, like, try and not do these things. But, like, I know that from experience; I know that that is how it has been.
Julia: Right. But like we heard, if all of my confidence is in God, if I go to Him for grace and power to overcame, then all things are possible in Him.
Kathy: Yeah. And the way Jesus said it to His disciples, they asked Him who could be saved. And He said: "With men this is impossible, but with God all things are possible."
Julia: So the miracle that I am going to see, isn't just, boom! One day my selfishness or my temper or whatever it is, is gone. It doesn't work like that.
Kathy: No. It is just that step by step in the temptation, in the situation, God gives me the power I need to resist that temptation and to overcome it. And then I will see progress. And the day will come when I am not even tempted anymore. I am completely free from that thing.
Julia: Oh, that's awesome! Tying it back to the story of Sarah again, the reward for her faith was that she received a child. And the reward for us is also a new life. And that's the miracle that I see. Love, righteousness, goodness and the virtues, where I used to see my selfishness, my laziness, my jealousy and all those things.
Kathy: And that's just exactly what Peter wrote about in that verse. That great and precious promise that I myself can partake of divine nature.
Julia: Yeah when I think of how I am, my selfishness, for example, like I said before. I know that it will take a miracle to became free. It takes time and obedience and faithfulness. But, I will see a miracle if I endure and continue to count Him faithful who promised.
Kathy: Yeah. And then believe in that verse that Paul wrote to the Philippians. He said: "… being confident of this very thing, that He who has begun a good work in you will complete it until the day of Jesus Christ." So, if we believe in that and we continue on in faithfulness, then we will find for ourselves actually that God is faithful to His promises to us. Just as He was to Sarah.
Julia: And then what seems so impossible, will actually become reality for us. It is like a quote that I've heard before. "First you can't. Then you can. Then you can't do anything but!"
Kathy: It's so exciting! Like, that is something we can really look forward to and hold on to.
Julia: Yeah.
Kathy: And maybe, someday, in eternity, we'll meet Sarah and then we can have fellowship with her about this.
Julia: Oh, that would be awesome! I look forward to that.
Kathy: That would be so cool! So that's all we have for today, and if you want to read about more heroes of faith, we have more articles on https://activechristianity.org/ about that. So we'll put a link to that in the description for today's episode if you want to read some of those.
Julia: You can also look under the "topics" section on the website for other themes that you are interested in learning more about.
Kathy: Thank you for joining us today. Bye for now!
Julia: Bye everyone!
Like what you're reading?
Scripture taken from the New King James Version®, unless otherwise specified. Copyright © 1982 by Thomas Nelson. Used by permission. All rights reserved.