What does the Bible say about the bride and the marriage of the Lamb?
The marriage of the Lamb is one of the greatest events in the Bible. But who is Jesus' bride?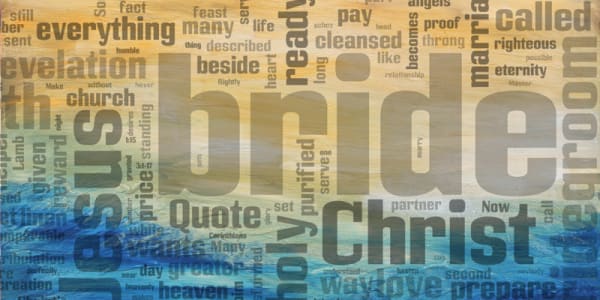 The marriage of the Lamb (Jesus) is one of the greatest events prophesied in the Bible. But who is the bride of Christ?
"Let us be glad and rejoice and give Him glory, for the marriage of the Lamb has come, and His wife has made herself ready." Revelation 19:7.
Who will be in the bride of Christ?
The bride is the church of Christ.
The church is made up of everyone who is on the way to becoming completely free from all sin, as Jesus is. It is those who have started down the path that will lead them to divine nature. (2 Peter 1:4) Some people may be farther along this way than others. Some people may have just begun. But everybody who walks this way is a member of the body of Christ. They are preparing themselves to be the bride of Christ. They are making themselves ready.
They are the ones who love Jesus. They are His followers. They are those who ache with longing to be with their Lord and Master. They are those who have made a decision to serve Jesus with all of their heart, all of their soul, all of their being. They are the ones whom Jesus cleanses and purifies; they will be a glorious church without spot or wrinkle. In a word, holy. (Ephesians 5:25-27)
A bride is somebody comparable to her bridegroom. This is why it is written in 1 Peter 1:15, "But as He who called you is holy, you also be holy in all your conduct." The bride of Christ are those who will shine with a brightness and a purity and a holiness just as He who called her is holy.
"And to her it was granted to be arrayed in fine linen, clean and bright, for the fine linen is the righteous acts of the saints." Revelation 19:8. The bride of Christ makes herself ready for Him. Every second she has on this earth is used to prepare herself for her bridegroom. Her fine linen is not something given to her during the marriage feast but it is something she has made herself during her time on earth by walking in righteousness.
"Many are called, but few are chosen." Matthew 22:14. The bride of Christ is the same as the church, but there are not many who are truly counted among this number. Many invitations are sent out, but not many choose to answer.
Make yourself ready
Rightly understood, the bride is not an elite cadre of special Christians that only a few get to be a part of. The bride will be few in number, but this is not because only a few invitations were sent out. It is because few people choose to answer. To be a part of the bride of Christ you need to answer that call, and start following Jesus on the way He Himself has gone.
This time on earth is a time of engagement for Jesus Christ and His bride. They have an intense love for one another, and long to be reunited. The bride wants to be near Jesus, her heavenly bridegroom. She will do everything and anything, she will pay whatever it costs, in order to be worthy of Him and be with Him.
Jesus will fetch His bride as soon as she is ready. Time is short, but there is still a time of grace for the bride to prepare herself, and it's still possible to heed the call. (Read more about the rapture here)
Answering the call to be in the bride is the first step. It's as simple as deciding, "I want to serve God with all my heart." The way to go after this is described in Colossians 3:1-17. The bride of Christ sets her mind on things above. The bride is patient, humble, longsuffering, and does everything in the name of the Lord Jesus. The only thing she wants is to hasten the day of His return. (2 Peter 3:12)
The bride of Christ is so in love that she would pay any price to put off all sin, everything that is not Christ-like. She denies all such thoughts and puts them to death. (Colossians 3:5) And in this way the life of Christ can show forth in her. In this way she becomes a helper comparable to Him. With all of her very being she aches to be with Christ and knows that the way to do that is to become like Him. To become purified and cleansed as He is pure, and be transformed into divine nature like His. (1 John 3:2-3) Nothing less than perfection is acceptable. Any thought that is not pleasing to Christ is immediately put to death! Sin is not an option for her! She wants to be with her bridegroom.
So she becomes holy as He is holy. These are the righteous acts of the saints as described in Revelation 19:8.
The marriage of the Lamb
Finally, when the bride is ready to meet the bridegroom, Jesus Christ will return to fetch His beloved. After so many years of tribulation they can finally be united! All the heavens will rejoice in celebration of this event and there will be a tremendous marriage feast! (Revelation 19:7-8)
Now the bride can be with the bridegroom. The long night is over. Now she has been perfected. She is perfectly united with Jesus in will, in purpose, in nature. Never to be parted for all of eternity. (1 Corinthians 6:17)
They are standing there in heaven; a throng of warriors and heroes dressed in pure white – an army that has paid the price and given everything to be cleansed and purified and transformed into Christ's image. They are shining brighter than the sun, shining with a purity equal to Christ Himself. They are holy. They are His.
The heroes of the Old Testament and the martyrs of the great tribulation, amongst others, are of course servants of God and have fellowship with Christ. But the bride of Christ has a very special calling. She is seated beside Him; she is equal with Him. She has suffered the same sufferings as He has on earth and now she has her reward. It is a reward far greater than any given to anybody else in heaven or on earth. She is set above angels, above cherubim, above all of God's creation, to be a partner and a helper to God's very Son Himself.
The bride's job in eternity will always be beside the bridegroom. "And the Spirit and the bride say, 'Come!' And let him who hears say, 'Come!' And let him who thirsts come. Whoever desires, let him take the water of life freely." Revelation 22:17. She is there beside Christ, drying tears, and erasing sorrows.
There is no greater reward than this. And there is no greater use of our time on earth than to prepare for the day of His coming, in earnest expectation. To be so in love with Jesus Christ that the lives we live here on earth are worthy of the bride He wants to marry.
Last modified: 2020-07-14
This post is available in
Scripture taken from the New King James Version®, unless otherwise specified. Copyright © 1982 by Thomas Nelson. Used by permission. All rights reserved.