What is God's plan for me?
What happens when you just don't know which way God wants you to go?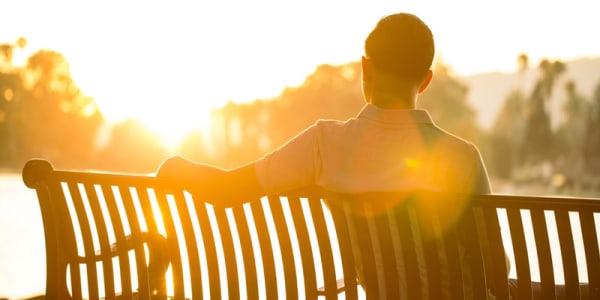 Have you ever wondered, "What is God's plan for me?"
As a Christian of course you want to make decisions according to God's will. But what happens when you just don't know which way God wants you to go?
Sooner or later in life everybody has to make some decisions. Which college should I go to? Whom should I marry? Should I move here or there?" The list goes on and on and as the questions grow bigger and more life-changing, shouldn't God's answers and plan for our lives be clearer and clearer as well? If I want to do His will, shouldn't it be easier to see God's plan for me?
It can be difficult to see God's plan and know which road to take. You pray to God and ask for help but there are often no prophetic dreams, visions or strong feelings leading you one way or another. It can seem like God isn't answering you at all.
Continue reading below ↓
Like what you're reading?
God's plan for me: Do everything before His face
Many Christians struggle with this because we almost expect a loud voice from heaven when we talk to God, complete with trumpets and a burst of sunlight. But God doesn't necessarily work that way. Often He works in whispers instead of shouts. And the way we practice listening is to go in faith and do everything before His face.
Why doesn't God just speak from the clouds or something?
It says in Colossians 3:23: "And whatever you do, do it heartily, as to the Lord and not to men." This is the key point. It isn't always so important what we do, but why and how we do it. Are you doing it wholeheartedly because you want to please the Lord? Or are there a few selfish reasons behind your decision?
It also says in Matthew 7:7: "Ask, and it will be given to you; seek, and you will find; knock, and it will be opened to you." God is more than willing to show us His will and plan for our lives, but He also wants us to show that we want to know it and follow it. He wants us to make an effort – to seek His will. Then He has promised that we will find it. So if you are asking and seeking and knocking and doing everything as to the Lord then you can rest assured that He will show you His will for your life. His will may not always be what we expect, and it can be revealed to us in unexpected ways, but if we are truly interested, we will find it.
God's will – good, acceptable, and perfect
"And do not be conformed to this world, but be transformed by the renewing of your mind, that you may prove what is that good and acceptable and perfect will of God." Romans 12:2. Put simply this is the entirety of God's will right here, as well as His plan with our lives. That we be transformed by the renewing of our mind, that we prove what is God's will. That is something we can do regardless of whether we decide to become a doctor or a teacher, move to another country or stay at home. There are always opportunities to be transformed and renewed wherever you are.
So how do you make your decision? Ask yourself, "Is it good? Is it acceptable? Is it perfect?" If the answer seems to be yes, then do it! Prove what is God's will. Test it. He who seeks will find.
This is why transformation is the most glorious of God's promises
The renewing of your mind
Whatever the outcome, when looking back, you may find that what you did was actually tainted with a bit of self-seeking, some demands on the others and so on. This was not according to God's will, and yet you made your decision in faith and with a desire to serve God. That's why God can now show you how you could have done it better, where you should have given up your own will. Go back and fix things, ask for forgiveness, set things right. It is this that is God's will for us and His plan for our lives: that we to learn humility, that we learn how to live as a disciple. The revelation comes in an unexpected way – by showing you your mistakes, but because you are seeking to do God's will, you use it to be transformed. This is the renewing of your mind.
A disciple is not one that knows everything and can do everything perfectly the first time. The life of a disciple means following Jesus, the Master, and learning from Him. It means listening for God's voice every day and striving to be well-pleasing to Him. In this way, we will daily find more and more of this "I should have done things better. God, give me strength and wisdom to humble myself and do it better next time." So next time I put to practice what God's voice told me, and do it better – I'm becoming more like my Master day by day. That's what it means to be a disciple!
No matter where we go we will find opportunities to hear God's voice and do His will. We will find our own life, our anger, our pride, our stubbornness and self-seeking, and by putting these things to death we are transformed more and more into Jesus' image and in this way we are doing God's will!
Ultimately, this is God's perfect plan for both you and me: that we become free from the way that we are and be transformed into Jesus' own image.
Isn't that a hopeful gospel? You really can't go wrong at all!
Scripture taken from the New King James Version®, unless otherwise specified. Copyright © 1982 by Thomas Nelson. Used by permission. All rights reserved.