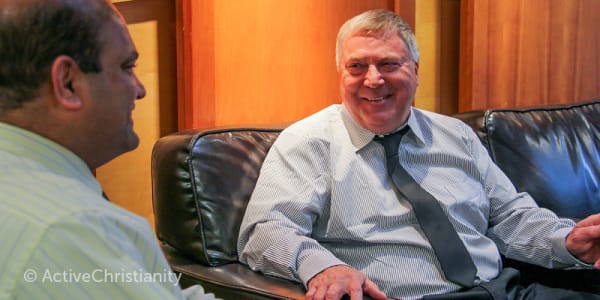 A heavenly vision
Jerry has gradually been going blind since he was a teenager. But he has gained a heavenly vision.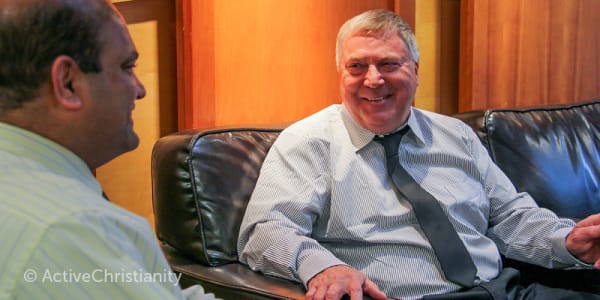 Since he was a teenager, Jerry Graham has been gradually becoming blind. He has a genetic eye disease with no cure. In all of this, Jerry has gained a heavenly vision.
God had a different plan
"Of course, I always hoped that my vision would get better," Jerry tells me. "Inside, however, I sensed that God had a different plan. The thing I wanted most of all was to know that I was pleasing to Him. On one occasion we had a prayer meeting at church. One by one people got up and asked for prayer for one thing or another. Someone said: 'Jerry, what do you want?' What I wanted most was to understand more about God. I can tell you that He heard and answered that prayer!
"I was well aware that God was doing something in me through all this—I didn't want that to stop, even though it was through much suffering."
Continue reading below ↓
Like what you're reading?
A heavenly vision
"I often visit a nearby lake that has walking paths. That is a good time to pray. I specifically remember one day when I felt particularly down, and I remember walking and praying to God in my need. At some point I was looking up and thinking, 'There are no problems up there in heaven.'
"Then that verse came to me in 2 Corinthians 4:17-18: 'For our light affliction, which is but for a moment, is working for us a far more exceeding and eternal weight of glory, while we do not look at the things which are seen, but at the things which are not seen. For the things which are seen are temporary, but the things which are not seen are eternal.'
"That was a liberating light for me, and it strengthened me powerfully. My circumstances didn't change, but my heavenly vision did."
A widened circle of friends
Today Jerry is able to do many things that other people do: he goes on walks, babysits his grandson and cooks. His white cane helps him navigate, and he has found ways to stay in contact with his friends.
After church he often finds a place to sit in the coffee bar or outside on the patio. He says, "People just come up and sit down with me. I have had some really good conversations that way, and since I couldn't choose who that person was, it has widened my area of contact with people. Sometimes this can get humorous: I have often discovered that the person I was talking to was the wrong person, or had since walked away. There I was, talking to the air!"
"I think about what I am gaining"
"It pays for me to think about what I am gaining—not what I am losing. I have friends everywhere, all over the world. I have thankfulness and an increasing degree of contentedness; I have people whom I care for and who care for me. I have never lacked anything I needed in this world—actually I have much more than I really need.
"I can look forward to an eternity together with the best and most amazing people who have ever lived on this earth. Do I lack anything? No. But there is suffering in this life. It's just a question of where my 'vision' is.
"I might live another day, a year, or 30 years. I might get my vision back some day and maybe not. As long as I can learn of God, what difference does it make? I'm receiving the most valuable things from Him already. If I was to gain the whole world, and yet lose my own soul, what good would it do me? That would certainly be an eternal loss!"
"No temptation too great"
Despite his condition, Jerry is confident in God and in God's Word. He tells about a special verse, 1 Corinthians 10:13, that has helped him: "No temptation has overtaken you except such as is common to man; but God is faithful, who will not allow you to be tempted beyond what you are able, but with the temptation will also make the way of escape, that you may be able to bear it."
"This verse is a powerful spiritual weapon. God says that He will not allow us to be tempted beyond what we are able, but all our human feelings tell us the opposite: This is too much for me, or I won't be able to endure this, etc. Whom should I believe? For me the answer is obvious: 'Let God be true but every man a liar.' Romans 3:4.
"We have to believe either God or our own feelings, and it's obvious that God is true even when our many feelings vacillate. I think that everyone who loves the truth understands this. It is also written that we are not debtors to the flesh. All those thoughts and feelings can come, but we don't have to be a slave to them.
"This is really a liberating word! I hope that everyone in the world can grasp it! Then Satan with all his lies will be silenced forever. That will be a happy day!"
This post is also available in
Scripture taken from the New King James Version®, unless otherwise specified. Copyright © 1982 by Thomas Nelson. Used by permission. All rights reserved.