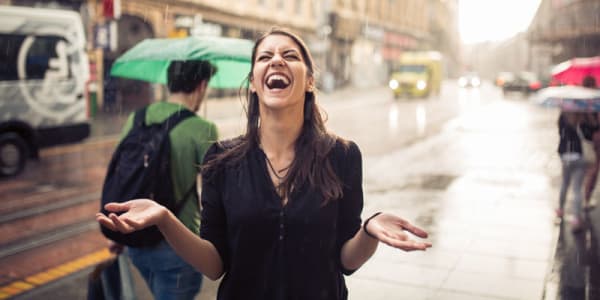 How do I benefit from difficult situations?
5 good things that can come from any circumstance of life.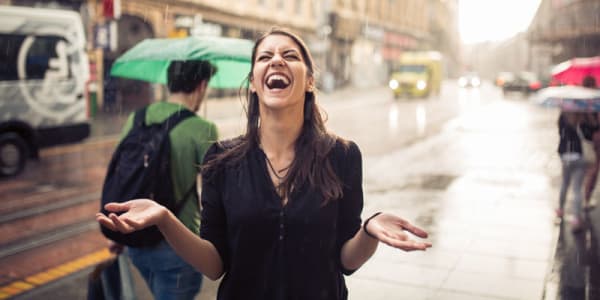 "I thank Thee for days full of sunshine,
For trials of deepest night.
I thank Thee, my precious Savior,
For Thou guidest all things aright."
These words are the refrain of a song written by Ingrid Bekkevold, a woman who learned to be filled with gratitude in all of life's various situations whether they be days of sunshine or trials of deepest night. This woman, in the course of her lifetime and through all the personal tribulations she experienced, wrote many inspired songs about a triumphant life in God. Her songs remain an inspiration to many today, and a testimony to a thankful heart through sadness and sorrow as well as in joy.
Joy
Something interesting is written about those who dwell in the house of the Lord.
"As they pass through the Valley of Baca, they make it a spring." Psalm 84:6. (Baca means weeping.)
When I seek God's leading through all the minutes that fill each day, and when I obey His promptings in my heart – then I am one of those who dwells in the house of the Lord. Then I truly experience that times of sorrow become times of growth and flourishing in my inner being. As long as I am only interested in doing what gratifies in the moment, as long as I permit situations I experience to have complete control over me, rather than placing my life and will into the hands of God, I will not find true joy.
"In everything give thanks, for this is the will of God in Christ Jesus for you." 1 Thessalonians 5:18.
Giving thanks is a conscious choice I make when things are happening around me over which I have no control. When I do this, I receive blessing from God. This becomes a source of deep and true joy.
Strength
Trials and tribulations experienced in life can be compared to a program of higher learning.
In order to become qualified and certified to do a specific job I must undergo a learning process. For this process to be successful, I need to allow it to mold me so that I become changed from someone with no expertise and experience into someone who is skilled and able to adapt in various situations. This allows me to use those skills to earn a living. The higher the qualifications, the more challenging the program will be. Of course, if I think I have nothing to learn, then I will benefit very little from any education.
Situations experienced in life have a similar, but much greater, purpose when I receive them with thankfulness. Through these situations, every aspect in my life can be transformed. When I am humble and willing to learn, then God can work in and through me. What an exciting prospect!
"And He said to me, 'My grace is sufficient for you, for My strength is made perfect in weakness.' Therefore most gladly I will rather boast in my infirmities, that the power of Christ may rest upon me. Therefore I take pleasure in infirmities, in reproaches, in needs, in persecutions, in distresses, for Christ's sake. For when I am weak, then I am strong." 2 Corinthians 12:9-10.
This transformation profoundly changes my personal life as well as my life in the workplace and in the community, as I become exercised in doing God's will instead of my own.
Wisdom
The psalmist writes, "Your word is a lamp to my feet and a light to my path." Psalm 119:105. When I allow the light of God's Word to shine on my human nature I can clearly see what needs to be crushed in order to produce the oil I need to have in reserve when trials come upon me, and I gain wisdom to see my way through even the most difficult situations.
Fragrance
Peter writes about the outcome of suffering in Jesus' life, as well as its significance in ours, in 1 Peter 4: 1-2: "Therefore, since Christ suffered for us in the flesh, arm yourselves also with the same mind, for he who has suffered in the flesh has ceased from sin, that he no longer should live the rest of his time in the flesh for the lusts of men, but for the will of God."
In agreeing with His crucifixion, Jesus made the ultimate sacrifice so that all of mankind is now able to be saved from their sins and live victorious lives. When I arm myself with the same mind, I not only stop sinning, but I live the rest of my time for the will of God rather than according to my human lusts. This is a completely different life than I would otherwise live. What an exciting prospect! When I am armed with the mind to suffer, this builds my faith and strengthens me to benefit from all the opportunities that come my way to be wholly and completely changed. Instead of a bad odor of rot and decay emanating from my life I experience it like the Shulamite in Song of Solomon 4:16: "Awake, O north wind, and come, O south! Blow upon my garden, that its spices may flow out. Let my beloved come to his garden and eat its pleasant fruits."
Peace
In Galatians 5:22-23 it is written, "But the fruit of the Spirit is love, joy, peace, longsuffering, kindness, goodness, faithfulness, gentleness, self-control. Against such there is no law." When I receive them with an attitude of thankfulness, I learn to experience life's difficulties as opportunities. These situations have been lovingly prepared for me by my heavenly Father so that I can become sanctified and saved. There can be no true peace without war; when I wage warfare in my heart and mind to crush bitterness and envy, God's precious virtues like kindness, meekness, humility and longsuffering can grow and bear fruit in my life.
How do I benefit from difficult situations? If I receive them as the gifts they are intended to be, I become transformed from someone who is easily overcome with self-pity and bitterness, into someone who receives every opportunity to be saved from all of that with joy and thankfulness. I experience a light in my life that was not there before. This light grows as I experience the richness and glory of God. A fragrance flows from my life when it is buffeted by the north and south winds, and I become a blessing for others. I become rich beyond belief in my spirit.
"And the peace of God which surpasses all understanding, will guard your hearts and minds through Christ Jesus." Philippians 4:7.
Scripture taken from the New King James Version®, unless otherwise specified. Copyright © 1982 by Thomas Nelson. Used by permission. All rights reserved.