Would you describe your life as exciting, meaningful, rich, and limitless?
Being a Christian is so much more worthwhile than we could possibly measure.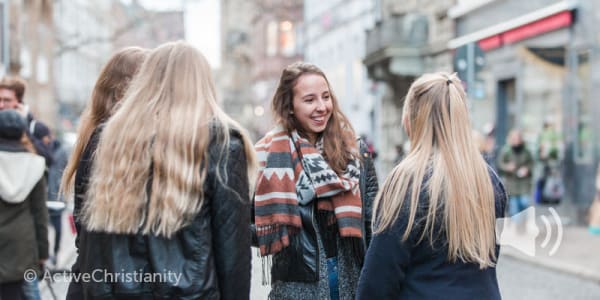 I'm going to give you two lists of characteristics here:
Covetous
Stingy
Hard
Cold
Unforgiving
Merciless
Self-absorbed
Demanding
Indifferent
Unkind
Vain
Arrogant
Irritable
Impatient
Bitter
Angry
Hot-headed
Vengeful
Gossipy
Dishonest
Unthankful
Vain
Greedy
Selfish
Whiny
Envious
Lazy
Neglectful

Wise
Loving
Generous
Forgiving
Warm
Merciful
Giving
Kind
Bearing
Patient
Accepting
Gentle
Longsuffering
Encouraging
Supportive
Discreet
Truthful
Caring
Honest
Thankful
Content
Compassionate
Loyal
Faithful
Hardworking
Self-disciplined
Flexible
Hospitable
If I were to ask you which set of adjectives you'd like to think could be used to describe you, you'd probably think I was being ridiculous. It probably goes without saying that the majority of people would like to be described by the second set.
Continue reading below ↓
Like what you're reading?
Life can get better and better
The truth is that you can be. Even if you take a good hard look at yourself and are honest about who you are right now as a person, and can see that there is a lot more of the first list in you than the second, the absolutely hopeful and joyful thing is that we can change from the first list to the second.
"Remember how she used to be so grumpy and whiny all the time?" people can be able to say of me. "Look how cheerful and patient she is now! Wow, what a work God has been able to accomplish in her!"
Because you know you can't do it on your own. You may even have tried. But God also wants us to be formed into the second list, and He's showed us how to do it, by the laws and commandments written in His Word, and He's promised us the grace and strength to fight against who we are by nature and become that second list. Which is better described as the virtues of Christ.
That is the tremendous benefit of being a Christian. Besides the fact that it promises us an eternity in heaven and with our beloved Jesus, we get to experience that life gets better and better for us on earth as we get more and more of the virtues of Christ.
Your whole environment can be blessed
That experience is liberation. Being anxious is heavy. Having hope and faith for the future makes life light and joyful. Being bitter makes you miserable. Being loving and forgiving is peaceful and freeing. As these things, these virtues, begin to be a part of your nature, your whole life starts to change. Your outlook brightens. Your joy becomes deep and grounded, unchanging because it is grounded in God rather than in outward circumstances. Your spirit becomes light and free, and your relationships with other people get better and better as you learn to react with the virtues of Christ instead of with your natural tendencies. People are drawn to the good spirit that emanates from your life. You can diffuse the fragrance of God wherever you are. Your whole environment can be blessed and the people you have to do with can reap the benefit of the goodness that comes forth from your life.
People will recognize that here is something different, this is not your average person who gets upset, who is sharp and mocking, who is selfish, who thinks of themselves first. This is not someone who cowers under peer pressure or is afraid to speak up for what's right. This is someone who is flexible, someone who is gentle and kind, who thinks of other's best, and how they can make life easier for the people they meet in life, whether it's close friends and family, or the random people that pop up in their lives. This is someone who has a deep confidence in God, and can say the right word at the right time, and isn't afraid to let their faith be known.
You glorify God with your life
God is glorified by lives like these. Living according to our human nature—the first set of attributes listed above—leads only to dissatisfaction, apathy, hopelessness, anxiety, arrogance, stress, broken relationships, friction, hatred, and other misery. What meaning does life have when this is how you live it? Imagine instead a life where the virtues of Christ are being born. Contentment, enthusiasm, eagerness for the future, peace, humility, rest, love, and joy are the results, and these are the things that make life exciting, meaningful, rich, interesting, and limitless. Our experience of life is then the way that God intended it to be.
This life is just a vapor in the overall scheme of eternity, but God wants the very best for us, and He wants us to thrive and enjoy life. And in the possibilities He's given us as followers of Christ He's provided us with the opportunity to live the richest life possible on earth. There is no life that can compare to this one where our natural inclinations and tendencies to evil are replaced by the virtues of Christ.
Scripture taken from the New King James Version®, unless otherwise specified. Copyright © 1982 by Thomas Nelson. Used by permission. All rights reserved.