E06: Letting go of bitterness and resentment
PODCAST: Make no mistake, bitterness is a sin. It has broken up marriages, friendships, and hindered many from find peace and rest.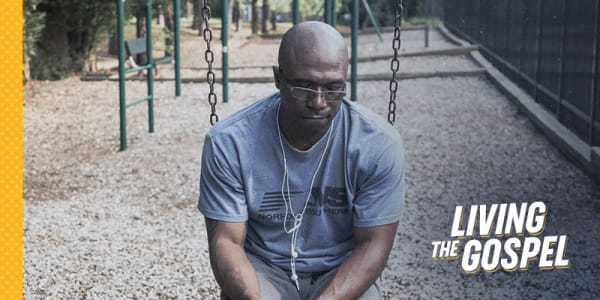 You won't find many people who willingly admit that they're bitter. Seemingly, bitterness and resentment is often justified. "It just wasn't fair!" But look down the road of bitterness and you'll see broken marriages, friendships, and a loss of peace and rest. Let's pull out this root of bitterness before it's too late! In this episode, Milenko and Eunice talk about how we can overcome the evil root of bitterness.
Transcript: "Living the Gospel" podcast, Episode 6: Letting go of bitterness and resentment
This is ActiveChristianity's "Living the Gospel" podcast. Join us as we explore different aspects of the gospel, according to the Bible, and how we can put it into practice in daily life.
Milenko: Welcome to episode number six. It's me, Milenko.
Eunice: And it's me Eunice, and we're your hosts for this episode.
Milenko: Eunice, a few episodes ago you asked me what my favorite part about my job is. But now it's my turn to ask you the same question.
Eunice: Well, my favorite part about my job is that I get to do whatever I want.
Milenko: Oh, really?
Eunice: I mean, I feel that I have the freedom at my job to express my creativity in the way I think is best. And that freedom makes me actually feel really happy and … like it is something really fulfilling.
Milenko: Yeah.
Eunice: For example, in social media, it's such a, in a way, flexible medium. And I work a lot in social media. So, not that I am doing whatever I want at work, but you get what I mean. I also work a lot with Facebook, and I think another part of what's so fulfilling about my job is to be able to read comments from our followers, people that write to us. And it's always, quite often, very encouraging. It's a good learning experience. And, we do read every single comment.
Milenko: That's right, and talking about Facebook, the article we're sharing today is one that has gotten lots of positive response on Facebook.
Eunice: That's right, and not only the article, but also this whole topic.
Milenko: It's the article called, "Am I a bitter person?"
Eunice: So, are you a bitter person?
Milenko: No, luckily, I would say I'm not a bitter person. But that being said, bitterness doesn't lie far away from us as people. It's a reaction in our nature to when you feel that you get something you don't deserve, or you're unfairly treated. Sometimes it's real, sometimes it's perceived, but it is a reaction that I think we all feel, and that if you give in to, you do become bitter.
Eunice: So, to what extent actually is a Christian supposed to suffer unrighteousness?
Milenko: That's actually a good question, because I think the whole concept is often misunderstood a bit. Suffering unrighteously and turning your other cheek and so on, that doesn't mean that you're a doormat. It doesn't mean that you let other people walk all over you, treat you like dirt, despise you for whatever reason and to whatever degree. But the suffering is when I feel that I'm treated unfairly and then I'm tempted to become offended, I'm tempted to became angry, I'm tempted to take revenge and my whole being wants to do that, and I know that's against God's will.
So, I have to go against being offended. I have to hate that, that comes up from my human nature and the criticism and the anger and so on. I have to really fight against that and learn to love the others, no matter what they say. That's a real fight. And that's what it is, the suffering is that my flesh, my nature, can't do what it wants to do, which is to become offended. But again, that doesn't mean you're a doormat. You don't let people walk over you. You don't let them treat you badly. But your reaction isn't because you're offended, but your reaction is to put things right and to do it in a good way. And when you can do that in love, then I think you've got a lot more power anyway. And that is the example Jesus left. He didn't let things go that were unrighteous, but He didn't do it because He was offended for His own person. And that's the difference.
Eunice: Speak the truth in love.
Milenko: Exactly, speak the truth in love.
Eunice: So, the main thing is not to allow bitterness into your heart and then to keep your heart pure.
Milenko: Yeah, exactly.
Eunice: We also asked a while back on our Facebook page, "How do I get rid of bitterness once it starts?" And it was really encouraging to see some of these answers from you guys. I've got one here from, Jeannie Marie: "I always bring myself back to what Jesus did for me. 'She who has been forgiven much, loves much.' To grasp the weight of my sin (in humanly possible ways) allows me to forgive any wrong … With the help of the Holy Spirit and prayer."
Milenko: I've got another one here from Angela. She writes, "Bitterness starts with judgment of some level … Ask for forgiveness for yourself, before even trying to forgive the other party." I thought that was good answer. It's about self-acknowledgment. By doing that, you can forgive the others.
Eunice: I have one more here from Melanie. She says, "For myself I experienced I had to pray so that I can keep my heart pure and not let those thoughts grow when they come up, but instead say no when those thoughts come up and also to really pray for the other person as well. It is impossible to have bitterness towards someone that you are praying for." I thought that was really good. So, thank you to everyone who shared their thoughts and experiences.
Milenko: And if you are struggling with bitterness, you know you're not alone. It is a trait of human nature to be tempted to that, but you can overcome it. And now we can listen to the article on how to overcome the root of bitterness.
(Click to read:)
Am I a bitter person?
Eunice: That was a really good, practical article. And I've often thought of Philippians 2:3 as my life's motto about esteeming the others higher than yourself. I've got a way to go but that's maybe why I need it as my motto.
Milenko: And that's why it's written, because we all need it as our motto, basically. Well we've come to the end of this podcast. Thank you for listening today, and to all of those who follow along, those also who follow on our social media and who share their thoughts and their mutual encouragement. That's really great for us. And for all the others watching and reading; it is really awesome to know that we have this community of likeminded Christians who are fighting the battle, strengthening each other, and we hope that this podcast is doing the same for you.
Like what you're reading?
Scripture taken from the New King James Version®, unless otherwise specified. Copyright © 1982 by Thomas Nelson. Used by permission. All rights reserved.