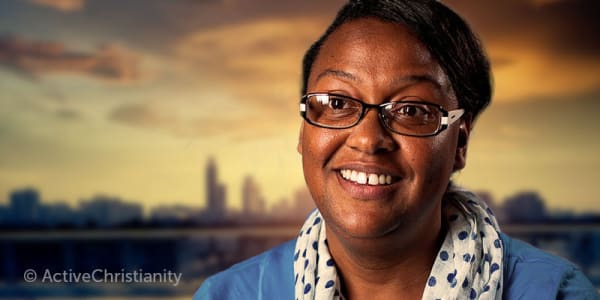 Free indeed!
Fedora tells how the cross made her completely free from her bad temper.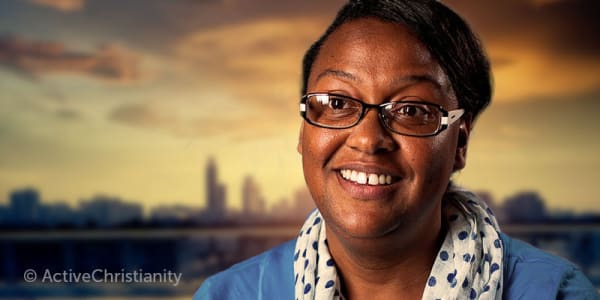 "The cross is really the solution in every situation," says Fedora enthusiastically. Fedora Lewis, from Detroit, Michigan, USA, was plagued by her bad temper. Now this 39 year old woman tells how the cross made her completely free.
"The cross is really the solution in every situation" says Fedora Lewis enthusiastically. "You know, at home with my six children. They are watching, you know. So closely they are watching, and more than anything I want to show them that this works! This is how you live. This is a true, real life!"
Fedora Lewis is an unusually upbeat person. With a face that radiates warmth and goodness, she tells about how she came to a crucified life with Jesus.
"As I was growing up I found out that I had a really bad temper. Really… ach..! A really bad temper. So much anger, you know. If you push the right button, it would come out," says Fedora intently.
"I remember I cried about this. I prayed: 'Lord Jesus, when will I be done with this?' But then Dad told me, 'Only the cross will make you free. And when you're free, when the truth makes you free, you're free indeed.'"
Fedora's first reaction was, "Dad I don't know. I think this temper; I will always have it."
Continue reading below ↓
Like what you're reading?
The cross made me free indeed
It was hard for Fedora to believe that it was possible for her to stop getting so angry. Especially when she was with her brothers and sisters, she could feel her temper flaring up inside. But then Fedora's prayers were answered. She received a living faith in what Jesus says in Luke 9:23,
Then He said to them all, "If anyone desires to come after Me, let him deny himself, and take up his cross daily, and follow Me.
Fedora chose quite simply to believe what she read in the Bible. She received faith that it was completely possible to follow Jesus in her own life, He who denied the lusts of His flesh; every single day – in all situations.
"There was lots of times that I fell; where it didn`t succeed. But I didn`t give up. And when time went by, faith grew. More and more I started to win battles," she says, making the analogy between the different temptations and being in a war. In the inner battle against her anger and irritation, she continued to get more and more victory.
What does it take to get the same life?
"I needed to take Gods Word and make it living; at home – where I was losing my temper."
It sounds so simple when Fedora tells about it. Her peace and confidence when she talks is amazing, and testifies to the fact that this is something she has experienced and put into practice. But what does it take to get the same life?
I ask her whether there is a specific Word of God that has helped her. She answers quickly, "For me, when I was young, a lot was to 'put on the full armor of God.' To overcome in the situations, I really needed the shield of faith, the helmet of salvation and the sword of the Spirit, as it is written in the Bible."
Put on the whole armor of God, that you may be able to stand against the wiles of the devil… above all, taking the shield of faith with which you will be able to quench all the fiery darts of the wicked one. And take the helmet of salvation, and the sword of the Spirit, which is the word of God; praying always with all prayer and supplication in the Spirit, being watchful to this end with all perseverance and supplication for all the saints. Ephesians 6:11,16-18.
"I have to prepare myself. Because it is a battle!" she continues. "I have to pray. I have to read Gods Word. For me, I had to do that every day. I couldn't do it without that."
Fedora tells excitedly about how she, by the help of prayer and God's Word, received power and help to crucify (deny) the evil tendencies in her flesh. As time went on, she noticed that her temper became less and less of a problem. Instead, she received power from God to be patient and kind toward her brothers and sisters.
"And to overcome like that… It just filled me with lots of joy!" she says with a huge smile. "That is how it was for me. Lots of joy. The cross really made me free. And then when I got older, I could say: I am crucified with Christ. It is no longer I who live, but Christ in me. (Galatians 2:20)
Still needs the cross
Fedora speaks with a simple and calm conviction. This is a life she has already lived for many years, and of which she can testify boldly that it works. But has she come so far that she no longer needs the cross?
"Oh no!" she answers with a hearty laugh. "I need the cross more than ever."
For, even though Fedora has overcome in many of life's circumstances, she will tell you that God continually opens new areas where she can receive a deeper cleansing. "But I am still working on that area of anger. Many battles have been won. But I am still fighting against that enemy. And I believe I will conquer that enemy. With all my heart."
As a mother of six children, she occasionally finds that her old temper tries to come up again.When her children argue and whine, and everyone wants a piece of her attention, then Fedora feels the frustration arise inside. But, she knows the battle technique. She knows that she does not need to give in to the temptation to become angry.
During her busy days, she does not have as much time to read God's Word as she did when she was younger. She says that singing faith-strengthening songs is a great help. Singing songs written by godly men and women who have lived a life of faithfulness to God, brings a good spirit into the home.
"And everything that wants me to say; 'everyone be quiet!' 'Go to your room' – and of course; sometimes you have to do that," she quickly adds, " But it's calm first, and then I can organize the children," she says with an infectious laugh.
Try it!
I ask her in conclusion what she would say to someone who does not believe in the power and help of the cross to overcome in temptations.
"If they don't believe, I'll say, 'Try it first. Try it! And if it doesn't help you, then I don't know. I would be really surprised,'" she laughs.
"But try it, because Jesus' Spirit is so powerful that it can help in every situation."
This post is also available in
Scripture taken from the New King James Version®, unless otherwise specified. Copyright © 1982 by Thomas Nelson. Used by permission. All rights reserved.