How can I find meaning in my everyday life?
What is the purpose of today?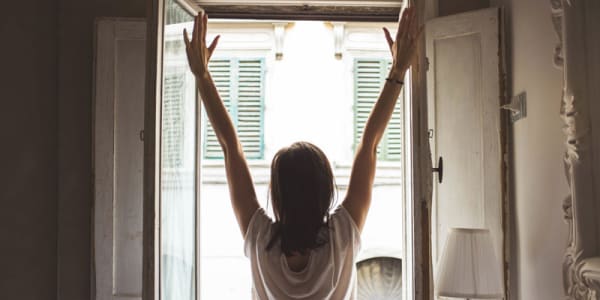 What actually is the purpose of my day today?
For many of us, the bulk of our life is made up of the same humdrum activity day in and day out. It is precisely here, however, right in the midst of our seemingly meaningless everyday life where something truly amazing can take place!
"This is the day which the Lord has made; we will rejoice and be glad in it." Psalm 118:24.
Living according to God's Word
Each day is a rich and precious gift from God, with new grace and new opportunities. Each day we have the opportunity to find and do God's will in our lives. And how do we know what God's will for us is? It really is quite simple! We live according to His Word. We read God's Word and we put it into practice. For example, when we are tempted to worry about our future, we can "be anxious for nothing, but in everything by prayer and supplication, with thanksgiving, let your requests be made known to God." Philippians 4:6. When we are tempted to grumble about the weather again, we can "in everything give thanks; for this is the will of God in Christ Jesus for you." 1 Thessalonians 5:18.
However, a problem quickly arises as we attempt to live such a life. As we seek to fulfill God's Word in the small situations we encounter, we see that "the good that I will to do, I do not do; but the evil I will not to do, that I practice." Romans 7:19. We realize that, however much we want to do the good, we are still hopelessly bound by the sin in our fallen nature! In our own strength we cannot fully carry out God's will as we intended. However much we try, we are simply unable to genuinely "love your enemies, bless those who curse you, do good to those who hate you." Matthew 5:44. We can't always esteem the others better than ourselves. (Philippians 2:3) Our nature is too strong and our own self-will is too powerful. We need help!
A Man we can follow
Thankfully, this help is available. It came in the form of a man. A man from Nazareth. His name? Jesus.
Jesus selflessly chose to leave the glory He had in heaven with His Father and be born into this world with the same human tendencies as we have. (Philippians 2:6-8) He, just like us, had a normal daily life. He was tempted to be angry at His siblings. He was tempted to judge the others. He was tempted to lie. But every single time, he said, "No!" No to His own natural tendencies. No to His own pride. No to His lusts and desires. (Hebrews 4:15) Instead, He chose to do God's will. "Father, if it is Your will, take this cup away from Me; nevertheless not My will, but Yours, be done." Luke 22:42. As He continually denied His own will, the sin in His flesh decreased day by day, as divine nature and the virtues increased accordingly. With the power of God's Spirit, He overcame all the sin in His human nature!
"And having been perfected, He became the author of salvation to all who obey Him." Hebrews 5:9.
And now it is possible for us to do just the same! God sent the Holy Spirit to us on the day of Pentecost for this reason. "But the Helper, the Holy Spirit, whom the Father will send in My name, He will teach you all things, and bring to your remembrance all things that I said to you." John 14:26.
The Holy Spirit gives us the power to overcome so we too can be completely victorious when we are tempted. We too can choose in our situations to say "no" to our own self. Instead, we can do God's will. Where we were once angry, we can become good! Where we were once irritated, we can become patient!
"But the fruit of the Spirit is love, joy, peace, longsuffering, kindness, goodness, faithfulness, gentleness, self-control. Against such there is no law." Galatians 5:22-23. These virtues can become our life! With the power of the Holy Spirit we too can become perfect and complete lacking nothing! (James 1:4) And then God can also say of us, "This is My beloved son in whom I am well pleased." Matthew 3:17.
A bright future
When we choose to suffer rather than do our own will, we know we have a glorious future ahead of us, both here on earth and for all eternity!
"Even though our outward man is perishing, yet the inward man is being renewed day by day. For our light affliction, which is but for a moment, is working for us a far more exceeding and eternal weight of glory." 2 Corinthians 4:16-17.
That is the reason for today! Today I can be found well-pleasing to God. Today I can overcome the sin I see in myself and today I can partake of a little more divine nature. If I do this every day, my future is truly bright! "He who overcomes, I will make him a pillar in the temple of My God, and he shall go out no more." Revelation 3:12.
So what's your day going to be like today? Is it just another day to cross off the calendar, or will it be a day full of opportunities; a day of eternal value?
Scripture taken from the New King James Version®, unless otherwise specified. Copyright © 1982 by Thomas Nelson. Used by permission. All rights reserved.