How postpartum depression brought me closer to God
Things didn't go as expected after Jennifer had her first baby.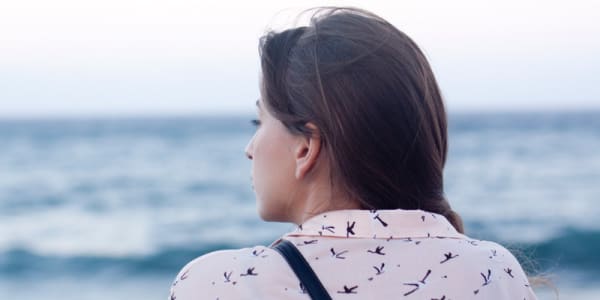 Jennifer shares her story of how she dealt with "baby blues" without losing her faith.
During pregnancy, the hormone levels in a woman's body are the highest they will ever be, and after giving birth, they plummet back down. The result is that in a time when women expect to feel excited and joyful about their gift from God, they can instead feel weepy, sad, lackluster, and devoid of energy.
A few months later Jennifer still hadn't come out of this depression. Although she didn't realize it at the time she was struggling from more than just "baby blues." She was in the throes of full on postpartum depression, a fully treatable condition. The trouble was, that she didn't figure that out until after the birth of her second child. She was attributing her feelings and emotions to her lack of sleep, which is something that every new mother knows about.
What postpartum depression feels like
Knowing that according to statistics 10-20 percent of new mothers deal with postpartum depression, I asked Jennifer if she would mind sharing her story, to see if she could offer help and hope to other new moms who are struggling with the same issue.
"To start with, I didn't deal with this like I should have," says Jennifer. "I didn't go to a doctor. It is definitely something that you should talk to a doctor about; something you can get medical help for. However, at the time, I didn't know what I was dealing with.
"It affects everything; it changes your personality. I just had absolutely no energy for anything at all. Just sitting on the couch, folding laundry, which seems like the simplest task, was too much for me. I felt alone, I felt hopeless, I felt physically tired, I felt like a different person than I used to be. Normally I love to be with people, but I didn't enjoy it at all anymore.
"And the hardest thing was that I didn't feel any connection with my baby. People always talk about the love you have for your first baby, but I didn't feel any kind of overwhelming mother-son bond. I just did my job as a mother because I had to.
"I was actually surrounded by people who cared for me and did a lot for me. My husband especially was amazingly supportive. But he often felt useless, and didn't know how to help, and I still felt alone.
How to get through it
"What carried me through that time was my trust in God. Dealing with postpartum depression can affect you spiritually. You feel down, and Satan can easily come with many thoughts to make you feel worse.
"'You're useless, you're worthless, you're good for nothing,' he would try to tell me, as I sat on the couch yet another day, unable to perform even the smallest task beyond caring for my baby.
"But Satan is also known as 'the accuser' (Revelation 12:10), and 'the father of lies' (John 8:44). I rejected those thoughts, knowing that his only intention was to turn me from God. When I chose to cling to God in this, the most difficult time I had ever faced, rather than listen to Satan's lies, I felt closer to Him than I ever had before in my life. When I was really severely depressed, I could always rely on God. I never felt that He was forsaking me. Yes, I felt down, I felt low, I felt like crying, I felt useless. But when I prayed I would literally feel carried by God to get me through the situations, or days, or thoughts that were a battle for me. I felt God close to me, caring for me, lifting me up.
"The temptation to complain did come. It's easy to think thoughts like, 'I wish this wasn't my life.' Or, 'Why does it have to be like this?' I would look at other mothers and think that they had it so easy. It was tempting to compare myself to them, but that kind of thinking only brings unrest. I chose never to give in to those thoughts. I knew I had to fight even just the smallest thought of complaining or feeling sorry for myself. Those are not thoughts from God. It didn't mean that I had to physically smile and laugh and fake feeling better than I did, but that I never let the spirit of the accuser in.
"Depression can easily bring with it bitterness, complaining, fear, and many other things. But God's Word says, 'For I know the thoughts that I think towards you, says the Lord, thoughts of peace and not of evil, to give you a future and a hope.' Jeremiah 29:11.
"To cling to this faith, and resist the accuser in times when everything seems like it is too much, is not easy. But the alternative, to let Satan's accusations and hopelessness, disbelief and despair rule my life, was not an option. It didn't change the way I felt, but it carried me through.
Dealing with thoughts of guilt
"The biggest temptation can easily be to feel guilt because you don't have those overwhelming feelings of love for your baby that you thought you'd have. Instead you are dealing with thoughts like, 'I don't want to do this, it's nothing like I imagined, and I don't love being a mom.' You sit and wait for those good feelings to come, and they just don't. But the best way to love your baby in those times is to look after them as best as you possibly can, regardless of what you feel. And God helped me do this too. And of course I loved my baby, but it was the feelings that weren't there.
"Psalm 23 was a tremendous comfort to me in that time.
"'The Lord is my Shepherd, I shall not want … He restores my soul … though I walk through the valley of the shadow of death, I will fear no evil, for You are with me.'
"Sometimes it felt like I was living in the valley of the shadow of death, but even just reading those verses would lift me up. It let me know that God was there, and He cared about me, no matter how I felt. It wasn't a feeling that He cared for me, it was knowing. It lifted me up. It's so important to read God's Word, to draw close to Him in times like this, even if you don't feel like it at all. It brings you closer to Him, and brings rest and peace.
"'Draw near to God, and He will draw near to you.' James 4:8
Singing faith to myself
"Days when I would sit on the couch, feeling sad and down, and dark thoughts would come, then I would open up our church songbook and just read songs to myself to encourage myself. This one especially:
"'He Himself who chose us out in Jesus,
Even long before the world was there,
In the fullness of the time He called us,
With a father's tender loving care.
Day and night His heart for us is burning,
With a deep desire to make us whole.
If you place your life into His keeping,
He will save you: spirit, body, soul.
"'Prove me now, we hear Him gently calling;
Blest are they who take Him at His Word.
Though all others leave you or neglect you,
Yet by Him each sigh will still be heard…'
"Sometimes it really felt like that, even though I know that's not what actually happened. Yet I felt so very alone.
"'…In the heart that feels its need and sorrow,
He creates with Words so wonderful.
If you place your life into His keeping,
He will open heaven over your soul.'
(Ways of the Lord #295)
Closer to God
"After I had my second baby we figured things out, and I went on medication. That helped a lot. Life became so much more normal after that. And now when I look back on those few dark years, I don't think about the dark part of it. I look back and I am extremely thankful for that time and I would not change it. I became very close to God through what I went through."
Scripture taken from the New King James Version®, unless otherwise specified. Copyright © 1982 by Thomas Nelson. Used by permission. All rights reserved.