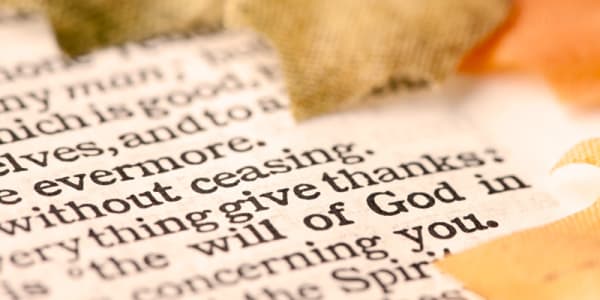 In everything give thanks
Every November Americans come together to celebrate Thanksgiving. It is a day for thankful reflection.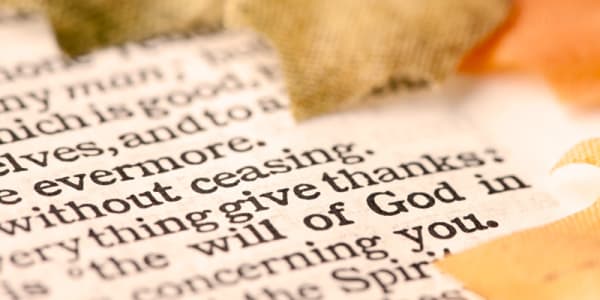 Paul the apostle wrote the words, "In everything give thanks." (1 Thessalonians 5:18) How was he able to be thankful in everything?
Every November Americans gather with family and friends to celebrate Thanksgiving Day. The reds and golds of autumn's leaves will be on display signalling the end of the year's harvest, farmers' fields will lie plowed to be left fallow over the coming winter, and many a home will be filled with the delectable aroma of roast turkey and pumpkin and apple pies. It is a day off of work and school, a day for thankful reflection.
In American schools, children learn about the pilgrims who left their homeland and all that was dear to them, to sail to America. After their safe arrival in the New World, and a somewhat peaceful coexistence with the native peoples, they celebrated by enjoying a bountiful feast together. It was the first "Thanksgiving Day."
Trusting God creates thankfulness
The holiday has its roots in giving heartfelt thanks to God for His blessings, but did you know that during America's early history there were several government-sanctioned thanksgiving days? One particularly interesting fact about those first observances is that a Thanksgiving Day was only celebrated when the settlers had received favorable circumstances, such as military victory or the end of a drought—but not if these things were lacking.
Paul the apostle had a very different way of responding to things. "In everything give thanks," he wrote. (1 Thessalonians 5:18) How could he be thankful in everything, in imprisonments, in beatings, in, really, all kinds of adversity that most people would find tragic and unbearable? It is because Paul was a "pilgrim" of a different sort, one who trusted God to take care of him in the very best way (Romans 8:28) while he himself sought "those things which are above, where Christ is sitting at the right hand of God." Colossians 3:1.
Continue reading below ↓
Like what you're reading?
Faith makes it possible to "rejoice always"
He had a living interest in finding those aspects of his nature which would not fit into the kingdom of heaven—that place for which his heart longed. And when situations went against him—as they so often do for us—he saw his tendency to complain or even be vengeful, but the grace he had received through his faith in Christ Jesus made it possible for him to hate those negative things which he saw in himself, and something new and eternal and heavenly was manifest in its place.
Paul wrote in his letter to the Romans, that he "gloried in tribulations"—he welcomed them! …Because he was convinced of what abiding in a living faith towards God would produce in his life—something eternal! He had partaken of a faith wherein he could "rejoice always" and give thanks in everything, even those things which were not only unpleasant but also seemingly unbearable. His thankfulness truly honored God! And he reminds us to do the same: "In everything give thanks, for this is the will of God in Christ Jesus for you." 1 Thessalonians 5:18. Is it any wonder that he, with such an attitude, had a "feast" in his heart, every day?
Happy Thanksgiving!
This post is also available in
Scripture taken from the New King James Version®, unless otherwise specified. Copyright © 1982 by Thomas Nelson. Used by permission. All rights reserved.