Bonus01: Is the Bible relevant in the 21st century? – What does the Bible say?
PODCAST: Have you ever asked this question?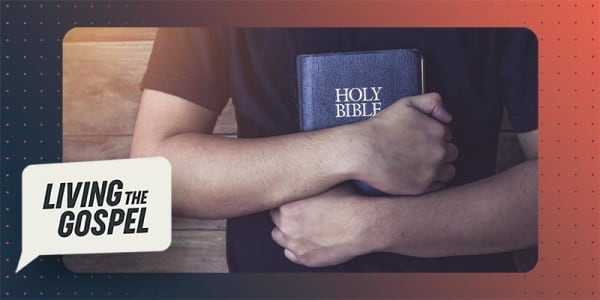 It was written so very long ago, so how is the Bible still relevant in the 21st century? We asked Sam Petkau what he thought about the question and he gave us a very interesting answer and we want to share that answer with you!
Transcript: "Living the Gospel" podcast, Bonus episode 01: Is the Bible relevant in the 21st century? – What does the Bible say?
Kathy: Hello everyone. I'm Kathy, and this is the "Living the Gospel podcast." When we recorded our episode with Sam Petkau about "What does the Bible say about being a disciple?" there was a short part in that episode that we didn't end up using, but we thought it would actually be a great way to round off our "What does the Bible say?" series. So, we decided to share it with you in our first ever bonus episode. It's only a couple of minutes, but it's very interesting, so have a listen.
This may be going off on a little bit of a tangent, but just now when you were talking, I thought an interesting question is, why do you think the Bible is timeless? Why do you think those verses apply so much now, thousands of years after they were written? Sorry, maybe throwing you under the bus a bit here, but I just thought it's an interesting question for myself.
Sam: Right. And in a way, the answer is quite simple in the words that Jesus said to each of the seven churches. He said, "He that has an ear, let him hear what the Spirit says ... is speaking to the churches." So, in those words is a Spirit. And it's written that God is good. And God is love. So in the words, if we are open for the Spirit's voice, in those words is a timeless exhortation, an encouragement, and instruction. Like it says, all the word of God is given for instruction, reproof, correction, and so on. (2 Timothy 3:16.) So, in those words is a Spirit that isn't connected to the times in itself. That Spirit is connected to the God of life. To Jesus, who came that we should have life and have it abundantly. So that Spirit can take those same words that meant something to a Jew when Jesus was alive still – on the earth, I should say – and that Spirit can speak those same eternal values into my circumstances today. So the timelessness is the Spirit that's in the word of God.
Kathy: The eternal Spirit.
Sam: The eternal Spirit.
Kathy: And that's it. So this ends our "What does the Bible say?" series. Thanks for listening and come back next week as start our series on Parables.
Read more: Why do people believe a 2000-year-old book?
Like what you're reading?
Scripture taken from the New King James Version®, unless otherwise specified. Copyright © 1982 by Thomas Nelson. Used by permission. All rights reserved.