Jesus, our Savior
At Christmas we celebrate and remember our Savior. What does that mean for us?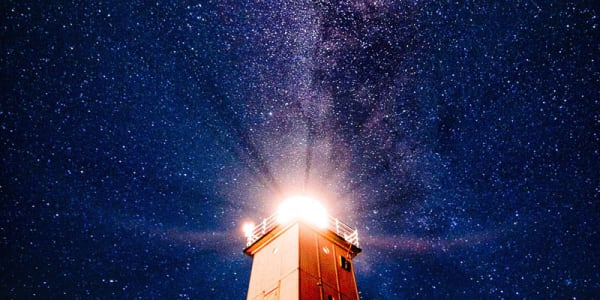 "When He prepared the heavens, I was there, when He drew a circle on the face of the deep, when He established the clouds above, when He strengthened the fountains of the deep, when He assigned to the sea its limit, so that the waters would not transgress His command, when He marked out the foundations of the earth, then I was beside Him as a master craftsman; and I was daily His delight, rejoicing always before Him, rejoicing in His inhabited world, and my delight was with the sons of men." Proverbs 8:27-31.
Jesus' love for us
In the midst of His exalted glory in heaven, Jesus saw the corruption that escalated after the fall, and a great need was born in His heart: "If only I could go and help these people!" In the midst of His joy, satisfaction, happiness and glory, He had this love for people. He wanted to become their Savior, Reconciler, Sanctifier and High Priest, and show the way to God. This was His longing.
Isn't that love, that despite everything being so good for Him, He nevertheless chose to be born into the world with a human nature like ours? By denying all the bad inclinations in His own nature, He opened a way back to God and His kingdom; a way to share all His glory with us.
Isn't that love? Going all the way without giving in to sin even once? Every day He was actually in danger of giving in and losing what He had left behind in heaven. That is the love Jesus has for you and me!
When we have been met with such love, shouldn't it be a matter of course for us to be dedicated in our love for Him in return? Oddly enough, this is not the case. Therefore, Jesus goes on to say, "Listen to Me now, My children! Blessed are they who follow My ways." You would have thought that everyone would follow these ways. Regrettably, we are so corrupted that we aren't like that. That's why we need these admonitions. That's why we need to keep watch at the doors of our hearts, and desire to live close to Him and hear His voice.
Continue reading below ↓
Like what you're reading?
He saw my misery
Christmas is approaching – a time to think about why Jesus came. Think of the love that was behind that! He is my Savior! He has love for me.
He saw my misery, not only the misery of mankind. No, mine too. He saw how easily I am tempted, how little it takes before I fall out of love. When a child is born, we celebrate a new life. But the baby also has a fallen human nature – the flesh we received after the fall, and in which nothing good dwells. That's why people easily develop in selfishness, malice and with a lust for glory and greatness. All the evil that has happened in the world has happened through human bodies that were created in the Father's image, but over which Satan took control, through lusts and desires and the spirit of the times.
Be preserved in love
"[I pray] that He would grant you, according to the riches of His glory, to be strengthened with might through His Spirit in the inner man, that Christ may dwell in your hearts through faith; that you, being rooted and grounded in love, may be able to comprehend with all the saints what is the width and length and depth and height – to know the love of Christ which passes knowledge; that you may be filled with all the fullness of God." Ephesians 3:16-19.
When Paul speaks about being "rooted and grounded in love," this is first and foremost a burning reciprocal love for Christ. This is actually a requirement if we want to be preserved our whole lives without growing weary, without falling out of love. This means that we can go through life without entering a "period of weariness" where we, due to other people and circumstances, become apathetic. Then something cold and indifferent comes over us, and love for the others and for God cools down. The intention is that this love is always present, and is also increasing!
David says, "I will love You, O Lord, my strength." Psalm 18:1. How long has it been since you have said the same to Jesus? Although there are many things we can be occupied with, we are called to have fellowship with Him, the Son of God, says Paul. This loving relationship gives strength to persevere in life's battle, and we can rejoice before the Lord. Joy will not disappear if we are preserved in love.
This post is also available in
Scripture taken from the New King James Version®, unless otherwise specified. Copyright © 1982 by Thomas Nelson. Used by permission. All rights reserved.