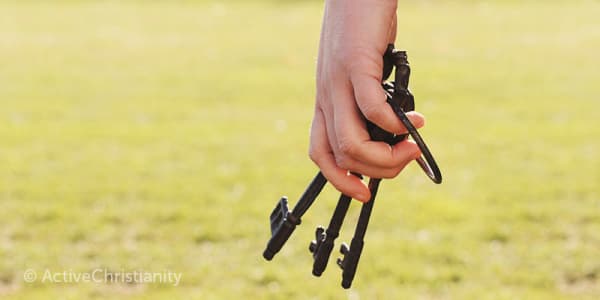 My keys to victory over sin
A few things that have been instrumental in leading Carl to an overcoming life, which may also help you.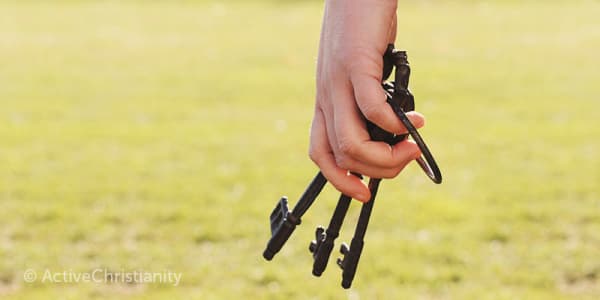 In my Christian life I have found certain "keys," if you will, to victory over sin. These are keys which I have learned slowly, through much falling before I finally came to a life of victory over sin. The main verse to remember in all these keys is "God resists the proud, but gives grace to the humble." James 4:6. If I am proud these keys are lost on me, but when I am humble they work to the salvation of my soul.
1. Come to faith that God has called me to be victorious over sin
This is important because Satan, a.k.a. "the accuser," tries to tell me I can never have victory over sin, because of how easily tempted I am. It became very clear to me that God chose me when I heard somebody say, "You can be sure God called you if you have a longing to serve Him, because God is righteous and wouldn't plant that longing in your heart if He hadn't called you to fulfill it." That made it really simple for me, because I sensed I wanted to be well pleasing to God. Even if I didn't even know exactly what that entailed at the time.
Since then I have had faith that God called me, even when I see how quickly I am tempted to anger or impatience, for example, and thereby see the true wretchedness of my inherited human nature. When the accuser tries to use that wretchedness as an excuse to make me sin, as if I "can't help it," I use these words as a defense:
"For you see your calling, brethren, that not many wise according to the flesh, not many mighty, not many noble, are called. But God has chosen the foolish things of the world to put to shame the wise, and God has chosen the weak things of the world to put to shame the things which are mighty; and the base things of the world and the things which are despised God has chosen, and the things which are not, to bring to nothing the things that are." 1 Corinthians 1:26-28
I can rejoice that I fit into that category together with Paul and the many others who have gone before me. I have no reason to become discouraged when I have such company, because I live a life of hope for what can be.
Continue reading below ↓
Like what you're reading?
2. Acknowledge my weakness
This has been the key that has been the hardest to come to. As a human-being I can give myself many freedoms that I actually shouldn't. For example: watching a TV show that I know is inappropriate. This gets me into trouble if I have a desire to keep myself pure. I want to be pure, but now I have impure images or jokes floating around in my mind because I didn't give up that dumb show, as I knew I should have. Instead I gave into reasoning like if they don't "show" anything on the TV show then it isn't so bad. Well, that has been exposed as a lie, because it is nearly impossible to hear something and not get a mental image of it. The same goes for reading. I have found that these mental images can come back and plague me later, and it is really all because I didn't acknowledge how weak I was when it came to my lusts.
"All things are lawful for me, but not all things are helpful; all things are lawful for me, but not all things edify." 1 Corinthians 10:23.
I need to hold onto this verse, so I don't wander away from the truth. And the truth is: I am extremely weak. Sexual temptations lie right at the door. The whole world is plagued by it, and I can be as well. Even as a Christian, if I give myself false freedoms. Each person must determine for themselves what they need to give up in order to be well-pleasing and keep themselves pure. For me it means extreme caution in watching and reading and looking at all the different forms of media. I can't let myself get away with things I shouldn't, if I'm being honest about what is helpful and what is edifying.
3. Seek
fellowship

!

This is in close connection with number two. I understand I am weak, but fellowship with brothers and sisters fighting the same battle can strengthen and encourage me immensely. A soldier should never miss an opportunity to be strengthened for battle!

I am fortunate enough to be part of a church where there are many people around me who also have a longing for victory over sin. It is my responsibility to fulfill these needful exhortations from the author of Hebrews:

"And let us consider one another in order to stir up love and good works, not forsaking the assembling of ourselves together, as is the manner of some, but exhorting one another, and so much the more as you see the day approaching. Hebrews 10:24.

Fellowship has become a priority for me, for the sole reason that I need it. Without it I start to realize a lack of power and decidedness in my life. I'm no longer quite as sure about what I want or what is important. It has been a tremendous help for me to come to a life of victory.
4. Call sin, sin!
I have realized more and more that if I don't consciously acknowledge sin for what it is, then I become indifferent and slothful. Much of what is grave sin in the Bible has become very normal in the world today.
Backbiting, for example. Everybody and their mom backbites, right? We maybe don't call it backbiting, but that's what it is, although we try to justify it. I have to remember that in Romans 1:30 backbiters are classified together with haters of God! When I understand how God feels about it, then I will see how serious an offence backbiting is.
I sense a need to pray for an ever-increasing seriousness and hatred for sin. God's standard of sin also has to be my standard of sin. It is impossible to sin in one area and not start giving in in more areas. Sin creeps. It starts with one area and soon I am back to being bound in many areas. This I have personally experienced, and can testify that it is true.
Scripture taken from the New King James Version®, unless otherwise specified. Copyright © 1982 by Thomas Nelson. Used by permission. All rights reserved.