Living faith
Many people never become free from the past, but with a living faith in God it's possible no longer to be burdened by the things that have been.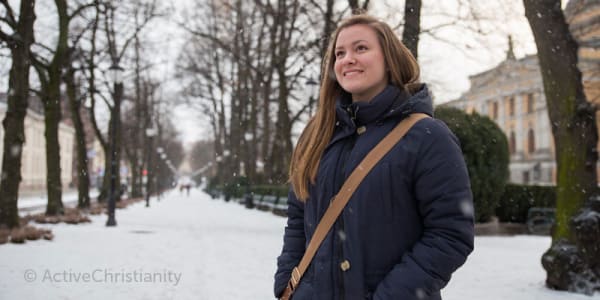 Coming free from the past
"Do not remember the former things, nor consider the things of old. Behold, I will do a new thing, now it shall spring forth; shall you not know it? I will even make a road in the wilderness and rivers in the desert." Isaiah 43:18-19.
It is glorious to look ahead to the future. We must not be plagued by things that are behind us if we have put matters right with God and with people where that was necessary. Then we are not to consider the former things, nor the things of old. "Behold, I will do a new thing," He says.
Many people cannot get completely free from their past. "The chastisement for our peace was upon Him." Isaiah 53:5. When someone is troubled and discouraged—constantly discouraged, fainthearted and dejected—there is only one reason for it; he does not have a living faith that his sins have been forgiven.
Continue reading below ↓
Like what you're reading?
Get living faith!
How can you be discouraged if you believe that your sins have been removed from you as far as the east is from the west? (Psalm 103:12.) Do you have a living faith in this? Then all discouragement will be a thing of the past. Thanks and praise to God! Do you have a living faith in the fact that He has cast your sins into the sea of forgetfulness, never to see them again? Think about this reader! Receive a living faith in it! What will happen to discouragement then? It will disappear completely!
We must come to a living faith; that is the foundation. And faith in the forgiveness of sins is the basis for that foundation. It is the introduction to the main point, which is a glorious, victorious life in Jesus Christ. We are to be filled with all the fullness of God—with wisdom, goodness and mercy—so that the meekness of wisdom is made manifest through our bodies. This is a glorious life! In the church we speak about an inner life. We are not legalistic. We do not proclaim Moses and the commandments written on tablets of stone. However, we do proclaim the commandments of Jesus written in our hearts and minds, and we proclaim the power we receive to obey them through the grace that is in Jesus Christ. This is a work of grace.
This article has been translated from Norwegian and is an excerpt from the book "Shepherd and Prophet," (Skjulte Skatters Forlag, 2004) by Kaare J. Smith
© Copyright Stiftelsen Skjulte Skatters Forlag, Norway
This post is also available in
Scripture taken from the New King James Version®, unless otherwise specified. Copyright © 1982 by Thomas Nelson. Used by permission. All rights reserved.