An open door awaits you!
You are invited … to a completely new life, free from whatever is in your past.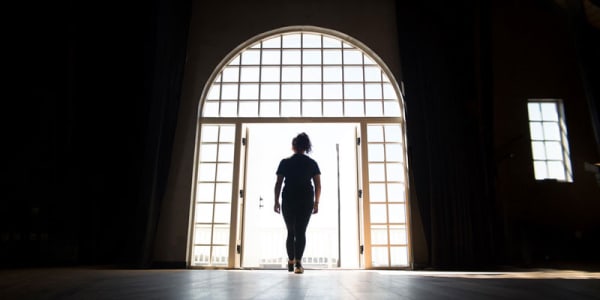 My dear friend!
Just think, from this day forward, you can leave your old life behind you and instead, live for God; a life that brings happiness and peace of heart.
The time that you have spent living according to your lusts and whims—that time you can't get back. But now you can repent from your heart, you can say goodbye to the way that you were living—in sin and in your lusts—and you can choose to make a new beginning. I want to encourage you to stand fast in this choice, no matter how Satan, the accuser, wants to convince you that you don't have a chance for a totally new life. When God has opened a door for you, nothing, including your own thoughts and doubts, can close it.
The effects of sin are harsh. They can leave you with regrets and memories that are hard to let go of and forget. Guilt and remorse stand there like wolves, ready to rip you apart until you are lying face down, weak and broken. But if you have decided to repent and follow Jesus, there is true hope and a future for you. (Jeremiah 29:11.) If you have asked Him to forgive you for your past sins, He has done it! He has thrown all memory of your sin into the sea of forgetfulness. (Micah 7:18-19.) There is only one thing He is interested in now. He is extremely interested in giving you a successful life in victory over sin. He has opened a new door for you! Through this door is a new life, the opportunity to once and for all bid the old ways goodbye and reach forward to a bright and pure future, a safe and happy future! In faith, we can then say as the apostle Paul said, "… forgetting those things which are behind and reaching forward to those things which are ahead …" Philippians 3:13.
The key now is to be awake and on guard in your thoughts, ready when Satan comes to break you down. He loves to throw the past in your face and try to sow a little doubt in your mind, wherever he gets the chance. But even though what he says seems to be true, Satan is the father of lies and will always leave out the main truth—namely that there is not a single sin which Jesus hasn't died for and not a single sin that is so terrible that you can't become a completely new person by following Him.
"… sin lies at the door. And its desire is for you, but you should rule over it." Genesis 4:7.
Have faith! Have faith in Him who has opened this way. He knows your past, but He also has a rich, victorious future for you! Faith is something you can pray for if you lack it. Pray to God for faith and power to stand, spend time reading His word and being with His true disciples. In doing this you will nourish your spirit and arm yourself so that you are ready when Satan comes on the attack. (Ephesians 6:10-18; 1 Peter 5:8-9.) Be diligent in this.
"I know your works. See I have set before you an open door and no man can shut it." Revelation 3:8.
Like what you're reading?
Scripture taken from the New King James Version®, unless otherwise specified. Copyright © 1982 by Thomas Nelson. Used by permission. All rights reserved.