The results of living a life of victory over sin
Our lives are not our own – we live for Jesus. And in return our lives are made so rich and free.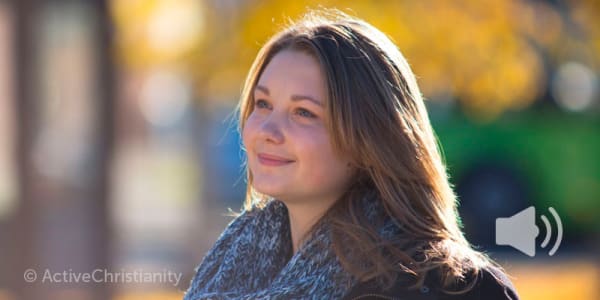 Living a victorious life has rewards that will benefit you for now and all eternity. The only one who loses when you overcome is Satan, as you prove with your life that following Jesus on this glorious way is the only right way to go.
Going before God's face
Living righteously puts you into direct contact with God and with Jesus. In the garden of Eden, Adam and Eve walked and talked with God. They had good and open communication with Him. But on the day that they sinned, the first thing they did was hide from Him. Sin makes you lose your confidence. It makes you fear God in the wrong way. The fear of God is to fear to sin against Him. But this fear means that you are afraid to have to do with Him, because you know that you have allowed something evil to come between you. You feel guilt and condemnation, and want to hide what you've done from Him. Those who live in sin are completely separated from God.
But, when you start overcoming sin, then your confidence returns! You get boldness to go before God's face, to seek Him. It's written that, "Having boldness to enter the Holiest by the blood of Jesus, by a new and living way which He consecrated for us, through the veil, that is, His flesh." Hebrews 10:19-20 Jesus went the way through the veil: the way of overcoming all the sin He found there in His flesh. In doing so that veil, that flesh that separated us from God, was torn in two. The way to God was opened again; it had been closed since sin entered the world. What a price Jesus paid for our sakes, that we are able to come before God's face. This should motivate you to walk the same way.
When you also go the way through your own flesh – the way of overcoming all the sin that you find there – then you get boldness to go and meet God. You can lift your head, you can look God in the eye and have fellowship with Him. Because you know that you have nothing to hide, you have no reason to cower. That's what you get right from the first time that you get victory in temptation. And that connection becomes stronger and stronger as you make progress on the way through the flesh. That fellowship and connection you get with God and with Jesus is incomparable. (Philippians 3:10)
Continue reading below ↓
Like what you're reading?
Freedom and joy
Living a life of victory leads to joy. You may have been a slave to sin for years, and when you discover that you don't have to be bound to it any longer, that is a true, liberating joy. It brings with it freedom, peace, and rest. Sin creates evil feelings. Unrest, anxiety, fear, etc.
Imagine a man has taken over a business because he has cheated, and lied, and harmed other people to get to that position. When he finally has control, he may feel satisfaction, but he will mostly spend his time in anxiety and fear that someone will find out what he did to get there, or that someone will do the same to him. And how long will his contentment with what he has managed to do last? His lust for power is still alive and thriving.
Imagine in contrast if he had been content with his place in the business, that he had overcome the lust for power and honor, and had instead learned to be content (Philippians 4:11) and had worked hard and honestly for promotion. He would experience rest, peace, and security, so long as he did not allow sin to live. And God would bless all that he did. (Psalm 1:1-3)
When you first take up a battle against something that God points out in your flesh, it creates a suffering. The flesh doesn't want to give up something which has been a part of it for so long. But God is rich in grace and mercy, and supplies all the power you need, and the first time you get victory over that – there are no words to describe the freedom you feel!
The battle leads to something incomparable
You may really have to fight to give up that lust for power (as per the example) or whatever it may be, but once you've done it, in obedience to what God puts on your heart, then you will experience joy. The more you practice obedience, the better life becomes. Then the day will come when you suddenly realize, "Hey! I used to be this way, and now it's not even a battle for me!" That is incomparable joy, freedom, and rest from sin. It is a tremendous benefit to you; life is good, and rich, and full when you are not controlled by your flesh. Once you experience freedom, you will realize what hell it was to be bound.
Then in the midst of your situations you'll start to feel invincible. You'll start to look forward to these opportunities to become even more free from what drags you down and binds you. Because you hate that ugly stuff that you see in your flesh, and you want nothing more than to be rid of it so that you can come to more abundant life in fellowship with the Father and the Son.
Your life is blessed
When you react with goodness, love, and the virtues rather than from sinful habits and reactions it has a tremendous effect in every aspect of your life. You become a loving person, in whom others can see the life of Christ; your relationships with people prosper when no sin gets in the way. It's such a relief not to react with suspicion, irritation, being offended, worrying about what people think, etc. Life becomes rich and free. You experience fellowship with others who are in the same battle. You forge bonds that are unbreakable when you have the same goal. You are along in forming the body of Christ on earth, and there is nothing greater than that. Then blessing follows in your wake.
"In this you greatly rejoice, though now for a little while, if need be, you have been grieved by various trials, that the genuineness of your faith, being much more precious than gold that perishes, though it is tested by fire, may be found to praise, honor, and glory at the revelation of Jesus Christ, whom not having seen you love. Though now you do not see Him, yet believing, you rejoice with joy inexpressible and full of glory, receiving the end of your faith – the salvation of your souls." 1 Peter 1:6-9.
Scripture taken from the New King James Version®, unless otherwise specified. Copyright © 1982 by Thomas Nelson. Used by permission. All rights reserved.