Shadrach, Meshach, and Abed-Nego: Nothing could motivate them to sin
Can I say that nothing could motivate me to consciously sin?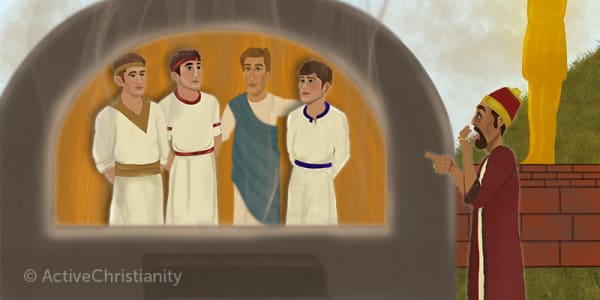 If you grew up going to Sunday School you'll know the story of Shadrach, Meshach, and Abed-Nego well. Three God-fearing men refused to bow down to an idol, and ended up being thrown into a "burning fiery furnace." Yet, can you say that you have that same attitude when it comes to giving in to the pressure from your body of sin to do things that you know to be wrong?
Shadrach, Meshach, and Abed-Nego: examples for us today
It was a direct command from the king: "To you it is commanded, O peoples … you shall fall down and worship the gold image that King Nebuchadnezzar has set up; and whoever does not fall down and worship shall be cast immediately into the midst of a burning fiery furnace." Daniel 3:4-6.
But Shadrach, Meshach, and Abed-Nego were not going to be ordered to sin in this way. These were young Jewish men who had been brought up on the commandment, "You shall have no other gods before Me. You shall not make for yourself a carved image … you shall not bow down to them nor serve them." Exodus 20:3-5. So when they were presented with the option of sinning or being thrown into the fire, there was really no choice for them. "If that is the case, our God whom we serve is able to deliver us from the burning fiery furnace, and He will deliver us from your hand, O king." Daniel 3:17.
How many people have that kind of zeal when it comes to refusing to sin? How many people are willing to bear anything, rather than sin? This story from thousands of years ago can apply directly to our lives today. We too can have a faith in God that knows beyond a shadow of a doubt that if we are willing to suffer anything for His sake, in order that His will be done on earth as it is in heaven, then He will bring us through whatever fire we have to endure.
The fire that tests and purifies us
"Did we not cast three men bound into the midst of the fire? … Look! I see four men loose, walking in the midst of the fire; and they are not hurt, and the form of the fourth is like the Son of God." Daniel 3:24-25.
It can be that we want to avoid those situations which are going to cause a fire to come over our lives, when we have to lose something of ourselves. Maybe we have to give up our own honor and "lose face" before people. Maybe we have to really make a sacrifice in order to do God's will, or perhaps we have a situation that is hard to bear. These things are our fire that we must endure. This is the fire that tests and purifies us.
"In this you greatly rejoice, though now for a little while, if need be, you have been grieved by various trials, that the genuineness of your faith, being much more precious than gold that perishes, though it is tested by fire, may be found to praise, honor, and glory at the revelation of Jesus Christ." 1 Peter 1:6-7.
If we welcome the fire; if we gladly endure it, so that we can be purified from the sin in our flesh and so that God's will can be done instead of our own, then we are not alone in the fire! The Son of God is with us, just as He was with Shadrach, Meshach, and Abed-Nego. He is always with us to help us to endure, to overcome, and come through unharmed, and purer than we were at the start of the tribulation. He Himself endured fiery trials when He was on earth, enduring the sufferings that brought. Now it is our turn to "partake of Christ's sufferings," so that our faith can be made genuine!
Not even the smell of fire!
"Beloved, do not think it strange concerning the fiery trial which is to try you, as though some strange thing happened to you; but rejoice to the extent that you partake of Christ's sufferings, that when His glory is revealed, you may also be glad with exceeding joy." 1 Peter 4:12-13.
If we allow human reasoning and opinions to make all kinds of excuses for why we don't actually have to go through the fire, finding ways to get around it, we miss the opportunity to be purified from that which is in us which is not from God. When Shadrach, Meshach, and Abed-Nego were in the furnace the fire was so hot that it burnt the ropes that bound them right off their bodies, but they themselves were not even singed. They didn't even smell like fire! (Daniel 3:27)
It can be the same way for us. If we allow God's fire to do its work in us, then those ropes of sin that bind us are burnt away, while we can come through the trial without even the smell of smoke on us. In other words, we don't complain and become bitter about the trial. That's that "smell of smoke" that lets everyone know what you are going through. Rather, we can come out of the fire, having borne the situation before God's face alone, and remain in a spirit of thankfulness, rest, joy, and peace – no "smell of fire" on us at all.
The faith of Shadrach, Meshach, and Abed-Nego
The end of their faith was that God was glorified! Their faith spoke loudly about the Almighty God, the worker of miracles, the deliverer of those who believe in Him. Their faith has gone down through history, inspiring and encouraging many to believe in God.
Let's all have the faith of Shadrach, Meshach, and Abed-Nego.
(You can read the whole story of Shadrach, Meshach, and Abed-Nego in Daniel 3.)
Scripture taken from the New King James Version®, unless otherwise specified. Copyright © 1982 by Thomas Nelson. Used by permission. All rights reserved.