The 1st extraordinary promise: The tree of life
The first in a series about our eternal rewards.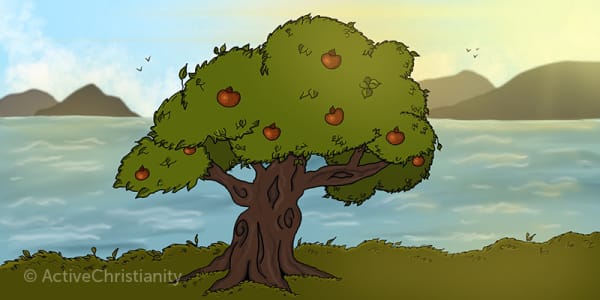 "He who has an ear, let him hear what the Spirit says to the churches. To him who overcomes, I will give to eat from the tree of life, which is in the midst of the Paradise of God." Revelation 2:7.
God loves His creation. Sin corrupted it, but now He has a plan to return it to its original state of perfection, and He will reward those who help Him carry out this plan.
Sin was born because of Satan's desire to set himself above God, and it destroyed the harmony of heaven. Now God needs sin to be completely eradicated from all of His creation, in such a way that there is no possibility of it happening again.
So He created mankind with the express intention that they should rule over sin. (Genesis 4:7) His entire plan is that mankind should live a life where they hate and resist sin, and say yes to Him – to overcome. One who overcomes sin in their life is proving that God's way is perfect, and is part of the work of abolishing sin for all eternity. Each one who does this will taste the rich rewards of living such a life. These promises apply to all who overcome.
Eternal life
The tree of life is symbolic of eternal life.
Amongst the trees in the garden of Eden, God placed the tree of life, and the tree of the knowledge of good and evil. He told Adam and Eve that they may eat freely of every tree, except for the tree of knowledge. One simple rule.
But you know the story. Eve was disobedient and ate of the tree anyway, having been deceived by Satan, in the form of a serpent. And she convinced Adam to do the same. They chose their own will over God's good and perfect will, and through that simple act, sin also entered the world.
If they ate of the tree of life now, they would have got eternal life. But then sin would have come into eternity. So God cut off access to the tree of life. "He drove out the man; and He placed cherubim at the east of the garden of Eden, and a flaming sword which turned every way, to guard the way to the tree of life." Genesis 3:24. They lost their opportunity for eternal life.
But because of what Jesus did for you, now you live in a time where you again have the opportunity to "eat" of the tree of life. What does that mean? Every time you choose to do God's will instead of your own you lay hold of something eternal; something is gained in your heart that has eternal value. Every time you resist temptation and overcome sin, you take a bite of the fruit of the tree of life. You are storing up for eternal life on the new earth that God creates. (Revelation 21:1)
There will be no sin there, not even the temptation to sin. The reward for overcoming sin is eternal life with God!
If you enjoyed this article about the Tree of Life, you may also want to read more about the extraordinary promises given to us in Revelation 2 and 3.
This post is also available in
Scripture taken from the New King James Version®, unless otherwise specified. Copyright © 1982 by Thomas Nelson. Used by permission. All rights reserved.