The 4th extraordinary promise: Power over the nations, a rod of iron, and the morning star
The fourth in a series about our eternal rewards.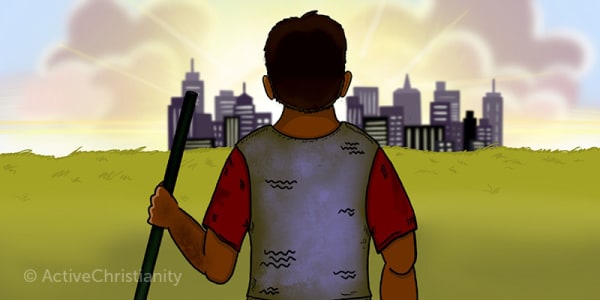 "And he who overcomes and keeps My works until the end, to him I will give power over the nations –
'He shall rule them with a rod of iron;
They shall be dashed to pieces like the potter's vessels'
– as I also have received from my Father; and I will give him the morning star."
Revelation 2:26-28.
God loves His creation. Sin corrupted it, but now He has a plan to return it to its original state of perfection, and He will reward those who help Him carry out this plan.
Sin was born because of Satan's desire to set himself above God, and it destroyed the harmony of heaven. Now God needs sin to be completely eradicated from all of His creation, in such a way that there is no possibility of it happening again.
So He created mankind with the express intention that they should rule over sin. (Genesis 4:7) His entire plan is that mankind should live a life where they hate and resist sin, and say yes to Him – to overcome. One who overcomes sin in their life is proving that God's way is perfect, and is part of the work of abolishing sin for all eternity. Each one who does this will taste the rich rewards of living such a life. These promises apply to all who overcome.
Power over the nations – the rod of iron
All those who overcome will reign on earth with Jesus during the millennium. (Revelation 20:6) That will be something truly special. Jesus will be sitting in Jerusalem, and He'll have His bridal flock spread out over the earth, healing and restoring. The world is full of unrighteousness. You see, for instance, dictators, war crimes, poverty. The innocent suffer. Injustice is rampant in this world, on every level of society. There is so much misery, so much is wrong with the world.
And you can be along in putting all of this in order! Then you will need a "rod of iron." To walk into situations and start setting them straight. You will be able to liberate innocent people who are suffering under oppression and abuse. Then you will have to "break some vessels." A world that is falling apart will start to be put back together.
Training is required in order to get a hold of this rod of iron. When you start to rule over sin in your own life, that is the training ground; that is where you get power. How can you help restore the world, unless you have learned to overcome the powers of sin and darkness? The rod of iron symbolizes the tremendous power contained in an overcoming life!
When you see the pain and suffering that so many in this world endure, isn't it a comfort to know that by your personal faithfulness, you are working towards being able to make all that is wrong right again?
The morning star
Peter describes the morning star as "the prophetic word…that shines in a dark place, until the day dawns and the morning star rises in your heart." 2 Peter 1:19.
The prophetic word is the word of God, and when you allow that word to shine into the dark areas of your life and bring to light the sin that dwells there, and you are humble to take that grace and use it to overcome the sin that you find, then the morning star rises in your heart. Light replaces darkness, and your entire being becomes light. As more and more areas of your life are cleansed from sin, you will shine brighter and brighter until that morning star is yours. The fullness of light is in your being. (Proverbs 4:18)
It's not just about overcoming sin, but it's about becoming free. About becoming happier and happier. The light you get from the morning star radiates from you, and others can see the life of Christ in you. They will see what an attractive life it is. Your life can draw people to Christ!
If you enjoyed this article about God's promise that we should receive "power over the nations, a rod of iron, and the morning star," you may also want to read more about the other extraordinary promises given to us in Revelation 2 and 3.
This post is also available in
Scripture taken from the New King James Version®, unless otherwise specified. Copyright © 1982 by Thomas Nelson. Used by permission. All rights reserved.