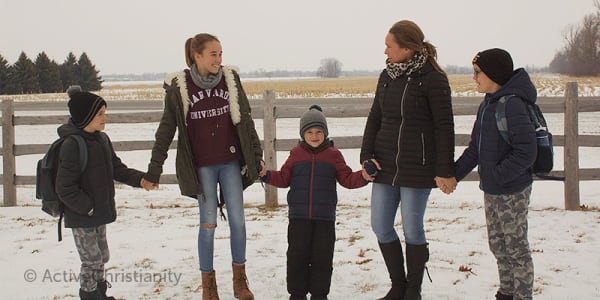 "Think that God will do a miracle within us"
The greatest miracle that God can do for me is simple and life-changing!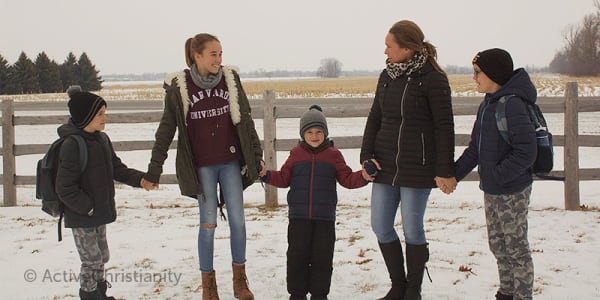 This is a story about a song. A song that my grandmother wrote straight from her heart, at her kitchen counter many years ago. A song that has become my own personal anthem.
I'm sitting in my kitchen, looking out the window. The snow is slowly falling down, no rush. Everything is quiet and calm. I'm thinking back to 10 minutes ago. I was rushing the kids out the door to the bus, stressing, fast kisses and hugs. "Bye kids; love you."
As I think, the questions start coming. Was I rushing the kids and stressing too much? Was I being a good mother? What could I have done differently?
Then the song my grandmother wrote comes to mind again, just as it has many times before. I sing some of the lyrics to myself again:
'Tis so happy in the home when there is victory!
We're no more cross or sore.
Filled with thankfulness and patience, nothing troubling –
There's a new and blessed ring.
Think that God will do a miracle within us!
Who can comprehend His majesty and power?
Think that you and I will be
On life's way transformed and free,
As it's written – and no doubts have we!
From the BCC songbook, Ways of the Lord #404
Continue reading below ↓
Like what you're reading?
Every day I find I need to change
I'm a mother of seven children, all ages with different needs, all of them needing my love and care. I find there is lots for me to work on when it comes to dealing with them. Every day, I find new things in my nature to work on. It's easy to become frustrated or impatient with them. To be worried or unrestful. I find when I start singing this song, the lyrics encourage me and fill me with joy, thankfulness, gladness and hope. Hope for myself, that I can be transformed from these negative reactions that I find in myself; hope that I can change.
My grandmother wrote this song when she was experiencing very similar situations to what I am experiencing now. She was also a mother with a need. A need to take it right in all daily situations. Praying out to God to get wisdom and help to take it right with the children; asking for patience and love to know what to do every day.
Just like me today.
I have learned over the years that when I let the gospel work in me – when I fight against and get victory over these temptations from my flesh – then the children can taste a different spirit from me than that of a stressed, frustrated mother. That creates a warm and loving atmosphere in our home. They feel safe and secure, and they see that the gospel of transformation through victory over sin works. But for them to see and experience the gospel, it has to start with me. I have to become that happy, Spirit-led mother in my home, instead of being led by my feelings and human nature. By doing that I can be a shining example to my children, and in this way I can draw them to wanting this life with Christ for themselves.
How my grandmother wrote the song:
I will never forget the story my mom told me of how my grandmother wrote this song:
"Mother was at home with the children during New Year 1964/65. She would have liked to have gone to a Christian conference that was taking place in Oslo, but the trip from her home in the north of Norway was a long one, and in those days travelling that far for just a couple of days wasn't so easy. However, a close friend had been there, a young man named Kaare Smith, who had an army posting in the area where she lived, and when he came home he was overflowing with enthusiasm for what he had heard at the conference. He had been born again there and he was eager to share the incredible message he had heard there.
He visited Mother and with great enthusiasm told her about the powerful message of the joy of hope and the God of miracles who is able to create something completely new in our lives, which had inspired him so powerfully. It made a huge impact on her. The song was born in her kitchen as she went about her daily tasks. She had a pencil and paper in her apron pocket, and the song almost wrote itself. The same spirit that was preached at that conference came out in the song. It was eventually published in the BCC Songbook Ways of the Lord, and has been a blessing and encouragement for countless people."
I can be transformed!
Examples like my grandmother show us that it is possible to live a life like this! To be free from everything that would bring me down, and choosing to rather move forward in a spirit full of hope and faith. God will do a miracle within me. His words are true!
I can be transformed! I can leave the way I am by nature behind and become something new. A happy mother, full of the fruit of the Spirit, rather than the works of the flesh.
When I take it like this in all my situations then I will move forward with a triumphant song. There will be victory in my life; there will be thankfulness and joy. And a new and blessed ring!
"And we know that all things work together for good to those who love God, to those who are the called according to His purpose." Romans 8:28.
This post is also available in
Scripture taken from the New King James Version®, unless otherwise specified. Copyright © 1982 by Thomas Nelson. Used by permission. All rights reserved.