What do I do if I have lost my relationship with Jesus?
Has your relationship with Jesus faded, and are you unsure how to get it back to where it once was?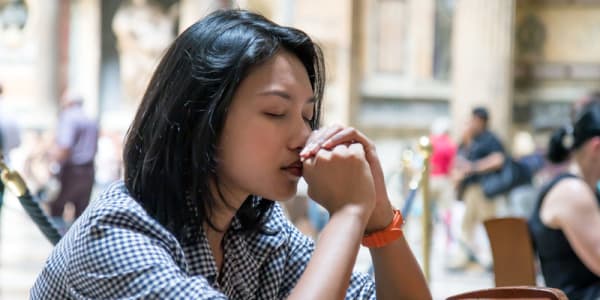 Have you ever felt, after giving your life to Christ, that He was far away? That His blessings were removed from your life and that your relationship had faded to the point where you felt as if you were navigating life's circumstances alone, bereft of His guidance and care? You, who once knew great inward happiness, a joy "out of this world," came into something akin to a black hole, spiritually? You're not alone.
A good soldier
When you signed on to be a follower of Jesus, you enlisted as a soldier, and a good soldier will inevitably face the enemy in battle. And who is our enemy, who wishes us so much harm? "Be sober, be vigilant; because your adversary the devil walks about like a roaring lion, seeking whom he may devour." 1 Peter 5:8. Satan wants nothing more than for us to fall out of our relationship with our Savior. So then, what will overcome such an apparently formidable foe?
The Bible tells us clearly: your faith. "And this is the victory that has overcome the world – our faith." 1 John 5:4. What is my faith then, I who feel so weak and powerless? Perhaps I feel like I have no faith at all. Well, I believe that Jesus died on the cross for me, don't I? No problem there. So, it's helpful to really think about that, really ponder the depths of His love for a wretch like me. He died for me! For me personally, not just in the abstract, for mankind in general. He bled and suffered there as much for me as for anyone else on this earth! Believe that!
He was willing to do that because He believed that I would become successful in keeping His words of life in my daily life. He believed that even I would overcome as He overcame! He did not live His life in vain. He did not die in vain. He wanted brothers, those who too would be willing to take up their own cross in their daily life, choosing to suffer in the flesh rather than sin in the time of temptation. (Luke 9:23; 1 Peter 4:1-2; Romans 8:29-36.) If that is my attitude of heart (and of course God is well aware of my real intentions and desire, whatever my feelings may be), then I am precious indeed to the Lord and He will, without a doubt, strengthen me powerfully to live the same life and to walk as He walked.
Continue reading below ↓
Like what you're reading?
Feelings
Recognize that your feelings are just that – feelings, not necessarily the truth. Even feeling like you don't feel anything is a feeling, and therefore not to be relied on – it can't stop you from doing. You can't allow feelings to dictate your life. They are fickle, as opposed to faith, which stands firm as a rock! Faith is action, despite how you may feel. God's word is truth; cling to that. James tells us to "Draw near to God, and He will draw near to you." James 4:8. If you are obedient to do that, despite how you may feel, then you will experience the truth of it.
Didn't Jesus also, at least once in His life, feel that God had forsaken Him? (Matthew 27:46.) And David, who is called a man after God's heart, came to a place once where he had to cry out to God, "Restore unto me the joy of your salvation!" Psalm 51:12. Remember, too, that God has said that He will dwell in the darkness. (1 Kings 8:12.) He is there with you when you go through dark times! Go against your feelings – or lack thereof – and take up the Bible with a prayer to have an open heart for the word, and the spiritual nourishment there will strengthen you. Fight for your faith! Press in to Jesus! Love and serve Him for His own sake, not because of your feelings or what you might gain from it. Then your relationship with Him will be a healthy one.
"For I know the thoughts that I think toward you, says the Lord, thoughts of peace and not of evil, to give you a future and a hope. … You will seek Me and find Me, when you search for me with all your heart. I will be found by you, says the Lord, and I will bring you back from your captivity." Jeremiah 29:11,13-14. Fight as a good soldier of Jesus Christ, who has laid down His life for you personally! God, in His love and faithfulness, will undoubtedly restore the joy of faith and salvation to you!
This post is also available in
Scripture taken from the New King James Version®, unless otherwise specified. Copyright © 1982 by Thomas Nelson. Used by permission. All rights reserved.