What we can learn from these women in the Bible
Five inspiring women from the Bible.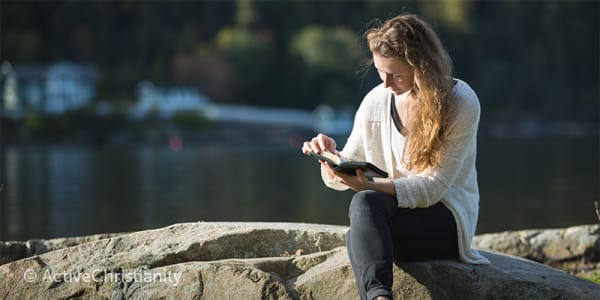 Some amazing women in the Bible
These God-fearing women whom we can read about in the Bible lived in completely different societies and times than us. But we can learn surprisingly much from them.
Lois and Eunice
Pillars in God's temple
Lois and Eunice did not live in a peaceful time, when women were independent or could have a career. They were Jewish Christians from the first century. They lived under Roman rule, in a time when both Jews and Christians were persecuted, enslaved and scattered.
Paul mentioned them as Timothy's mother and grandmother in his letters and he specifically mentioned that genuine faith dwelt in them. This indicates that Lois remained God-fearing during these difficult times, and raised her daughter Eunice to do the same. Not only did they prove their faith to be genuine throughout the years, but they were personal examples of godliness and righteousness for Timothy, and their faithfulness was reflected in his life later on. (2 Timothy 1:5)
Today we face completely different situations than Lois and Eunice, but it is how we deal with our own situation that matters. Do we also deal with our worries and pressures in a way that our loved ones can witness our unshakable faith? Do we remain God-fearing in our daily lives, so that people that live close to us can learn from our examples day after day? If we do this, then we too become pillars in God's temple and build His church by teaching others to do the same.
Anna the prophetess
Spreading comfort and hope
The Prophetess Anna was a woman that lived close to God. She lost her husband when she was young and dedicated her life only to God. It is written that at the age of 84, she witnessed Jesus coming to the temple when his parents brought Him to Jerusalem as a baby to present Him to the Lord. Because of her deep personal connection to God, she understood at once that the prophecies about the coming of the Messiah were fulfilled. This alone is extraordinary, because not even the most respected rabbis and priests of the time understood who Jesus was. Anna became one of the very few who could give hope to people who were eagerly waiting for the coming of their Savior and Redeemer – the Messiah. (Luke 2:36-38)
Regardless of the role we have in society, we all have the same opportunities to hear and understand God's will. Anna served in the temple in Jerusalem day and night. Today, we can also live close to God day and night in our heart regardless of where we are, and what we are doing. God has promised to be close to those who live close to Him. (James 4:8) Then we will be able to understand His will. And we too, can be in the right place at the right time, when God needs us to spread joy, hope and comfort to those in need.
Mary, mother of Jesus
A woman who understood God's heart
Many of us might wonder why Mary was chosen by God to bear and raise His Son. Mary herself, on the other hand, seemed to be well aware of the reason. We can see this from her response when the angel announced the news to her. "Behold the maidservant of the Lord! Let it be to me according to your word." She understood God had chosen her because she had low thoughts of herself. She then praised God: "For He has regarded the lowly state of His maidservant; … He has shown strength with His arm; He has scattered the proud in the imagination of their hearts. He has put down the mighty from their thrones, and exalted the lowly." Luke 1:38,46-52.
Do we also focus on having low thoughts about ourselves, as Mary did? Having low thoughts about ourselves doesn't mean that we should have low self-esteem, or doubt that God loves us. It means that we acknowledge that whatever we achieve in life is by God's grace, and that we do not boast of our own strength. Humility also means we do not doubt God with the tasks He gives us in life, but fulfill them with reverence and faith. God needs workers that are active in His plan of salvation for mankind. But like Mary, we must understand that God can only entrust His work to the humble, and give them grace to complete the tasks He has prepared for them.
Deborah
Having both faith and action
Deborah was the fourth judge of the Israelites after the death of Joshua. While most people committed evil against God and worshiped idols, Deborah was faithful to God. When war against the Canaanites came, she understood that Israel should go to war, even though they were outnumbered. Barak, who led the Israelite army, lacked the faith to face the enemies with his 10,000 men. But, he understood that Deborah had a faith and power from God that he didn't possess. Therefore he told Deborah: "If you will go with me, then I will go; but if you will not go with me, I will not go!"
Deborah accompanied him with faith in God. But, when they were about to face the Canaanite commander Sisera with his 900 chariots of iron, Barak hesitated again. Deborah then said, "Up! For this is the day in which the Lord has delivered Sisera into your hand. Has not the Lord gone out before you?" She was convinced that the victory would be theirs, by what God worked in her heart. Therefore, she went to action without doubt or hesitation. Together with Barak, she led the badly equipped Israelite troops to a great victory. And the land had rest for 40 years. (Judges 4)
God continues to work in us today, according to His good will, just as He did with Deborah. Maybe we sense that there is something we should say and do for the others, or there is something we should give up. We are tempted to hesitate when we are not sure what the result will be. But with the same faith as Deborah, we need to go to action and obey God's will. Then we will experience that God, who had begun the good work, will surely complete it! (Philippians 1:6)
Scripture taken from the New King James Version®, unless otherwise specified. Copyright © 1982 by Thomas Nelson. Used by permission. All rights reserved.