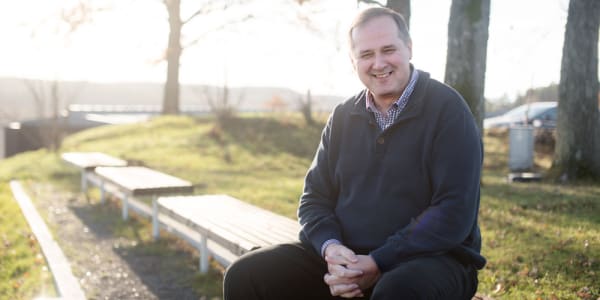 "My whole life has actually been an answer to prayer"
"Prayer is one of the main pillars in my life. To be able to come before the throne of grace and get help – that is an invaluable privilege. Whom else should I go to in my need?"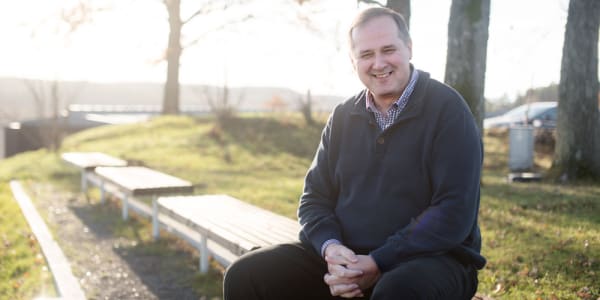 "My whole life has actually been an answer to prayer."
Piotr begins the interview with this sentence. He is a relatively tall man, but speaks with a soft, attentive voice. We have approached Piotr wanting to find out the effect prayer has had on one of his sons who is sick. His answer, in this way, wasn't quite expected.
The air is still as Piotr continues. "I was born in a family where only my mother was a believer. My father was an alcoholic, and he wasn't around much. Over many years, my mother prayed powerfully to God to save her family.
"We lived on a small farm in Poland, and beside our house there was a barn. Because of my father, my mother couldn't pray at home, so she would go out to the barn and pray there. But she prayed so powerfully that we children could hear it from the house and when we played outside. She prayed that we could come to know God and His power, that we could avoid evil. We heard her prayers and that kindled a spark in us, so that we also began to seek God."
After some years, Piotr's father got converted as well. "Then Mom and Dad would pray together in the house, in the kitchen downstairs. My room was right above the kitchen on the second floor, and I heard their prayers every evening. My parents understood that there was a longing that God had given them to save their children. My mother, especially, was a woman of prayer, and her prayers made a powerful impression on me."
Continue reading below ↓
Like what you're reading?
Praying to be preserved as a teenager
When Piotr was about 16 years old, a powerful longing awakened in him to partake of a life of victory over sin, a life that he had heard about and experienced from some brothers who had come to visit from Norway.
Piotr was part of a Pentecostal assembly at the time, but he had begun to notice a difference between these Norwegian brothers who visited, and other preachers that came. "There was a spirit in these brothers that testified of the life that they lived. It was attractive to me, and I wanted to partake of the same."
With this longing, Piotr sought God for help. "By nature, I was a very hot-tempered, impatient and rude boy. When I got agitated, I would yell at my parents. This put me in huge need, so I sought some isolated places where no one could see or hear me, and prayed powerfully to God. I prayed that God could have mercy on me. I prayed that my life could be transformed."
Some years later Piotr served in the army for two years, where he was "completely alone" and had to fight to keep himself pure. "At that time, a lot of impure things had started to come to Poland, on television and in newspapers. Among my colleagues there was plenty of ungodliness. For a young person, it was terribly important to be preserved. I had my hidden place, a storage room, where I could go on my knees and pray to God and fill myself with His Word.
"It was actually prayer that saved and preserved me. It wasn't only answers to my own prayers, but there were many who were also praying for me. Even today, I am certain that it is the steadfast prayers of others that enable me to get victory over sin and partake of sanctification."
The power of prayer for his own family
Through prayer, Piotr's life has been kept from entanglement in sin and destruction, just as his mother had prayed for all those years ago. Later, when Piotr began to have his own family, he also experienced the power of prayer, particularly when it concerned his youngest son, who has a disorder that hinders the blood from clotting properly.
"There was one time when my son had to go for an operation. After the operation, he got pneumonia, with a high fever. My wife and I were at the hospital, but I got very tired and sick and had to leave. My wife was also sick, but she stayed there with him. We also had children at home that needed our care. During the night, my wife phoned and said that our son would most likely have to be in the hospital for two more weeks. I was lying at home with a high fever of 40 degrees, and couldn't help out.
"That night, I contacted two faithful brothers and asked if they could also pray for our boy. First thing the next morning, I phoned and asked my wife how much longer our son had to be in hospital. My wife said that our boy was completely healthy. Around midnight the night before, they had noticed that he had recovered completely. Everything was alright, and I just had to come and take them home."
Piotr has experienced that calling upon God is a vital lifeline. It opens doors to help, strength, comfort, solutions and miracles that man can't achieve on his own. Once, Piotr read in the papers that the government would stop subsidizing medication for his son's condition.
"I noticed thoughts of anxiety and worry beginning to attack. These treatments are very expensive but without it, patients will experience terrible pain and suffering. The only thing I could do was pray to God. I asked God for help in the fight, that He had to intervene. God sent me the word in Hebrews 12:28, 'Therefore, since we are receiving a kingdom which cannot be shaken, let us have grace, by which we may serve God acceptably with reverence and godly fear.' Then the thoughts of anxiety and worry had to surrender. Later, it turned out that the government withdrew their plans and continued to pay for the treatments."
The responsibility of praying for the others
"When I see what I have been spared from and the fantastic life I can come to, then it awakens a tremendous longing that others can also experience this.
"I know that everything would have ended in a disaster if I would have lived with my wife and children according to my tendencies and nature. I don't see it in any way as something I have done. When I talk to others in the church, I often hear that they are praying for me. In the church, we come under a 'prayer umbrella'. Maybe some people don't have a visible ministry, but now and then you hear that they are praying for you, and that is a very secure place to be in.
"That awakens a longing in me to also pray to God and sacrifice everything to be along in God's work, in helping the others. I believe it is righteous that we don't live an egotistical life, where we are only occupied with ourselves, and just let others do whatever they want or whatever they can manage. When it goes well for the people I pray for, then it is an extra joy for me that I could have been along in helping them."
"Prayer is one of the main pillars in my life"
"It is written that the 'effective, fervent prayer of a righteous man avails much' James 5:16. If my prayers are to have huge power and effect, then I also have to live a righteous life. God's will for us is our sanctification. When we pray according to His will, then we know that He hears us. It doesn't mean that He will hear us when we pray for a lot of money, nice cars or a nice house. But when I pray because I see my own need, then He comes with His power and revelation to help me.
"Prayer is one of the main pillars in my life. To be able to come before the throne of grace and get help – that is an invaluable privilege. God created me and knows all my limitations, and He wants to help me. He comes with His light in the situations I am going through; He gives me His Word and suddenly everything becomes clear. This awakens a deep thankfulness and security, because I know that He will never fail me. Whom else should I go to in my need?"
This post is also available in
Scripture taken from the New King James Version®, unless otherwise specified. Copyright © 1982 by Thomas Nelson. Used by permission. All rights reserved.