Why should I forgive someone who isn't sorry?
It can be hard enough to forgive someone when they apologize …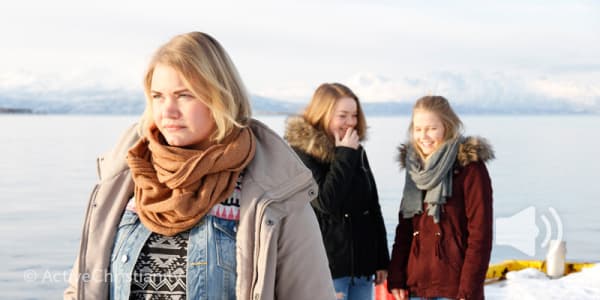 It can be hard enough to forgive someone when they apologize.
The spiteful or thoughtless things some people say and do can pop up again and again in my thoughts when I am feeling tired, or low or sorry for myself. And yet, if they say sorry then I know I should forgive them because I can appreciate that they have humbled themselves. And more importantly, because Jesus said so: "And if he sins against you seven times in a day, and seven times in a day returns to you, saying, 'I repent,' you shall forgive him." Luke 17:4.
But, what if they don't think they have said or done anything wrong? Or, what if they know, but don't care? Maybe I can just about manage to forgive people when they apologize, but my human reasoning tells me that people who don't want forgiveness don't deserve forgiveness.
Yet, here are six very good reasons to forgive someone who isn't sorry.
1. God still tells me to.
I read in 1 Peter 3:8-9 that I should "… be tenderhearted, be courteous; not returning evil for evil, but on the contrary blessing, knowing that you were called to this, that you may inherit a blessing."
My forgiveness isn't dependent on whether the others are sorry or not. God still requires me to forgive. This is a commandment. What's more, if I don't forgive then God cannot forgive me, even if I repent. "But if you do not forgive men their trespasses, neither will your Father forgive your trespasses." Matthew 6:15. It really is that serious.
2. Jesus gave me an example when dying on the cross.
One of the last things Jesus did while alive was to make sure He forgave the people who murdered Him: "Father, forgive them, for they do not know what they do." Luke 23:34.
And we are called to be like Him. Disciples take this seriously.
3. So my life isn't blighted by bitterness and resentment.
What good can I do if my thoughts are resentful? God can't use me. God can't bless me. Resentment sours my thoughts and my spirit. It makes me impure. This situation is totally my responsibility, and is not the responsibility of the person who has wronged me.
"Pursue peace with all people, and holiness, without which no one will see the Lord: looking carefully lest anyone fall short of the grace of God; lest any root of bitterness springing up cause trouble, and by this many become defiled." Hebrews 12:14-15.
4. Forgiveness gives me power in my spirit.
It says in 1 Timothy 6:11, "But you … flee these things and pursue righteousness, godliness, faith, love, patience and gentleness."
When I do this then I "exercise my senses" to discern between good and evil. (Hebrews 5:12-14) That's how I learn. I come into situations and go to God's Word to find out how I should respond, because my reasoning and sense of what it right, is wrong. It's wrong because my whole human nature is tainted with the sin that came in with the Fall. Sometimes it is so subtle I don't even recognize it. But it is there, and I have to go through the process of searching for it, recognizing it and rejecting it. This way of life gives me power and is a triumph of good over evil, of applying God's Word instead of living by human reasoning. (2 Corinthians 2:14)
5. Most people don't understand the significance of what they do.
If people understood that what they say and do to others impacts on their relationship with God, and that it determines their happiness for all eternity, then they would generally strive to be better, kinder, more loving people. They would ask God for help to live in a better way. But most people don't have that relationship with God and only live with their eyes on their immediate future, not on eternity. I have to forgive them because, as Jesus said, they do not know what they do…
6. Because I'm guilty too.
I am a human being with the capacity to upset and offend. If I have not deliberately said or done anything to offend then I may have a clear conscience, but that does not mean that I have not upset someone by something I inadvertently said (or didn't say). I have no idea what people think of me, of how I really affect others, of mistakes I have unwittingly made. Jesus said, "He who is without sin among you, let him throw a stone …" John 8:7.
I must not resent or judge people who don't apologize to me, knowing that I certainly also have things to apologize for. Jesus calls us to judge ourselves, to examine our motives and what is deep in our heart. When I do this, I can see how I myself need God's forgiveness, and also the forgiveness of others. I'm not as blameless as I would like to think.
And no, it's not easy to forgive. But, the more I listen to God and read what He says the more I understand how to react in a godly way; it becomes easier. I gradually lose my "human" perspective on what is right and wrong and enter into God's way of thinking, which is a life filled with warmth and power. I don't have to administer "justice;" I can leave that to God.
And when I do leave it to God, I will come to perfect rest.
Like what you're reading?
This post is also available in
Scripture taken from the New King James Version®, unless otherwise specified. Copyright © 1982 by Thomas Nelson. Used by permission. All rights reserved.