20 Bible verses to use as a sword against impure thoughts
God's Word is a vital weapon that we need to ensure that we will be victorious over any sin that we find in our flesh.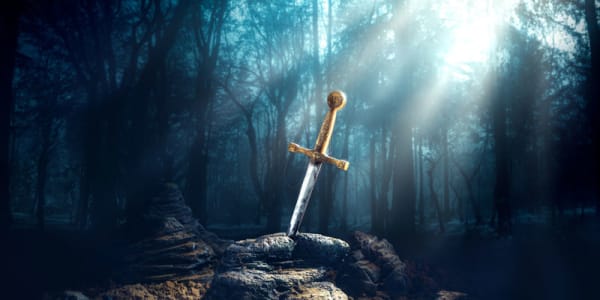 Overcoming impure thoughts
It's undeniable that all of us are tempted to impure thoughts, and most likely more than every now and then. This impurity is a lust for anything outside that which God has blessed, which is a relationship between a man and a woman in marriage. (Hebrews 13:4) If you are not married, then it is clear that all such thoughts are impurity. And if you are married, then any thoughts outside of your marriage are impurity. So many people are completely bound in those lusts and desires; it's something that has a tight hold on them. But that doesn't mean that we have to remain that way! Just like any other lust and desire to sin, we have to fight against it to become free from it.
But the glorious thing is that we can become completely free. Not that our natural attraction to people is completely wiped out, but that we are not slaves to impurity, in thought or in deed. It can be easy to think that as long as we abstain from sexual impurity we're doing fine. It can be easy to assume that we can't control our thought lives. But God's Word tells us that the inside of the cup must be cleansed as well as the outside. (Matthew 23:26) It also says that we need to bring every thought into captivity. (2 Corinthians 10:5) That means that we should be in control of our thoughts, not the other way around. And it's entirely possible. We come to peaceful, joyous freedom and rest when we become free from that.
Here is a list of powerful verses that can be used as a weapon when we are tempted to impure thoughts. All sin and impurity have to flee when confronted with the Sword which is the Word of God. So take up this battle today, and use these weapons to be victorious. Good success! It's completely possible, through faith and perseverance.
Continue reading below ↓
Like what you're reading?
Genesis 39:9
"There is no one greater in this house than I, nor has he kept back anything from me but you, because you are his wife. How then can I do this great wickedness, and sin against God?"
Job 31:1
"I have made a covenant with my eyes; Why then should I look upon a young woman?"
Matthew 5:27-29
"You have heard it said of old, 'You shall not commit adultery.' But I say to you that whoever looks at a woman to lust for her has already committed adultery with her in his heart. If your right eye causes you to sin, pluck it out and cast it from you; for it is more profitable for you that one of your members perish, than for your whole body to be cast into hell."
Luke 9:23
"Then He said to them all, 'If anyone desires to come after Me, let him deny himself, and take up his cross daily, and follow Me.'"
Luke 22:42
"'Father, if it is Your will, take this cup away from Me; nevertheless not My will, but Yours, be done.'"
Romans 6:1-2
"What shall we say then? Shall we continue in sin that grace may abound? Certainly not! How shall we who died to sin live any longer in it?"
Romans 6:12-14
"Therefore do not let sin reign in your mortal body, that you should obey it in its lusts. And do not present your members as instruments of unrighteousness to sin, but present yourselves to God as being alive from the dead, and your members as instruments of righteousness to God. For sin shall not have dominion over you, for you are not under law but under grace."
Romans 8:12-13
"Therefore, brethren, we are debtors – not to the flesh, to live according to the flesh. For if you live according to the flesh you will die; but if by the Spirit you put to death the deeds of the body, you will live."
1 Corinthians 6:18-19
"Flee sexual immorality. Every sin that a man does is outside the body, but he who commits sexual immorality sins against his own body. Or do you not know that your body is a temple of the Holy Spirit who is in you, whom you have from God, and you are not your own?"
2 Corinthians 7:1
"Therefore, having these promises, beloved, let us cleanse ourselves from all filthiness of the flesh and spirit, perfecting holiness in the fear of God."
2 Corinthians 10:4-5
"For the weapons of our warfare are not carnal but mighty in God for pulling down strongholds, casting down arguments and every thing that exalts itself against the knowledge of God, bringing every thought into captivity to the obedience of Christ."
Colossians 3:2
"Set your mind on things above, not on things of the earth."
Colossians 3:5
"Therefore put to death your members which are on the earth: fornication, uncleanness, passion, evil desire, and covetousness, which is idolatry."
1 Thessalonians 4:3
"For this is the will of God, your sanctification: that you should abstain from sexual immorality."
2 Timothy 2:22
"Flee also youthful lusts; but pursue righteousness, faith, love, peace with those who call on the Lord out of a pure heart."
Hebrews 4:15-16
"For we do not have a High Priest who cannot sympathize with our weaknesses, but was in all points tempted as we are, yet without sin. Let us therefore come boldly to the throne of grace, that we may obtain mercy and find grace to help in time of need."
James 1:12
"Blessed is the man who endures temptation; for when he has been approved, he will receive the crown of life which the Lord has promised to those who love Him."
1 Peter 4:1-2
"Therefore, since Christ suffered for us in the flesh, arm yourselves also with the same mind, for he who has suffered in the flesh has ceased from sin, that he no longer should live the rest of his time in the flesh for the lusts of men, but for the will of God."
1 Peter 5:8-9
"Be sober, be vigilant; because your adversary the devil walks about like a roaring lion, seeking whom he may devour. Resist him, steadfast in the faith, knowing that the same sufferings are experienced by your brotherhood in the world."
1 John 3:2-3
"Beloved, now we are children of God; and it has not yet been revealed what we shall be, but we know that when He is revealed, we shall be like Him, for we shall see Him as He is. And everyone who has this hope in Him purifies himself, just as He is pure."
Scripture taken from the New King James Version®, unless otherwise specified. Copyright © 1982 by Thomas Nelson. Used by permission. All rights reserved.