Every reason to celebrate: 35 Bible verses to think about at Christmas
Bible verses to inspire and encourage us at Christmas: Good tidings of great joy – but also a call to action!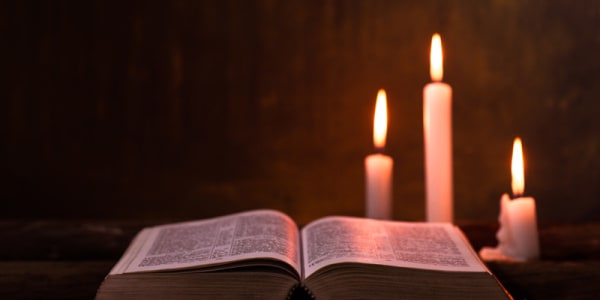 We really have every reason to celebrate at Christmas, as these Bible verses clearly show! The birth of Jesus Christ heralded a new covenant between God and His people. It was the start of a triumphant, victorious life that not only ensured redemption from sin for all those who believe in Him, but also the opening of the way back to God, which had been closed by mankind's fall into sin.
Throughout the Bible are hundreds, even thousands of verses with prophecies of Jesus' birth, His work and purpose, how we can follow Him, and the results of His work on earth for us who believe and follow Him. Here are 35 Bible verses to think about at Christmas. It may seem like many, but it is almost impossible to make a representative selection – there are so many to choose from! Take your time and read through them, thinking of the huge impact these words have on your life – and your eternity! We hope you will be as moved and inspired as we were when we were compiling them!
Bible verses containing prophecies about Jesus' birth, work and purpose:
From the very beginning, God gave people a promise of redemption through the Messiah, His own Son, who would be born as a human being for our redemption and salvation. Just look how much God's people and prophets longed for Him and looked forward to His coming:
"So the Lord God said to the serpent: 'Because you have done this, … I will put enmity between you and the woman, and between your seed and her Seed; He shall bruise your head, and you shall bruise His heel." Genesis 3:14-15.
"Therefore the Lord Himself will give you a sign: Behold, the virgin shall conceive and bear a Son, and shall call His name Immanuel," "which is translated, 'God with us.'" Isaiah 7:14; Matthew 1:23.
"The people who walked in darkness have seen a great light; Those who dwelt in the land of the shadow of death, upon them a light has shined. …
For You have broken the yoke of his burden and the staff of his shoulder, the rod of his oppressor, …
For unto us a Child is born, unto us a Son is given; and the government will be upon His shoulder. And His name will be called Wonderful, Counselor, Mighty God, Everlasting Father, Prince of Peace. Of the increase of His government and peace there will be no end, upon the throne of David and over His kingdom, to order it and establish it with judgment and justice from that time forward, even forever. The zeal of the Lord of hosts will perform this." Isaiah 9:2-7.
"But He was wounded for our transgressions, He was bruised for our iniquities; the chastisement for our peace was upon Him, and by His stripes we are healed." Isaiah 53:5.
"He shall see the labor of His soul, and be satisfied. By His knowledge My righteous Servant shall justify many, for He shall bear their iniquities. … Therefore I will divide Him a portion with the great, and He shall divide the spoil with the strong, because He poured out His soul unto death, and He was numbered with the transgressors, and He bore the sin of many, and made intercession for the transgressors." Isaiah 53:11-12.
"The stone which the builders rejected has become the chief cornerstone. This was the Lord's doing; it is marvelous in our eyes." Psalm 118:22-23.
Read more her: What's in a Name? What Jesus' amazing names tell us about Him
Continue reading below ↓
Like what you're reading?
Bible verses about what happened at Christmas: Every reason to celebrate!
Finally, the long-awaited Messiah was born – lowly, unknown, in a stable, but heralded by a heavenly host of angels, no less! This was the start of a complete revolution, the start of our eternal salvation! No wonder the angels burst into song! How do you celebrate Jesus' birth? Be inspired by these Bible verses describing the events of that first Christmas!
"… an angel of the Lord appeared to [Joseph] in a dream, saying, 'Joseph, son of David, do not be afraid to take to you Mary your wife, for that which is conceived in her is of the Holy Spirit. And she will bring forth a Son, and you shall call His name Jesus, for He will save His people from their sins." Matthew 1:20-21.
"Then the angel said to them, 'Do not be afraid, for behold, I bring you good tidings of great joy which will be to all people. For there is born to you this day in the city of David a Savior, who is Christ the Lord.' … And suddenly there was with the angel a multitude of the heavenly host praising God and saying: 'Glory to God in the highest, and on earth peace, goodwill toward men!'" Luke 2:10-14.
"In the beginning was the Word, and the Word was with God, and the Word was God. He was in the beginning with God. All things were made through Him, and without Him nothing was made that was made. In Him was life, and the life was the light of men. And the light shines in the darkness, and the darkness did not comprehend it. … And the Word became flesh and dwelt among us, and we beheld His glory, the glory as of the only begotten of the Father, full of grace and truth." John 1:1-5,14.
"For God so loved the world that He gave His only begotten Son, that whoever believes in Him should not perish but have everlasting life. For God did not send His Son into the world to condemn the world, but that the world through Him might be saved." John 3:16-17.
"But when the fullness of the time had come, God sent forth His Son, born of a woman, born under the law, to redeem those who were under the law, that we might receive the adoption as sons." Galatians 4:4-5.
Read more here: I bring you good tidings of great joy
Why Christmas is so important: Bible verses showing what Jesus did on earth, and how we can follow Him:
Every second of Jesus' life on earth was spent in doing God's will and destroying the works of the devil. By doing this He paid the price of sin with His own life, so we could get forgiveness. Above all, He left footsteps for us to follow, and sent His Holy Spirit to help us, so we also can come to victory over sin in our lives and do God's will!
"I am the light of the world. He who follows Me shall not walk in darkness, but have the light of life." John 8:12.
"Therefore, when He came into the world, He said: 'Sacrifice and offering You did not desire, but a body You have prepared for Me. In burnt offerings and sacrifices for sin You had no pleasure. Then I said, "Behold, I have come –in the volume of the book it is written of Me – to do Your will, O God."'" Hebrews 10:5-7.
"For there is one God and one Mediator between God and men, the Man Christ Jesus, who gave Himself a ransom for all, to be testified in due time …" 1 Timothy 2:5-6.
"Let this mind be in you which was also in Christ Jesus, who, being in the form of God, did not consider it robbery to be equal with God, but made Himself of no reputation, taking the form of a bondservant, and coming in the likeness of men. And being found in appearance as a man, He humbled Himself and became obedient to the point of death, even the death of the cross." Philippians 2:5-8.
"For this purpose the Son of God was manifested, that He might destroy the works of the devil." 1 John 3:8.
"… who, in the days of His flesh, when He had offered up prayers and supplications, with vehement cries and tears to Him who was able to save Him from death, and was heard because of His godly fear, though He was a Son, yet He learned obedience by the things which He suffered. And having been perfected, He became the author of eternal salvation to all who obey Him." Hebrews 5:7-9.
"For what the law could not do in that it was weak through the flesh, God did by sending His own Son in the likeness of sinful flesh, on account of sin: He condemned sin in the flesh, that the righteous requirement of the law might be fulfilled in us who do not walk according to the flesh but according to the Spirit." Romans 8:3-4.
"For it was fitting for Him, for whom are all things and by whom are all things, in bringing many sons to glory, to make the captain of their salvation perfect through sufferings. For both He who sanctifies and those who are being sanctified are all of one, for which reason He is not ashamed to call them brethren." Hebrews 2:10-11.
"Inasmuch then as the children have partaken of flesh and blood, He Himself likewise shared in the same, that through death He might destroy him who had the power of death, that is, the devil, and release those who through fear of death were all their lifetime subject to bondage. For indeed He does not give aid to angels, but He does give aid to the seed of Abraham. Therefore, in all things He had to be made like His brethren, that He might be a merciful and faithful High Priest in things pertaining to God, to make propitiation for the sins of the people. For in that He Himself has suffered, being tempted, He is able to aid those who are tempted." Hebrews 2:14-18.
"For to this you were called, because Christ also suffered for us, leaving us an example, that you should follow His steps: 'Who committed no sin, nor was deceit found in His mouth'; who, when He was reviled, did not revile in return; when He suffered, He did not threaten, but committed Himself to Him who judges righteously; who Himself bore our sins in His own body on the tree, that we, having died to sins, might live for righteousness—by whose stripes you were healed." 1 Peter 2:21-24.
"Therefore, since Christ suffered in the flesh, arm yourselves also with the same mind, for he who has suffered in the flesh has ceased from sin …" 1 Peter 4:1.
"Then Jesus said to His disciples, 'If anyone desires to come after Me, let him deny himself, and take up his cross, and follow Me. For whoever desires to save his life will lose it, but whoever loses his life for My sake will find it.'" Matthew 16:24-25.
Read more here: Aren't Christians supposed to follow Christ?
Verses about the glorious results of Jesus' life, and promises for those who believe in Him and follow Him:
Jesus went ahead, paving a way for us, and preparing a place for us in the heavenly dwellings. If we obey and follow Him, we will also come to where He is! Is this your hope and your longing? Let us live lives worthy of Jesus' love and sacrifice for us, so we can be together with Him for all eternity!
"I was watching in the night visions, and behold, One like the Son of Man, coming with the clouds of heaven! He came to the Ancient of Days, and they brought Him near before Him. Then to Him was given dominion and glory and a kingdom, that all peoples, nations, and languages should serve Him. His dominion is an everlasting dominion, which shall not pass away, and His kingdom the one which shall not be destroyed." Daniel 7:13-14.
"For the wages of sin is death, but the gift of God is eternal life in Christ Jesus our Lord." Romans 6:23.
"But now Christ is risen from the dead, and has become the firstfruits of those who have fallen asleep. For since by man came death, by Man also came the resurrection of the dead. For as in Adam all die, even so in Christ all shall be made alive." 1 Corinthians 15:20-22.
"… so Christ was offered once to bear the sins of many. To those who eagerly wait for Him He will appear a second time, apart from sin, for salvation." Hebrews 9:28.
"… Christ also loved the church and gave Himself for her, that He might sanctify and cleanse her with the washing of water by the word, that He might present her to Himself a glorious church, not having spot or wrinkle or any such thing, but that she should be holy and without blemish." Ephesians 5:25-27.
"Therefore He is also able to save to the uttermost those who come to God through Him, since He always lives to make intercession for them." Hebrews 7:25.
"I do not pray for these alone, but also for those who will believe in Me through their word; that they all may be one, as You, Father, are in Me, and I in You; that they also may be one in Us, that the world may believe that You sent Me. And the glory which You gave Me I have given them, that they may be one just as We are one: I in them, and You in Me; that they may be made perfect in one, and that the world may know that You have sent Me, and have loved them as You have loved Me." John 17:20-23.
"Beloved, now we are children of God; and it has not yet been revealed what we shall be, but we know that when He is revealed, we shall be like Him, for we shall see Him as He is. And everyone who has this hope in Him purifies himself, just as He is pure." 1 John 3:2-3.
"For the trumpet will sound, and the dead will be raised incorruptible, and we shall be changed. For this corruptible must put on incorruption and this mortal must put on immortality … death is swallowed up in victory. … The sting of death is sin, and the strength of sin is the law. But thanks be to God, who gives us the victory through our Lord Jesus Christ." 1 Corinthians 15:52-57.
"To him who overcomes I will grant to sit with Me on My throne, as I also overcame and sat down with My Father on His throne." Revelation 3:21.
"Well done good and faithful servant; … enter into the joy of your Lord." Matthew 25:14-29.
Read more here: A new hope has dawned!
Good tidings of great joy at Christmas – pass it on!
Maybe you have a favorite Bible verse about Christmas, and Jesus' life and work that is especially inspiring and helpful for you. Add it to this selection and be sure to read these verses often, to strengthen and encourage you in your Christian life, as a follower of our dear Savior Jesus Christ! And be along in passing on the good tidings of great joy!
"A posterity shall serve Him. It will be recounted of the Lord to the next generation, they will come and declare His righteousness to a people who will be born, that He has done this." Psalm 22:30-31.
Scripture taken from the New King James Version®, unless otherwise specified. Copyright © 1982 by Thomas Nelson. Used by permission. All rights reserved.