Must-read advice on how God's goodness can shine forth through you
Do you long to partake of this fruit of the Spirit?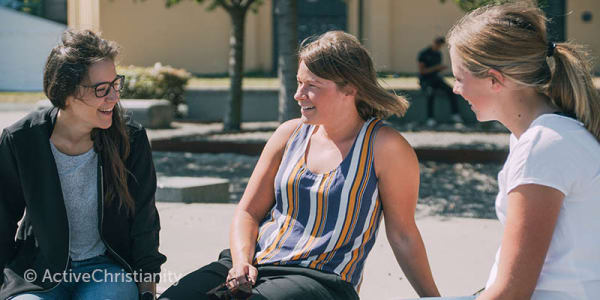 God's goodness: God's glory
Moses wanted to see God's glory, so God allowed all of His goodness to pass before him. Those who regard goodness as something weak, lowly and worthless do not know the heart of God. Our calling is to bear fruit so that those who are in our presence taste something in us of God's glory. People of eternity—children of the resurrection—have received some of God's fullness in their spirit. Only those who are full of the Holy Spirit and faith are able to bear the glory of God. Such people are able to forgive unconditionally, without setting limitations and without being reserved, measured or calculating.
Advice 1: Don't let others affect your goodness
The circumstances of life must not bring us out of goodness. We must never become evil or cold. Barnabas won people through his goodness. Goodness is a spirit that flows out through our words, and the intention is that it goes into people's hearts. Without goodness, exhortations often taste like accusations. A person must receive mercy from God both to give and receive exhortations. Otherwise it is very easy to grow weary of one another.
Many situations arise that we must deal with and work with, but often Christ's gentleness and goodness will anoint and bless and have a much more powerful effect than the ideas that initially come to us from our own human strength.
In reading Paul's letters, we see that he was in a prophetic Spirit when he worked with people, even those who were babes, spiritually speaking. He had faith that just as God's goodness had led him to repentance, the same goodness would come forth through his ministry and have the same effect on those he served. Goodness contains God's wisdom. Therefore, the spirits of just men made perfect live to intercede for us so that we can complete our course in goodness. Mt. Zion is unshakable in the good.
Continue reading below ↓
Like what you're reading?
Advice 2: Die to yourself
The only way we can develop in care, love, goodness, compassion and empathy is by dying to our self. Warmth and goodness are necessary conditions for growth. Jesus revealed the Father by being full of grace and truth. The body of Christ is not built through human inclinations and the strength of man. When we meet one another in our thoughts, it must be in thankfulness, goodness, intercession and joy. Then we live in the Spirit of faith. And in genuine love we can, like God, call those things which do not exist as if they did. (Romans 4:17-21.)
May there be a godly sorrow in our hearts and a longing to partake of God's nature. People need to see God's mercy and goodness manifested through our bodies. God is perfect in goodness, and He produces children who are like Him. The character traits of the Father must become more and more apparent in His servants.
We are called to be the fragrance of Christ to God. Obviously, this should happen first and foremost in our own home and in our church. A fragrance of goodness should emanate from our lives. The effect of goodness is that others also get a desire to partake of the life of Christ. Just as Jesus said that "he who has seen Me has seen the Father," people we meet must experience an encounter with God. As long as we live in this world, the world should see hope. In us, people must meet God's mercy and grace.
The gospel gives us promises of coming to life and abundance. We can live and reign through the One, Jesus Christ. Therefore, let us get to know the riches of His longsuffering and patience so that in the circumstances of life, we have power to bear. All hardness must be accursed. For many people, covetousness is so strong that they regard even their own children as a hindrance because they get in the way of their ability to live for themselves. Because of honor-seeking, a person can resort to harshness to get the results he wants. In other words, something in us must be obliterated if the heart of Jesus is to be revealed to mankind.
Advice 3: Be thankful
An indication that we have a good relationship with one another is that our hearts are overflowing with thankfulness. Without thankfulness, we can become somewhat distant and aloof, so it becomes apparent that we aren't quite satisfied with our brother and sister. Then we are in no condition to exhort or to shout words of encouragement to the person who is running alongside us.
Our calling is to be a priest according to the order of Melchizedek—a person that has no expectations or demands on others but who has the power to draw people out of their sins, out of false liberty and out of legalism. That is the power of an incorruptible life, a life where goodness is not dependent on the way the others behave. The real comfort is that he who humbles himself will be exalted. Jesus opened this way, and He was anointed with the oil of gladness above His brethren. Our hearts must be burning so that we wholeheartedly seek to partake of a greater fullness of Christ's life.
Advice 4: Be swift to hear, slow to speak
In our labor with others, we can meet people who are in deep hopelessness and despair over circumstances in their life. It is very important that they experience goodness from our spirit and that we listen to them and take time with them in meekness. Otherwise it is very easy to react to their words, but a despondent man's words are like the wind.
"Who is wise and understanding among you?" James asks. "Let him show by good conduct that his works are done in the meekness of wisdom." (James 3:13.) Meekness is an unexpected and surprising goodness from someone who has the power to exercise authority. So, let us always beware of being too quick to take action and to express our opinion. In the spirit of meekness, we can come into a person's heart in a good way and be of true benefit to them. There must never be any "low-pressure system" in our spirit. The sun must never go down in our kingdom. I must be close to my neighbor if I am to warm him.
There is a desperate need for the word of faith. It contains judgment, edification, exhortation, guidance and comfort. God's goodness has nothing to do with human, effeminate, wishy-washy care. God's goodness makes us firm and unshakable. When we wholeheartedly long to serve God and are zealous for His kingdom, we will see our folly, and a need to partake of God's goodness will be born within us.
This article has been translated from Norwegian, and is an abridged version of the chapter "A Well-Pleasing Savor of Christ" in the book "Shepherd and Prophet," published in 2004.
© Copyright Stiftelsen Skjulte Skatters Forlag
This post is also available in
Scripture taken from the New King James Version®, unless otherwise specified. Copyright © 1982 by Thomas Nelson. Used by permission. All rights reserved.