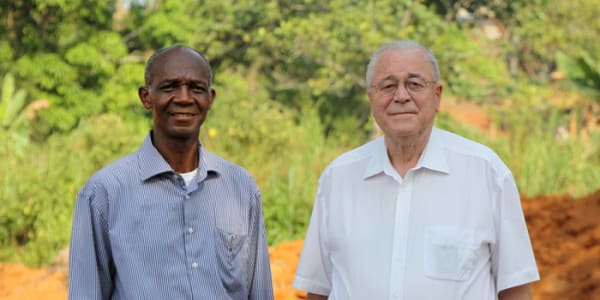 A different sort of missionary
A young man from Cameroon met a missionary with a gospel unlike anything he had ever heard before.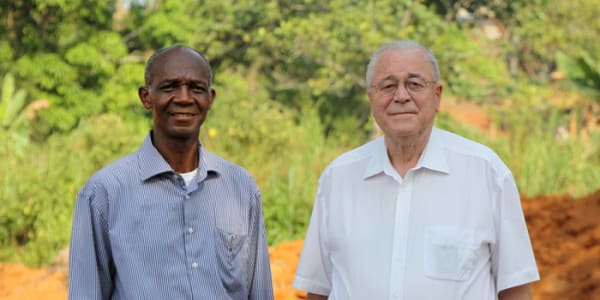 "Free from sin." These are words Claude has never heard before, and they fill him with joy. He can't wait until the end of the service to talk to these men and find out more about the life they are preaching, a life – a family life, and a personal life – free from sin!
It's the year 1956: Arild Tombre, a tall twenty-four-year-old from Trondheim, Norway, is travelling by car from Germany to Holland. The distance is long, but the company is good: Arild is travelling with Elias Aslaksen and Sigurd Bratlie, two God-fearing men he is learning a lot from. They have travelled often together over the past few years, evangelizing throughout Europe.
Arild looks out of the window; flat fields span out to the horizon. They are in Holland now. Little does he know, some five thousand kilometers away, in Cameroon, a little baby is born who will one day become an important part of his life.
Making contact
Cameroon 1973: It´s Sunday morning and members of a Christian assembly are worshipping together. They sense they are lacking something in their life with God – the preaching is dry. "Come, let us pray to God to send us an answer," urges one of the ministers. They pray to God for help and guidance, after which one of the men pulls out a wrinkled little pamphlet he's been carrying around in his pocket. On it is the address of a group of believers in France. "It might be an answer to our prayers," the man says hopefully, and they decide to make contact.
France 1973: Arild and his wife Miriam enjoy a quick cup of coffee while the kids play outside. "When we came here ten years ago, I never thought we would still be here today!" Miriam says. "We forgot to move back to Norway!" Arild replies with a laugh. Earlier that day, Arild spoke with a man who had recently received an interesting letter from Cameroon.
Cameroon 1978: Claude Kue Kamdem is twenty-one years old. He sits down on a rickety pew in the old wooden church building, and as he listens to the message, his heart burns with a desire to live for Jesus. The young man prays to God and is converted, a born again Christian. "My sins are forgiven!" he thinks to himself with a smile.
Where do I go from here?
Arild and Marc Auchet (a friend from France) are hit with a blast of heat as they step out of the small plane onto the tarmac. They still aren't used to the tropical temperature even though they have made many trips since they made contact about five years earlier. The progress in Cameroon is very slow. There are many preachers and believers who show interest in their teaching, but Arild notices that these men don't desire a deeper life in Christ, a deeper life in God – they are satisfied with only forgiveness for their sins. The brothers continue to travel each year, with hope that they will find even one or two souls who hunger and thirst for righteousness.
Claude splashes water on his face and blinks into the mirror. A few weeks have passed since his conversion, and he can't seem to shake the question, "Where do I go from here?" As he walks up the dusty red road to church, he has no idea that on this particular Sunday, his question will be answered.
Taking his place on the pew, Claude glances around the room. In the front row, looking quite out of place, but at the same time relaxed, sit two white men. Although curious, he can't help but be sceptical. His thoughts go to the countless missionaries who have come to his country. "They come with money," Claude thinks. "They see we are poor, Africa is poor. But my people are more interested in money than in the preaching."
"This is the truth, Claude!"
It's not long before the taller of the two is asked to say something. Almost immediately, Claude notices that there is something different about this man. "We do not demonstrate that we love God, when we come to him and say, 'Dear God, forgive me of all my sin, and throw it into the sea of forgetfulness.' Of course we need to do that, but that is not proof that we love God." Arild's words are spoken with conviction and clarity from the front of the old wooden church. "When we enter into an inner cleansing, where we let the fire and 'soap' of the Word and the Spirit cleanse everything we find of egotism, pride, arrogance, honour-seeking and all uncleanness, then we begin to demonstrate that we truly love God!" (Malachi 3:2)
The words resonate in the heart of the young African man listening intently from his seat. Something inside him speaks loud and clear. "This is the truth, Claude! This is the way to go. This man is full of Godly fear, and he is speaking the truth!"
The unusual missionary reads from 2 Corinthians. Then he continues, "The upright examine and test themselves. Thus the Holy Spirit has an opportunity to lead them into all truth, the truth that sets us free from sin!!"
"Free from sin." These are words Claude has never heard before, and they fill him with joy. He can't wait until the end of the service to talk to these men and find out more about the life they are preaching, a life – a family life, and a personal life – free from sin!
Personal experience
Cameroon 1982: Claude is exhausted from the long flight and bumpy bus ride, but he can't wipe grin off his face as he unloads his luggage and heads into the house. He has just been to a conference at Brunstad in Norway, where he got a personal experience with Brunstad Christian Church for the first time in his life. At the conference, Claude met people from all over the world who lived the life Arild had preached that first Sunday in 1978. Among them, he met Sigurd Bratlie, the church leader at that time.
He can't wait to talk to Arild about what he experienced there, not least, the conversations he was able to have with Sigurd Bratlie. He takes a seat in the dining room, his tall knees knocking the edge of the table, and writes, "Bratlie is such a simple man. He would read a Bible verse that I've known my whole life – when he said it, I understood it in a whole new way!! There was a powerful spirit, it came forth from a man who had lived it, who lived the words he was reading!"
Travel isn't easy, Internet is a thing of the future, and letters take one month to send and receive, but the two keep a regular correspondence. Claude is eager to learn more about this Christianity, and Arild takes the time to answer his questions thoroughly. With the examples of the lives of faithful brothers, Claude sets to work – putting the things he learns into action in his own life. During a conversation with a man in town, he is compelled to share what's made him so happy. "When I am tempted to be angry, for example, I need to acknowledge that anger is a sin in my flesh, and then take up my cross and deny myself!" "Are you a pastor?" the man asked – eyebrows raised. "I am not a pastor," Claude replied. "I am a Christian."
France 1986: The house is quiet, the children are asleep, and Miriam and Arild sit together in their little living room. The empty paper in Arild's lap is soon filled with small neat cursive, as he takes the time to respond to Claude's recent letter. "Claude is an exceptionally God-fearing man," Arild tells his wife. "He understands the importance of brotherhood, and he doesn't get offended when he receives exhortations!"
A seed that grew
Cameroon 2013: It started with a few contacts – a few souls who had a longing for the truth. A seed was sown when men like Arild Tombre, Marc Auchet and Sigurd Bratlie preached God's word in clarity. These men didn't offer monetary handouts; they preached God's Word and were living examples of God's Word. Over time, Claude and others in Cameroon understood that it was their own sin that was making them unhappy, and the seed grew as they learned to take up their cross and deny themselves. (Matthew 16:24) They learned to apply Gods word in simple faithfulness at home, to take up a conscious battle against sin, in obedience to God when no one else was watching, and God's Word also became their lives. Others saw something different in these people and they had a longing for the same life.
The seed continued to grow, and then it began to bear fruit. These men and women received an incredible happiness that they had never experienced before, a happiness and joy that came when they learned to live a life crucified together with Jesus, a life of freedom from sin!
Today, there are three thriving fellowships of Brunstad Christian Church in Cameroon: Bafoussam, Yaoundé and Douala. In 2012, they gathered together for a conference at a rented hotel in Bafoussam, with four hundred-fifty friends in attendance. The churches in Cameroon are now working together to build their own conference center!
"To tell or preach something is one thing, there has to be a life behind that which is said. First live the life – afterwards you can help people. I need to be righteous in my hidden life, connection with God, first!!" Claude Kue Kamdem, 2012
This post is also available in
Scripture taken from the New King James Version®, unless otherwise specified. Copyright © 1982 by Thomas Nelson. Used by permission. All rights reserved.