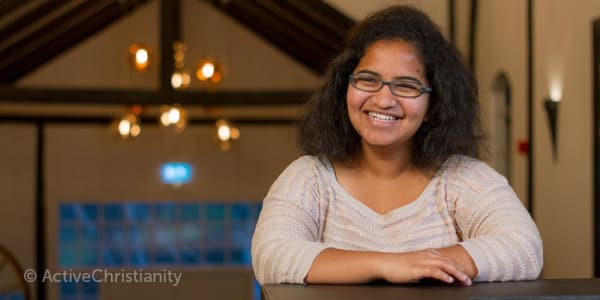 A life of vitality
Asha is excited to spend her life following in Jesus footsteps.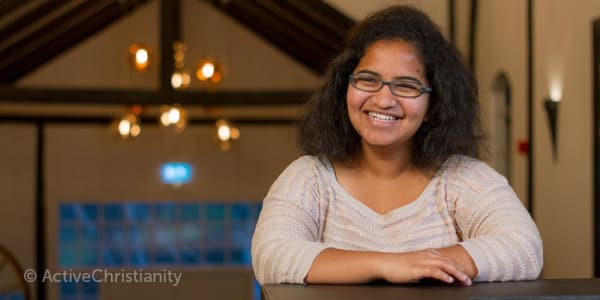 It's the end of a long weekend, and I'm relaxing with my friend Asha. We are talking about the life that we are called to live as Christians, and clearly it is something that really excites her. She's so enthusiastic that she barely pauses for breath.
Asha quotes one of her favourite songs from the BCC songbook Ways of the Lord:
"There is a life, so full of weight and content –
A life of mercy, love, and righteousness;
A life possessed by those so poor in spirit;
A life for those who walk in lowliness.
…
A life that satisfies my spirit –
A life so full of pure vitality."
Her eyes are shining; this life is so appealing to her!
"Jesus opened up the way to this life for us. This is the way on which He took up His cross every day and overcame the sin that He found in His own flesh. I'm not talking about the physical cross that He was nailed to, but the daily cross that He bore throughout His life. It's easy to think 'Jesus was the Son of God, it was easier for Him.' But the truth is that He was tempted in all things like I am, but He was humble and lowly, and therefore He overcame! (Hebrews 4:15)
"What if Jesus had decided, 'No, I don't want to bear the pain of the cross'? I can't just not take up my own cross, because I don't feel like it. Jesus always bore the cross, whether He felt like it or not. I want to show my thankfulness for what He has done for me by living the same life.
A tangible life
"The amazing thing is that when we live this life, we start to bear the fruit of the Spirit. (Galatians 5:22-23) I've seen the fruits alive in people that I know are overcoming their own will; their own flesh. These people have shown me that living this life gives you true joy. Everyone is looking for that fulfilling and happy life, but so few know the secret; the life that you have to live to get to that. This life is the remedy for everything.
"When I see that life in others, it makes me really want the same. I am so thankful for the hope that I have! Because Jesus opened the way for me, I too can overcome the sin in my flesh, if I am poor in spirit and lowly as He was. I can live this life of mercy, love, and righteousness, and without me even saying a word, others can taste the fruit of the spirit in me; they become tangible."
Asha quotes another song from Ways of the Lord that has really spoken to her:
"Fruit you can taste and can handle
Comes by believing God's Word
And by abiding in Jesus –
Doing each word that you've heard.
All His commandments obeying,
Through the great grace of our God,
Brings forth the virtues of Jesus –
Fruits of our life in the Lord."
Putting this life into practice
I ask Asha what this means for her personally; how she can apply this to her own life.
"I've thought a lot about that actually," she replies. "I want to serve and bless the others as much as I can. There are so many opportunities to do that; with family, co-workers, church, etc. But more than my outward acts, I want to have a life that tastes of the fruit of the Spirit. That way, in my serving, the others, especially those younger than me, can see the virtues of Jesus coming from me. I can make this life appealing, so that Jesus is glorified by my life!
"We are actually here on earth as a bride waiting for her bridegroom. Every step of life is a progress; we are sewing that pure white garment for the day when we will be with our heavenly bridegroom. (Revelation 19:8) We are to look forward to the day of Jesus' return, and I can do that when I am living this life!
"I know that I have just started on this way, and it's going to take a lot of work, but I am going to hold on to this faith. If I were to give in to sin, knowing what I am called to, then I am just a fool. And I know that there are no shortcuts. There is only one way – the way that Jesus opened up through the flesh, by denying the sin that He found there. (Hebrews 10:20) I have to put to death the sin that is in my flesh which God points out to me; then I will experience the joy and blessing that comes from faithfulness and obedience."
Looking forward to the day of Jesus' return
I've been so incredibly encouraged by this conversation that I've had with Asha. She is from a crowded city in India, and I come from the wide open prairies of Canada, and our paths have crossed for a short time in Norway, but as she herself phrased it, "We all have different lives, but it is one life that God has called us to live. If in every situation we come into, we work with what God gives us, then we are together in the same spirit."
I couldn't agree more. Together with my friend Asha, I am looking forward to that day when we will be together for all eternity as the bride of Jesus Christ. Together with all of those who have lived the life that Jesus opened for us; the way of overcoming sin and bringing forth the virtues of Jesus.
Scripture taken from the New King James Version®, unless otherwise specified. Copyright © 1982 by Thomas Nelson. Used by permission. All rights reserved.