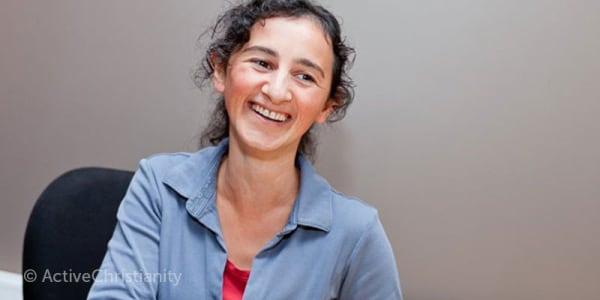 A new and happy life – by the cross!
"No matter where you live or who you are, you can become thoroughly happy."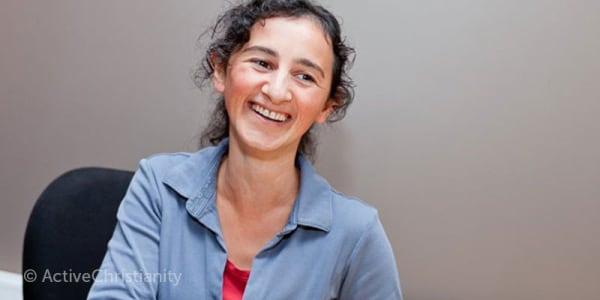 "No matter where you live or who you are, you can become thoroughly happy," says Nadya Georgieva from Bulgaria. She knows what she is talking about, and would like to share her story with us.
Nadya sits down in front of me and smiles warmly. She is a seemingly quiet and relaxed person who does not draw attention to herself. Nonetheless, she exudes a remarkable warmth and love, and I would like to know where it originates.
Nadya grew up in a small town in Bulgaria, just a ten-minute walk from the Greek border. At that time, communism was the prevailing ideology of the country, and principles such as equality and solidarity were strongly promoted. Nadya and her two sisters had a good and secure childhood with their parents in the city of Petrich.
At school, Nadya excelled. Like most other students, she was involved in many different activities. Every evening there was something going on. Among other things, Nadya participated in basketball, math club, dance, and choir.
When she was a teenager, Nadya started to hear about her behavior. People thought she was so angry. Whenever her mother asked her to do anything, her first reaction was, "Why do I have to do that?" At school, she always had to be right, and she argued until she got what she wanted.
In the evenings, Nadya would often visit her Christian grandmother. Even though Nadya did not believe in God, she loved listening to her grandmother tell stories from the Bible.
"It was like looking into another world – a world that was completely different from the world in which I lived and where everything was based on human reasoning.
"The story about Joseph especially fascinated me. He was sold as a slave to Egypt, and thrown into prison; nevertheless, he got power from God to be happy and thankful.
A turning point
Nadya recognized that there was a stark contrast between the lives of the Biblical heroes of faith, and her own life. When she was 15, she came to a turning point that would forever change her life.
A short, simple scripture that her grandmother read to her from the Bible opened her eyes to who God was. It shook the atheistic belief system she had grown up with, and which prevailed in her country.
She quotes from 1 John 4:12, "No one has seen God at any time…."
Suddenly it dawned on Nadya that she could not expect to see God with her own eyes. No one had seen Him. You simply had to believe.
Nadya was now completely captivated by God's Word. She could read the Bible day and night.
"It was like living water," she recounts excitedly. Clearly, her memories from those years during her youth are still vivid in her mind.
She saw "the old Nadya"
After this short time experiencing the joy of salvation, Nadya again began to meet her own nature. She started seeing "the old Nadya" again, with her natural lusts and tendencies.
God's Word gave her a strong longing to be finished with all this. It was not enough for her to clench her fists when her anger arose. She wanted to be free; free from egotism; finished with all her demands, and the discontentment that wanted to assert itself.
When Nadya was baptized at age 16, the priest asked her why she was a Christian. Nadya told him that her testimony was the verse in John 14:15, "If you love Me, keep my commandments."
That was her hope. She loved Jesus and wanted to keep His commandments about which she had read so much.
"After my baptism, I was terribly disappointed. My old nature started bothering me even more. I was a Christian now, but I still could not manage to change. I needed help."
Nadya heard repeatedly that Jesus died on the cross for the forgiveness of sins. However, this no longer brought her comfort.
A new hope
A short time later, some Christians from Brunstad Christian Church visited Nadya's church in Petrich. Nadya heard the guests sing a song from the songbook they brought that gave her new hope.
"Among other things, I heard a song with the words, 'To the slaves of sin I'll hasten, For the night is drawing nigh.' ("Ways of the Lord" #347) 'This is what I need. This is the way,' I thought."
Nadya, who until that day had felt like a slave to sin, now saw the cross as the way of escape – the way to freedom. Even though Jesus had been completely innocent, He died on the cross on Calvary so that He could forgive our sins.
"But I also saw that the cross was so much more than that. Jesus put to death, or denied, His own will every day, in all the temptations He encountered. He chose to always do God's will instead of His own. In Luke 9:23 He called this to 'take up his cross daily' – long before He was crucified on Calvary."
Nadya now understood that Jesus not only denied the sins that wanted to manifest themselves, such as angry words, negative actions, etc. – He took up a battle against the very lusts and desires that dwelt in His nature – His self-will, or "sin in the flesh", as the Bible calls it.
On this "daily cross," sin received its final death before it became an action. Jesus not only died on the cross to forgive us of our sins, He also left us an example that we should follow. The fact that He never gave in when He was tempted to become angry, jealous, offended, etc., gave Nadia the possibility of going the same way.
"Paul's words in Galatians 2:20 got a whole new meaning for me," she said. "I have been crucified with Christ; it is no longer I who live, but Christ lives in me".
She experienced that the cross works
Changes started to take place in Nadya's life. She smiles as she thinks about the amazed expression her mother got when she asked her daughter to help out with something. "Sure, I can do that," the previously argumentative 17-year-old would answer before her mother had even finished asking the question.
"I experienced that the cross works. I concluded that if it worked in small situations, then it would also work when I met bigger things," she said with a broad smile.
Hope and faith for the future
It was very comforting for Nadya finally to experience victory. This gave her hope and faith for the future – faith in a life where she could be continually more transformed, one day at a time. Instead of being an angry, bitter person, she could become happy and thankful.
The woman I see sitting in front of me now, doesn't show many signs of the disagreeable person she describes from her childhood. I ask her jokingly if she is perfect and whether she still needs the cross.
Nadya laughs loudly and answers that she is not perfect.
"I need [the cross] more than ever before. Even though I have overcome many things, God continually shines light on new areas where the cross can do its work. Then I must continue to deny my own will, so that the life of Jesus can grow more and more in my life."
Nadya uses the verse in Romans 14:17 as a guide in her life, "for the kingdom of God is not eating and drinking, but righteousness and peace and joy in the Holy Spirit." When she has this peace and joy in her heart, she knows that she is following God's will.
Begin in the small situations
At the end of the interview, I ask Nadya if she has any advice for readers who do not yet have faith in this life.
"Yes I do," answers Nadya. "Trust in God – not in your own understanding. God is almighty. He can change everything. He can make an unhappy person happy. No matter where you live or who you are, you can become thoroughly happy."
Nadya speaks with conviction. This is something she has experienced.
"First, turn to God. Your foundation needs to be that you are willing to serve God with all of your heart. Begin with the very small things. When you do that, you will find that God is faithful. He makes it so that you can always be happy and thankful, whether your feelings go up or down and whatever your circumstances are."
This post is also available in
Scripture taken from the New King James Version®, unless otherwise specified. Copyright © 1982 by Thomas Nelson. Used by permission. All rights reserved.