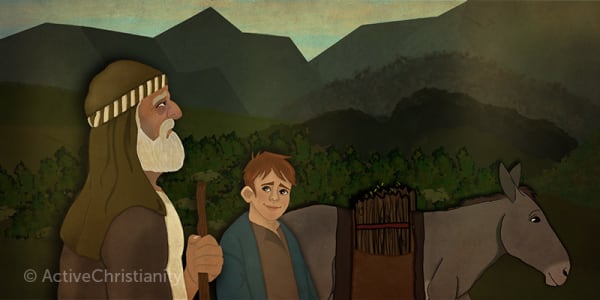 Abraham: Choosing faith in an impossible situation
Abraham's faith in God was tested in a way that most of us will never know.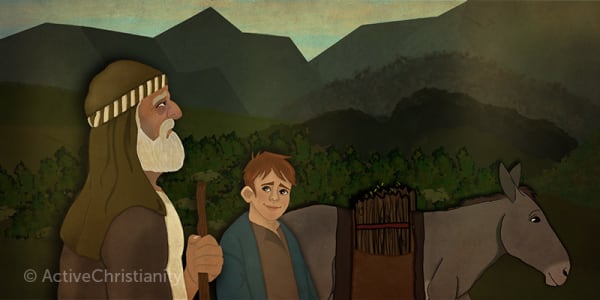 Abraham was already an old man when God brought him outside and said to Him, "Look now toward the heaven, and count the stars if you are able to number them. So shall your descendants be." Genesis 15:5.
Abraham believed God's promise, even though naturally speaking, it was impossible. Abraham and his wife Sarah were long past child-bearing years and they had no children.
Abraham's faith in God was tested with this promise, to see if he would take God at His word, no matter what his reasoning told him. Abraham did not waver in his faith, and God kept his promise (Romans 4:20). Sarah gave birth to a baby boy, and they named their son Isaac, as God instructed them.
Continue reading below ↓
Like what you're reading?
The second test
But now Abraham was tested a second time, and this was a test unlike any other. Years later, when Isaac was a boy, God came again to speak with Abraham.
"Take now your son, your only son Isaac, whom you love, and go to the land of Moriah, and offer him there as a burnt offering on one of the mountains of which I shall tell you." Genesis 22:2.
What was Abraham supposed to think about this? None of it made sense. God seemed to be contradicting Himself.
But Abraham's faith in God did not waver. In spite of the seemingly utter impossibility of the situation, he got up in the morning, packed his donkey, split the wood required for the offering, and started the three-day journey up the mountains with Isaac. (Genesis 22) To him, it didn't matter what the situation looked like, humanly speaking.
We can imagine he would have been tempted to thoughts of doubt as he took the trek up Mount Moriah. Thoughts like: "Sarah's heart will probably break, and she'll never forgive me. I'll be a murderer. I must have misunderstood; a loving God could not possibly have given such a commandment!" And yet, Abraham had not heard wrong; he acted with boldness and valor because God had said it, and we can read what happened. These thoughts of doubt that Satan whispered in his ear were deflected and defeated by the shield of faith. He believed beyond a shadow of a doubt that God would keep His promise – even if that meant He had to raise Isaac back up from the dead. (Hebrews 11:17-19)
Faith gives us power to act
Of course, God did keep His promise. At the last second, he stopped Abraham from carrying out his sacrifice, and Isaac was spared, going on to become the father of the nation of Israel.
In the same way, we could be tempted to thoughts of doubt when we take a step of faith which God is working in us to do. Maybe we are not sure how the future will go if we do this, but faith gives us power to act, even though we can't see what the result will be. (Hebrews 11:1) When we have the shield of faith, we too can resist the thoughts of doubt that Satan tries to sow.
The God of Abraham is the same God whom we serve today. He is from eternity until eternity, and there is nothing that He can't accomplish around us and in us. No matter how impossible circumstances seem, God is able to do a miracle in my life. He has promised that I – who have a sinful human nature, and am full of pride and selfishness, and all kinds of other lusts – can be conformed to the image of Christ. (Romans 8:29) Even someone with a nature like mine, all my habits and tendencies, can be a partaker of divine nature! (2 Peter 1:4) When I live in this faith, then I will be a son and an inheritor of all things together with Jesus! (Romans 8:16-17) Is there any reason to doubt him? No, not one!
"He who overcomes shall inherit all things, and I will be his God and he shall be My son." Revelation 21:7.
No limits!
But we learn from Abraham that faith in God requires action. We read, "And the God of peace will crush Satan under your feet shortly." Romans 16:20. What is faith then? Is it to sit back and say, "Yes, I believe God will crush Satan under my feet" and then wait for it to happen?
No. It is to go to action, and move forward in faith when God works in me, like Abraham did when he split the wood required to sacrifice his son. That will mean sacrifices on my part; giving up my own will in order to do God's will. Abraham saw the sacrifice as a condition from God to fulfill in order to receive his promise. It is just the same for us.
Let's follow the example of Abraham, whose obedience made him "the father of our faith." (Romans 4) Believe in the promises of God, and be quick to fulfill the conditions so God can bless you! Don't let your confidence depend on what your reasoning tells you. No matter what your limitations are, naturally speaking, God can accomplish a complete and thorough salvation in you! He doesn't ask if we are able, He only asks if we are willing. If the answer to that is yes, there is no limit to what we can accomplish through faith in God.
Scripture taken from the New King James Version®, unless otherwise specified. Copyright © 1982 by Thomas Nelson. Used by permission. All rights reserved.