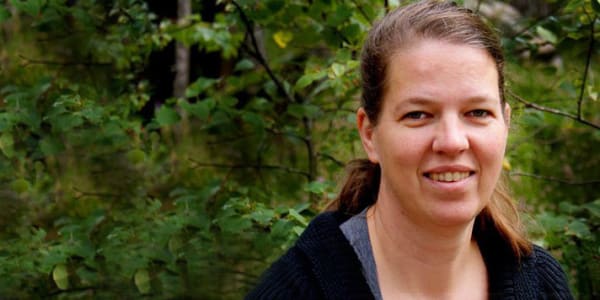 "I began to believe that there was something of value in me"
Ruth struggled with low self-esteem, but with help from the Word of God, this insecure girl began to believe in herself.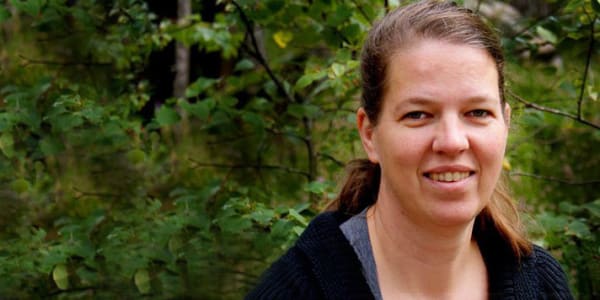 "I am nothing. All the others are better than me. I'm not good at anything." Many people are familiar with such thoughts. In her teenage years, Ruth Kloosterman struggled with thoughts like these, but with help from the Word of God, this insecure girl began to believe in herself.
It is quiet in the coffee bar this morning. The summer sun's weak light reminds us that autumn is not far away.
"I didn't think anyone would like me if they got to know me."
Ruth Kloosterman (40) is sitting in the sofa near the entrance. She is married, has children and is known as a talkative and high-spirited lady. But it hasn't always been that way.
"I was a quiet and shy girl," Ruth begins, thinking back to her teenage years.
She was the type of person who preferred to be alone and read a book. "I was content by just being by myself," she says.
Ruth struggled with poor self-esteem and with little faith in herself. She was modest by nature and tough on herself. She grew up in Winnipeg, Manitoba, Canada and has six older siblings. Her father died when her mother was expecting her, and when she was young, Ruth thought a lot about her father. She would lie in bed at night and pray.
"I prayed that I might not drift away from the understanding I had received at home," says Ruth, telling of an upbringing in a good, Christian home. She was a well-behaved girl, a little cautious and afraid to do anything wrong. But even if things apparently went well for the little girl, she would have to go through some tough teenage years.
When she was with other people, she always felt that she was worse than the others. "I'm nobody. All the others are better than I am. I'm not good at anything." Due to her poor self-esteem, Ruth didn't voice her own opinions when she was with others whom she felt were "better" than she was. "I so much wanted them to like me," she says.
A cup of black coffee is placed on the table in front of Ruth, but it remains untouched. She concentrates on the past. Because she wanted to be liked by others, she adapted her own opinions to whomever she was together with at any given time.
"I hated conflict, so I always agreed with what the others said." One result of this was that Ruth was bound by other people in many ways. "I wasn't myself," she says. She also had problems when two people, to whom she had said two different things, came together. "In many ways I was living a lie," she says.
She takes a sip of her coffee. She's already given the chocolate that came with the coffee to one of her younger sons who stopped by to say hello.
One evening in her late teens, she prayed, "God, you must show me what I am doing wrong!" After that she got to hear about what's written in Revelation 3:1, "… you have a name that you are alive, but you are dead".
Ruth felt rotten. She was behaving like a good girl, but on the inside things were not as they should be.
"I realized that I needed to be myself for God to be able to use me." In Psalms it's written that we are fearfully and wonderfully made. "God knew what He was doing when He created me. He had a plan for my life." Ruth recounts how she started to have faith in this.
(Article continues after video)
It was in the Word of God that she found help to believe in herself.
"It's written in 1 Corinthians 4, 7: 'What do you have that you did not receive? Now if you did indeed receive it, why do you boast as if you had not received it?'" quotes Ruth and goes on to tell how she got the understanding to pass on what she had received from God.
"I began to realize that I really had received something from God. God had given me a personality and He had also given me victory over sin in my personal life." Now she wanted to share this with others. Eventually Ruth's mindset changed—from worrying about what people around her thought about her, to thinking about what God was thinking about her.
Now a new time started for Ruth. She began to express her own opinions when she was with others, and she began to share the victories she had won. Slowly but surely, she got rid of thoughts like "I'm nobody; I have nothing to share."
"In the beginning I felt like I was losing friends," says Ruth. The people around her weren't used to Ruth having her own opinions. So her new way of being shocked them a little. But Ruth learned a lot about friendship at the time.
"You don't have to have the same opinions in order to be friends," she says. On the contrary, it might be a good thing to have different opinions and learn from each other's way of doing things. Ruth also discovered new aspects of herself.
"I realized that there actually were things I was good at. I loved sports, I liked thinking up things to do, and I had good contact with the younger girls," says Ruth.
As a shy teenager, Ruth would rather have stayed at home. "But I realized that it was vital for me to spend time with other young people," she says.
So she forced herself out the door, even though it meant leaving her "safe" area. Little by little, she became stronger and more self-confident. "Finally, I began to believe that there was something of value in me," she says.
A healthy self-esteem has been a great help for Ruth in her battle against sin. Because of it she has received grace to be a young person with confidence and to be pure in the area of youthful lusts. A good self-image has also helped her to chase away Satan.
"If you think too little of yourself, it can be easy to get a weak conscience. Satan is the accuser, and if I think badly of myself to start with, then what Satan has to say can seem quite reasonable," says Ruth. With a little self-worth, Satan can't easily lead you astray.
It didn't come for free. Ruth had to fight her way to a healthy and positive self-image. Many young people are familiar with thoughts like "I'm nobody; I'm not good at anything; everyone else is better than me". Perhaps it is especially easy for girls to think, "I'm not pretty enough, I'm too fat," etc, etc.
"But such thoughts do not come from above," says Ruth. For her, it was crucial to come to the point where she could live in harmony with God and with herself.
Today there aren't many traces left of the quiet, modest girl who didn't dare to voice her own opinions.
God's thoughts for you are not that you should have low self-esteem. Here are some things that you can tell yourself to overcome the harmful effects of low self-esteem:
Think like this: "I believe that God has chosen me and has a perfect plan for my life. I am who I am for a reason."

Accept the good things people say about you. You are not worthless; God has created you and you need to believe that you have value.

See the possibilities, not the obstacles. Then you can use the opportunities that come along to learn to master new things. This is good for your self-esteem.

Do not make demands on yourself to be someone or something you are not! God has purposely made you you.
This post is also available in
Scripture taken from the New King James Version®, unless otherwise specified. Copyright © 1982 by Thomas Nelson. Used by permission. All rights reserved.