Being a father: Learning from the best
What image does the word "father" evoke? And how can you be a good father?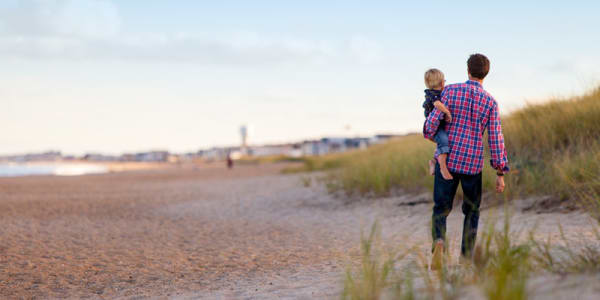 It's often overwhelming for me to see the love my children have for me. I really want to be a good father, but I also often feel that I fall short. I think about that a lot.
What is a father really, and what ought a father to be? What does the word "father" make someone think of; what image does it evoke? And how can I be a good father?
All kinds of fathers
Of course, the image you have of a father has a lot to do with what kind of father you have (had) yourself. And that can vary hugely, to all kinds of degrees: from a father who has little regard for you and makes you feel that you are a burden, to a good, loving, righteous father who only wants the best for you. It isn't difficult to have respect for such a father. He will defend you and will bear you and correct you with compassion and patience. A father like that knows his own shortcomings and also admits his faults. My own father is in that second category. I will thank God eternally for letting me have such a father.
Unfortunately, it can also be very different. Most fathers will deal with their children to their best abilities. But of course they have their limitations and human tendencies and if they do not know how to deal with that properly, they can harm their children in different ways.
Hypocrisy
The worst thing is hypocrisy. Children don't necessarily suffer direct harm if their father falls short. If a father is honest and can accept help, a lot can be salvaged.
But there are also fathers who are a bad example, and some even abuse their children. And – instead of seeking help for their own weaknesses – they need to keep up appearances for the people around them. Their children also have to comply with that picture, so such fathers place unreasonable and nonsensical demands on their children.
If such a father then also uses "Christian" language and quotes scripture verses, I can imagine that a short circuit occurs in the minds of his children. They know there's something wrong, and their natural loyalty to their father and confidence in him give way to despair and contempt. What goes on in the mind of such a child when someone tells him that God wants to be his Father? What kind of image of God can such a child have?
The secret to becoming a good father
If I want to be a thoroughly good father to my children, the main secret is to get to know how God is, as my heavenly Father. So loving, good, just, wise and trustworthy. By associating with Him I get to know Him. Then I see myself as a child holding His strong and good hand, and that gives me tremendous peace of mind and trust. If I have experienced this care myself, and I continue to associate with Him, then I as a father for my own children naturally assume those traits that I have learned from my heavenly Father.
I must therefore as it were first become as a child again, entrusting myself to Him like a small child. I mustn't reject His loving admonitions and corrections, I mustn't be stubborn, but listen and be honest and take Him at His word. He doesn't look down on His children with reproach, but gives help to grow. He works effectively with His children and looks beyond what the "child" (I) can see; He is attentive, but gives me time and space, and He respects my free will.
Sometimes he also sternly puts me in my place, so I don't go the wrong way. I can be completely open with Him, and tell Him everything that's on my mind. With Him I can be myself. I don't need to act better or differently for Him. In the Bible I read how earnestly He wants it to go well with me. And there I also read that He is able to make sure that it actually does go well with me! As long as I continue holding fast to His good Father's hand, just when I can't make sense of life and the circumstances myself, just like a little child trusts his father. Then it will go well. And if I do not understand His ways with me, I can learn a lot from how Jesus was full of trust in His dealings with His Father.
We have all had very different kinds of fathers. But what is true for each one of us, whether we have had a good or bad father, is that God wants to be our Father. And we as fathers for our own children can learn a lot from Him. He can repair the picture you got of a father as a child, if that is necessary. We can learn to be good fathers from Him.
Scripture taken from the New King James Version®, unless otherwise specified. Copyright © 1982 by Thomas Nelson. Used by permission. All rights reserved.