Bread or stones?
When we pray, we sometimes experience that what we get isn't what we asked for. Does God really give stones when we ask for bread?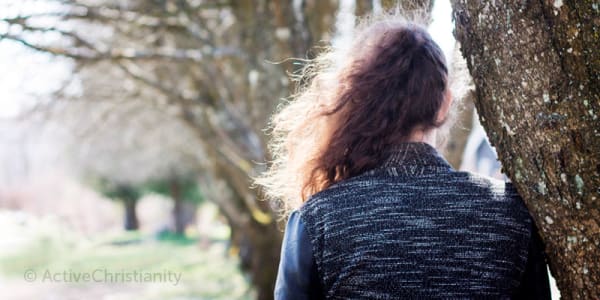 Several years ago, I prayed hard for someone I loved and it didn't turn out as I'd hoped or prayed for or expected. So, long story short, I was very angry with God, and raged at Him quite a bit with both fists clenched and tears running down my cheeks. I'd prayed so hard and so long and believed it would go well. I was so angry about the outcome that I felt God had let me down; I think I accused Him of being cruel. I may have even quoted chapter and verse at Him to show Him that He hadn't kept to His promises. Part of me understood that this wasn't the right way to go about it, but I just didn't seem able to stop my emotions.
Then, a few months later I was asked to pray for someone else. So I did. I prayed off and on throughout the night; it was a long night. And yet to all intents and purposes my prayers didn't affect the situation one little bit.
This time I felt that it was not God's fault – it was mine. Was there something wrong with my prayers, my faith, my life? For some reason, God wasn't answering my prayers. Maybe God didn't actually like me very much. And yet, I thought I was living as a disciple; I thought I had a living faith. Why was it that my prayers were delivering stones when I prayed, and not the bread I'd been promised?
God only gives bread
"So I say to you, ask, and it will be given to you; seek, and you will find; knock, and it will be opened to you. For everyone who asks receives, and he who seeks finds, and to him who knocks it will be opened. If a son asks for bread from any father among you, will he give him a stone? … If you then, being evil, know how to give good gifts to your children, how much more will your heavenly Father give the Holy Spirit to those who ask Him!" Luke 11:9-13.
So, I had to ponder how to reconcile my personal experience – I felt I had been given stones – with a fact I knew in my heart of hearts to be true because it was written in God's Word, namely:
God only gives bread; He never gives stones.
So, why weren't my prayers answered in the way I expected them to be?
For both the people I had prayed for, I hadn't given much thought to the process that He wanted those people to go through. It is true that we learn to come closer to God when we suffer. When I look back at the most severe trials in my life, I am now in a position to say (hand on heart) that I am glad that I had them and I wouldn't have missed them for anything. I learnt more about myself and the goodness of God when I was suffering, than I had when things had outwardly gone really well.
When I cry out to God in the middle of trials then He meets me with His Word. This Word makes a straight path for my feet and gives a light on my path. It does not take away the suffering, but if I follow it in complete trust and put to death my own will in these circumstances, then I will receive power from the Spirit to bear, to comfort, to rejoice, to hope, to suffer long and be kind.
In trials, we get this nourishment; we get access to this new life. This spiritual food can certainly be described as bread.
Continue reading below ↓
Like what you're reading?
How should I pray?
What I can pray for is that the people I love will gain strength and faith through their trials. I can pray that they will react in a godly way and that they will be liberated from their natures under the pressures and sorrows of their trials.
Because aspects of our human natures can be hidden from our view – lust for honor might be revealed and can be rejected forcefully; likewise envy, unrest, bitterness, resentments, lack of faith and more. How much better to receive power and insight in our spirits, and not only a change in our earthly circumstances.
And instead of asking God to intervene and remove their trials, I myself will have to learn to help bear the burdens and suffering of others. I will have to learn to comfort and give counsel, to share the pain and build people up in faith. This is work, and it can be painful.
When Jesus prayed for the trial to be removed from Him "if possible," He didn't want to be crucified, but above all His own feelings was this one overriding fact – He wanted to do God's will, and accepted the suffering He had to go through.
So, when God doesn't answer our prayers for ourselves and others in the way we hope He will, when He doesn't release people from their sufferings and trials or pain or heartache or make everything "go well," I have found something out …
We are being offered bread, not stones.
And for those two people that I tried so desperately to extricate from their trials? After some heartache and struggle and battle they both emerged with their faith in God deeper and their trust in Him stronger than ever before.
This post is also available in
Scripture taken from the New King James Version®, unless otherwise specified. Copyright © 1982 by Thomas Nelson. Used by permission. All rights reserved.