How do I break the cycle of sinning and forgiveness?
Is there a way out of this hopeless and exhausting round-about?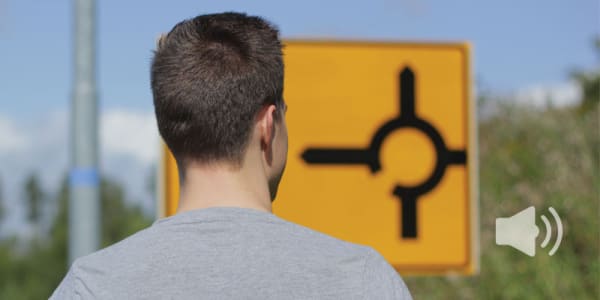 To sin is to deliberately choose to give in to desire in the moment of temptation. (James 1:14-15) The desire to gossip. The desire to look at pornography. The desire to lose your temper. You are fully aware that it's sin, and yet you don't have the power to resist it.
You've received forgiveness for this very sin many times before, yet here you are again. You gave in to the temptation, even though you knew it was wrong. "Thank God for His grace," you think to yourself. Full of regret, you confess your sin and ask for forgiveness once again. And because we have indeed, through the abundant riches of His grace, received the forgiveness of sins, you are made fresh and new.
Life in a round-about
But what is going to happen next time you find yourself in the same situation? Are you going to remain in that same round-about that goes get tempted-sin-confess-ask for forgiveness-receive grace-get tempted-sin-etc.? Will you just continue to go round and round, no end in sight?
John tells us clearly that "whoever commits sin is a slave of sin." (John 8:34) And that's what this "round-about life" is. It's slavery. You are powerless to break this endless cycle.
What is your attitude regarding sinning? We absolutely do have grace for forgiveness of sin, because of the precious blood that Jesus spilled for us. But His grace does not end there. That is not all that His blood was spilled for.
Continue reading below ↓
Like what you're reading?
A better hope
We have a better hope than that! Our hope is that we can stop sinning altogether! The second, even more amazing part of His grace, is that after you repent and ask for forgiveness, He will give you all the help and power you need, not to commit that sin again! This is the part that goes deeper than the forgiveness of the Old Testament. You get forgiveness and you get grace to come free from the power of sin and Satan.
So how do you use the grace that is available for help? How can you actually break the chains that bind you, and stop falling in the same sin once and for all?
You have to be humble, acknowledge your weakness and need, and be bold to ask for help before you fall. You have to be willing to put to death your own will – your own lusts and desires – to be conformed to God's perfect will.
You know your weaknesses. Prepare yourself. Pray about it. Find help in the Scriptures.
Educate yourself on what the reward for this faithful life of choosing only to do God's will is. Make it the greatest thing in the world. So much greater than that passing moment of pleasure that comes from sinning, which so quickly turns to regret and sorrow.
Get to know Jesus through His Word. A personal love and connection with Him will make sin so exceeding sinful that it is out of the question.
Be proactive
Be vigilant; be conscious, so that the temptations don't take you by surprise. Avoid situations that you know are dangerous. When you acknowledge that you are weak and powerless, then God will be strong on your behalf. All of the incredible power He has – a power so huge that He created the heavens and the earth from nothing – is available to you. Ask God to pour it over you, to baptize you with the Holy Spirit and fire, so you can stand fast in that moment when sin is standing at the door and knocking. Jesus is right at the throne of God, making intercession for you too. (Romans 8:34) There is no reason in the world that it can't succeed for you.
Be proactive. Turn off the computer and leave the house if that's what it takes. Close your mouth and walk away from the conversation. Go and pick up the Bible. Fill your mind with heavenly things. Seek fellowship and encouragement with like-minded individuals. Learn to use your time as an instrument of righteousness, so that you don't have time to live for your own lusts and desires.
Transformation
God can do miracles in you. He can transform a red-hot temper into patience, kindness and love. He can change an impure, addicted individual into someone who is pure and righteous and free. He has done it before. There is no doubt that He can also do it in you.
The amazing thing is that through battle and faithfulness in every temptation, the sin that is a part of your human nature will be completely obliterated, bit by bit. You will become a changed person. You'll find that with time you are no longer even tempted to that sin that used to plague you.
"For our light affliction, which is but for a moment, is working for us a far more exceeding and eternal weight of glory." 2 Corinthians 4:17.
You have to use the abundant riches of His grace for more than just forgiveness. Use it for the unlimited supply of help that is an integral part of it when you are obedient. You will be amazed at how that old slave becomes a free, joyful, instrument of righteousness for God.
Scripture taken from the New King James Version®, unless otherwise specified. Copyright © 1982 by Thomas Nelson. Used by permission. All rights reserved.