Am I drinking from contaminated water or a pure well?
When I think of my calling as a Christian, how interested am I in actually obtaining it?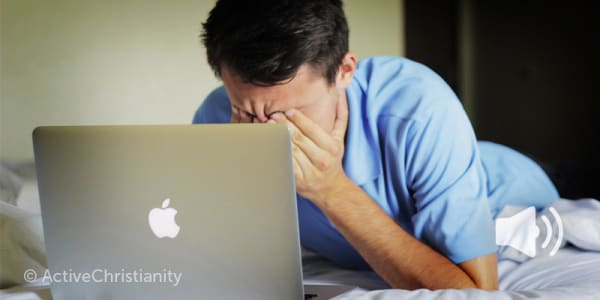 Check out the "Living the Gospel" podcast episode based on this article!
Pause to think about the significance of these incredible verses: "Beloved, now we are children of God; and it has not yet been revealed what we shall be, but we know that when He is revealed, we shall be like Him, for we shall see Him as He is. And everyone who has this hope in Him purifies himself, just as He is pure." 1 John 3:2-3.
The first question I ask myself is: "What is my hope?" Do I believe the enormity of what John is writing here, that I will actually see Jesus as He is, and be like Him? If so, the second question immediately arises: "So what am I doing about it?" Does this stir me – not just to "get my act together," but to purify myself, just as He is pure?
Contaminated water pollutes a pure well
Maybe this can appear almost impossible. The world is full of impurity – in daily talk, in the media. The spirit of the times is all about satisfying our lusts. Obscene language has become commonplace and bad attitudes are displayed without shame. Social media and other media are full of quotes, pictures and stories representing people's dissatisfaction, mockery, blasphemy, vanity, criticism, pessimism and especially their impure lusts. I seem to be bombarded by impressions from all sides, in varying degrees of "bad" and "good."
It is a fact that I have lusts in my nature that are aroused by these outside influences. They come up as thoughts and feelings of irritation, contempt, criticism, impurity, vanity, discouragement etc. But what about purifying myself, and keeping myself pure? If I compare my heart and mind to a well of water, I can see how important this is. A small amount of contaminated water will pollute a pure well. However, a polluted well is not purified simply by adding clean water. To become pure, all the contamination must be removed, and to remain pure, all pollution must be rigidly kept out.
It is the same with my spiritual life. My lusts react to a situation, and try to enter my mind and heart, like a trickle of dirty water into the well. If I allow these thoughts to live, I become contaminated by sin, and its influence starts to grow and spread in my life. Entertaining impure thoughts, letting my curiosity get the better of me and giving in to the lust of the eyes opens a crack in the floodgates, and sooner or later I become a slave of my lusts. A "small" thought of envy that is allowed to live grows like cancer and I gradually become a bitter and critical person.
If I have already been contaminated by giving in to my lusts, I must repent and ask for forgiveness. In His goodness and mercy, God is willing to forgive my sin and completely cleanse me. The contamination is removed, and I once more become a "pure well." Now, of course, I must keep it that way.
Continue reading below ↓
Like what you're reading?
Keep myself pure: Why expose myself to pollution?
I can't always avoid seeing or hearing things that trigger a reaction from my flesh, but there is only one way out when I am tempted: pray, fight and suffer to remain pure and overcome the evil. And God gives me the Holy Spirit to guide me, and to give me the strength I need to overcome.
However, not all temptation is unavoidable. Then there is another strategy to keep myself pure: Flee for my life! This has to do with my attitude, and my hope. In which direction do I want my life to go? I can't avoid all bad influences, but I don't need to look them up or tolerate them.
By exposure to these influences, my eyes are tempted to look, my tongue is tempted to speak and my mind is tempted to think things that perhaps never would have occurred to me otherwise. If I want to see God, why would I let my eyes wander, reading and watching all kinds of material that is laced with blasphemy, mockery, impurity and filth? Why subscribe to social media channels that toy around with these lusts, even if it is "only occasionally?" If I am not wholehearted, I quickly find excuses. "It's not that bad." "I can tackle it; I know where I stand." "This is generally funny, so I'll tolerate the obscenities."
Maybe I think I can handle it because I'm used to it. It doesn't really affect me anymore. But maybe there should be some red lights flashing a warning: Am I becoming desensitized for things that are an abomination for God? Are they commonplace for me because they are commonplace for the world? Am I opening myself for impure spirits by getting "used to them?"
My hope and calling
It is unfitting for someone who is preparing to meet Jesus and God to be desensitized to sin and the things of the world due to overexposure that could have been avoided. How can I even expect to keep myself pure with a mind like that? By becoming dull in my senses, I am in danger of becoming a polluted well, representing the work of Satan: impurity, complaining, hatred, blasphemy, pride, arrogance, self-seeking, vanity, unbelief, discouragement. The list goes on. But that is not my hope and my calling!
It is fitting for a disciple to be filled with the same vengeance, indignation and zeal that was in Jesus when He met sin! (Isaiah 63:1-6; Hebrews 5:7) Fight sin in my flesh and flee from corruption! If I believe in Jesus, follow Him and obey His commandments, rivers of living water will flow from my heart. (John 7:38) I drink deeply of the pure water of God's Word, setting my mind on the things above. (Colossians 3:1-4) By using the Word, I get keen senses to discern between good and evil, and am armed to fight. (Hebrews 5:13-14) I myself become a well of pure, living water, representing all that is of God: purity, faithfulness, thankfulness, love, holiness, humility, selflessness, meekness, faith, encouragement. The list goes on. That is my hope and calling!
"Therefore do not let sin reign in your mortal body, that you should obey it in its lusts. And do not present your members as instruments of unrighteousness to sin, but present yourselves to God as being alive from the dead, and your members as instruments of righteousness to God. For sin shall not have dominion over you …" Romans 6:12-14.
"Flee also youthful lusts; but pursue righteousness, faith, love, peace with those who call on the Lord out of a pure heart." 2 Timothy 2:22.
This post is also available in
Scripture taken from the New King James Version®, unless otherwise specified. Copyright © 1982 by Thomas Nelson. Used by permission. All rights reserved.