How can we reckon ourselves dead to sin?
We all experience temptation to sin, but in order to overcome, we need to take action!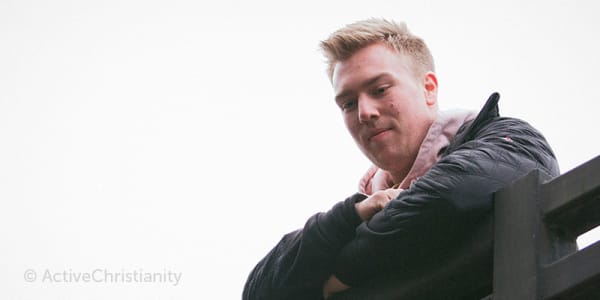 "Therefore do not let sin reign in your mortal body, that you should obey it in its lusts." Romans 6:12.
Dead
to sin

means disagreeing with lusts in the body

Sin (lust) is hidden in the body. Temptation stirs up sin, but we must never allow it to reign. As soon as we become aware of a lust, we must reckon ourselves dead to sin. (Romans 6:11.) This is how we can always live a victorious life. Every person is tempted when he is drawn away by his own desires and enticed. (James 1:14.) However, to be tempted is not sin.

As Peter says, "In this you greatly rejoice, though now for a little while, if need be, you have been grieved by various trials [temptations], that the genuineness of your faith, being much more precious than gold that perishes, though it is tested by fire, may be found to praise, honor, and glory at the revelation of Jesus Christ." 1 Peter 1:6-7.

"Whoever looks at a woman to lust for her has already committed adultery with her in his heart." Matthew 5:28. Notice: "to lust for her." The law said: You shall not covet [lust]. (Exodus 20:17.) But this man looked at a woman to lust for her. He agreed with the lust in his members instead of reckoning himself to be dead to sin, dead to this lust. He served the law of sin with his mind, and for this reason he committed adultery in his heart. The apostle Paul said that he served the law of God with his mind. (Romans 7:25.)

James asks, "Where do wars and fights come from among you? Do they not come from your desires for pleasure that war in your members? You lust and do not have." James 4:1-2.
Continue reading below ↓
Like what you're reading?
Dead to sin means actively resisting sin
Lusts wage war in our members to such a degree that there is fighting and striving in Christian assemblies because people do not reckon themselves dead to sin – dead to these lusts. We have to actively resist sin as soon as we become aware of it, and we do this by resisting the lust. We were unable to do this under the law, because the law only becomes effective after sin is manifest. "For what the law could not do in that it was weak through the flesh, God did by sending His own Son in the likeness of sinful flesh, on account of sin: He condemned sin in the flesh." Romans 8:3.
God's work in Christ went deeper than the law; this work took place within Jesus' body. There the lust itself (or sin in the flesh) was condemned. That is why Jesus says, "You have heard that it was said to those of old, 'You shall not commit adultery.' But I say to you that whoever looks at a woman to lust for her has already committed adultery with her in his heart." Matthew 5:27-28.
Those who are dead to sin get the victory
Jesus came to destroy the works of the devil. He did this by overcoming in every temptation He met, through the power of the eternal Spirit that dwelt within Him. In this way He suffered death in the flesh (He suffered when He was tempted), but in return He was made alive by the Spirit.
All through our training in godliness, as we fight the good fight of faith against the lusts in our members, we have Jesus Christ as our faithful High Priest, because He Himself was tempted and can therefore come to our aid.
Only those who are crucified with Christ experience this battle and this victory. No one else can become one flesh with Him, neither in His reproach nor in His glory. This is a great mystery: The bridegroom and the bride – Christ and the church – one flesh.
This article has been translated from Norwegian, and was first published under the title "Resist the lust in the body" in BCC's periodical Skjulte Skatter (Hidden Treasures) in April 1928.
© Copyright Stiftelsen Skjulte Skatters Forlag I ActiveChristianity
This post is also available in
Scripture taken from the New King James Version®, unless otherwise specified. Copyright © 1982 by Thomas Nelson. Used by permission. All rights reserved.