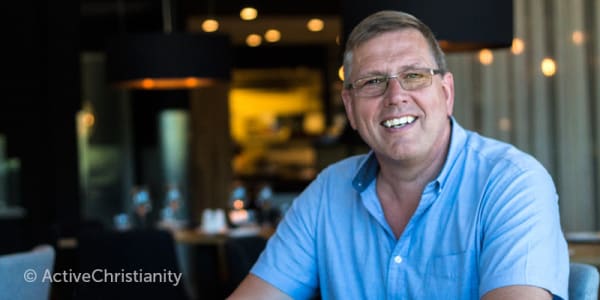 Don't be so tough that God can't take charge of your life
I looked like: "Hi. This guy needs help."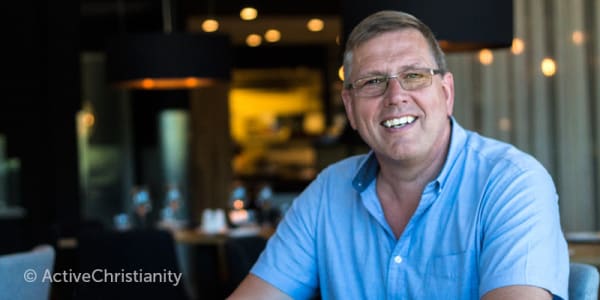 I think a lot of people struggle with a bad self-image; a lot of people have low self-esteem.
For myself, I struggled quite a bit with that in my youth. I struggled with low self-esteem, with discouragement. I went up and down like a yo-yo. I heard God's Word and wanted to be a true Christian: one who lived in victory over sins like lusting after girls, wanting to be great and admired, and becoming discouraged, etc. I wanted to come to a place where I was immovable and not so easily affected by everything around me. But I never really thought that it could succeed. I thought: "I am so much worse than everyone else. My nature – everything is working against me and it just can't succeed for me."
Very little "self-confidence"
Growing up, I was kind of the "life of the party" at home. But, I was also extremely shy. I mean, I could get everyone laughing; I could make it fun around the dinner table. But, if I got all my siblings to laugh and my dad suddenly asked me, "What was that, Rolf? I didn't hear. What did you say?" I blushed. I blushed in front of my own siblings. And then I started to stutter and I couldn't repeat what I had said. Terribly shy. Very little self-confidence.
You could, quite often, "scrape me off the floor," finding life terrible. Lots of pimples. Looking ugly… big nose. Big ears. In general terms, I was a miserable kind of a guy. And, because of a lack of faith in God, my feelings were running my life.
Scared of letting go
One of my brothers once told me that, "We knew when we were young, as soon as you walked in the door, whether it was going to be a good evening at home, or a rather sad one. Because we knew if you were discouraged or not."
I had grown up listening to God's Word, and I wanted to come to the life the Scriptures spoke about, where I could "consider it all joy," or believe that my "light affliction, which is but for a moment is working a far more exceeding weight of glory." I wanted these words to be true for me, and not just something I had read and heard about. But I was led and controlled by my feelings, and everything was circling around "the things which are seen." It took some time for me before I really started trusting in God and wanted to give my whole heart to Him. I was scared of letting go. I was scared of letting God take over my life. Scared of the future.
Keeping up appearances
So, I tried to put on an appearance. I mean I'm a fairly big guy, a strong guy. But, in the shell of a strong body, there was an incredibly weak boy. Feeling terrible. Comparing myself to everyone around me.
I think a lot of young people can recognize that: young boys trying to raise their shoulders, looking strong, walking in a kind of haughty way, because of low self-esteem. Trying to cover up a lack of confidence with a big mouth and with a cocky way of being. But, behind that facade, there's only misery. They are alone and downcast. They feel terrible. But, they are putting on a show to kind of protect themselves from the embarrassment of being discouraged, the embarrassment of being weak. When really they are scared of giving God the reins.
What I was missing
Personally, I didn't find the joy of the gospel in my youth. I didn't get that "oil of gladness" over my life. But, when I really looked at the requirements to get the oil of gladness (Hebrews 1:9), I saw that the problem wasn't the gospel. The problem was that I was not willing to give up everything, to trust God completely and let Him take over. It took me some time before I got there. The decision was made in my late teens. Then I really started to take up the battle against my own nature; my own lack of self-confidence. I had to do something about it. Either I give up trying to live like a Christian – which I never felt was an option – or I throw myself into God's will: I acknowledge that I am a weak person in need of help. I stop pretending anything else.
Acknowledging my calling
It says in 1 Corinthians 1:26-28, "For you see your calling, brethren, that not many wise according to the flesh, not many mighty, not many noble, are called. But God has chosen the foolish things of the world to put to shame the wise, and God has chosen the weak things of the world to put to shame the things which are mighty; and the base things of the world and the things which are despised God has chosen, and the things which are not, to bring to nothing the things that are…"
I was definitely among those who were not wise, or mighty or noble. But, Paul says: acknowledge your calling. Not many wise. Not many strong. But, God has chosen the foolish things, the base things, the weak things to put to shame the wise. That's where I was. I looked like, "Hi. This guy needs help." And I felt it. But, how I felt didn't change the fact that God had chosen me. I had to lay hold on my calling, to believe that God chose me and could do something in my life.
Me. "Ugly me. Bad me. Poor me." All that. I had to consciously reject those thoughts and choose to believe that God has worked in me both to will and to do. I had to stop murmuring and complaining about what I was, and my lack of this and my lack of that. Because, really, that was unbelief. It was unbelief that God could do something in me.
"Never again!"
So, I decided: "Never again!" I was going to take up a battle against all those discouraging and self-destructive thoughts. I was not going to live as a discouraged man, defeated by sin.
That doesn't mean it hasn't been a battle. I have been tempted many times, severely tempted to be discouraged. Because it lies in my nature. But, I can say that I have fought. And I have fought hard. Many times I was on my knees, with not much power left. But, I decided I was not going to give in! I was going to let God direct my life and believe with all my heart that He had chosen me, despite what I felt.
With that, I could let my shoulders sink back to the normal position, instead of trying to look so broad-shouldered. I could put my faith and trust in God.
He created something
I remember driving my car, while in my youth. I was crazy, driving as fast as I could, actually thinking of aiming for a pole or something that could end this miserable life. I went from that to becoming a man where God has helped me every single day of my life, no matter what situation I found myself in. I have become a happy man, with children and grandchildren who, by God's grace, are never going to see a dad or grandfather who is downcast.
I can't necessarily say that I have an awful lot of self-confidence today either. But, I do have great confidence in my calling. I have great confidence in the fact that God decided to do something. He decided to work in me and I let Him. Basically, it's as simple as that. He decided to make something out of me. Well, since He is the Master of all creation… He said let there be light and there was light, even though there weren't any electricians or cables at the time… I mean, He created something. And He can also create that in a human being, who feels miserable, who has low self-esteem; He can create something which is eternal.
God works in you too!
And when I think especially about young men, boys, I just want to say: Don't be so tough that you do not let God take charge of your life. Because inside that tough shell is usually a weak man, scared of life, scared of the future, scared of decisions that have to be made. Don't let a strong facade ruin your future. Rather, acknowledge your weakness and work in faith to God! And don't think so much about the past – don't think of the misery of the past and have your mind on that, so that your future is also ruined. Rather, let the past be the past. And believe that God has worked in you, both to will and to do.
You want to do the good, don't you? Well, God has worked that in you! That will to do the good is not manmade. Just read in Romans 3:10-18, and acknowledge that this is the truth about yourself. If you feel and really believe that you are one of those least, and yet feel a desire to do good, then you can be sure that it is God who has worked that, that will to do good. And He has worked it in you, both to will and to do. (Philippians 2:13) So, now, do it! Do it in faith that it is God who has worked in you. Do it in that confidence – call it self-confidence – I don't care, but do it in that confidence that it is God working. He wants to do something amazing in your life! Put your trust in Him.
This post is also available in
Scripture taken from the New King James Version®, unless otherwise specified. Copyright © 1982 by Thomas Nelson. Used by permission. All rights reserved.