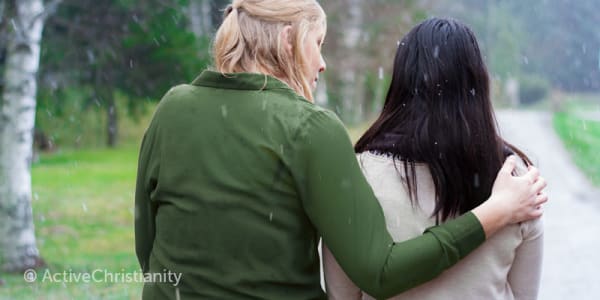 Drying every tear
An incident on a bus reminds Julia to use the opportunities God gives her to grow in the virtues, so that He can use her as an instrument of righteousness .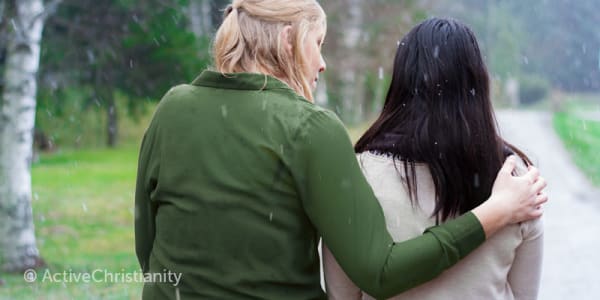 It's been a long day at college, and as I get on the bus to head home, my backpack feels heavier than ever. I lost my mom this month, and I'm feeling a bit alone as I try to tackle schoolwork, taking care of a house, and being a support to my dad in this difficult time. I didn't sleep well last night and I've got hours of homework ahead of me tonight.
My mind is so full of these things that I only become aware of the woman getting on the bus behind me when a man at the back calls, "Driver, you need to call an ambulance for this woman!" I look up and see the young woman, who is roughly my own age, standing in the aisle. Her face is bruised and banged up, and both her face and hands are covered in her own blood. She has clearly just suffered as a victim of some kind of violence.
Hanging her head in embarrassment, she moves away from him and comes to sit beside me. While she remains wordless, I feel her body tremble with sobs next to me. I wish I had the words to help, instead of just sitting there helplessly. My heart is breaking for her. I want so badly to reach out to her, but haven't a clue what I can really do.
The bus pulls over and a pair of police cadets get on. They move to stand in front of us. "Ma'am, can we call you an ambulance, please?" one of them asks. She shakes her head, refusing to look up. The cadet crouches down in front of her. "Ma'am, please let us know what happened to you so we can help you," he says kindly. Heaving a sob, the woman suddenly pushes past the cadets, out the door, and runs away down the street. They follow her and the bus moves on. I know I am not likely to see her again.
What can I do about it?
I'm suddenly finding it a little hard to see clearly. I can't imagine all of the suffering she may have endured over the course of her life, and will likely continue to endure. Even if I could have helped her, there are so many other people out there who also need help. All you have to do is open a newspaper to see that the world is full of pain and suffering. I feel overwhelmed and frustrated as I think of what so many people have to endure. What can I do about it?
As my mind races with these thoughts, I am reminded of the verse in Revelation 21:4 that speaks of the new Earth to come. "And God will wipe away every tear from their eyes; there shall be no more death, nor sorrow, nor crying. There shall be no more pain, for the former things have passed away."
I want to be along in that work; that tremendous ministry! But how do I attain the wisdom that I need in order for God to use me? In 2 Corinthians 1:3-4 it is written: "…the Father of mercies and God of all comfort, who comforts us in all our tribulation, that we may be able to comfort those who are in any trouble, with the comfort with which we ourselves are comforted by God."
Being trained as an instrument of righteousness
I know that this life is my training ground to teach me to be a help to people in those days to come. When I am faithful to follow Jesus, to walk the same path that He did while here on earth, to seek God in my tribulations and testings, then He will be able to use me.
By denying the sin that comes up from my own flesh, I will grow in God's virtues. When I allow God to do a work in me I will increase in love, joy, peace, longsuffering, kindness, goodness, faithfulness, gentleness, self-control. (Galatians 5:22-23) These are the tools I require to be able to help those in need. People who, like the woman on the bus, are in need of compassion and love.
It is only when I put off the old mind that was selfish and served sin that I can start to serve God and carry out His will in my life. (Ephesians 4:20-24) Then others can experience God's goodness through me. Then I can already begin to treat people as God will treat them on the new earth.
My heart burns within me as I think of this, and I am renewed in my determination to make sure I make the most of every opportunity for salvation that God gives me. I can't wipe out all the pain and suffering on earth, but I can already be a help where God shows me a need. I need to be finished with living for myself so that God can show me situations where I can be a help and a blessing.
A glorious ministry
For example, maybe I know a young person who is going through a hard time. They need to experience warmth and true love. Can I give that to them? Can I shower them with goodness, and give them comfort and help? When I have been faithful and obedient, God can use me as an instrument for righteousness. (Romans 6:13)
When I think now of the situations that seemed so hard for me, I can look at them with new eyes. All of these trials and experiences are teaching me what I need to know for the days to come. Days where I will no longer have to sit helplessly and watch another suffer, because I have been faithful to use the opportunities to learn that God sends me. When I feel alone and overwhelmed, or anything else, I can pray to God and He will give me full power to overcome and grow in virtue and wisdom.
As the bus pulls up to my stop, I grab my backpack and jump off. I feel an increased resolve to live this life in such a way that God can use me for this glorious ministry.
Scripture taken from the New King James Version®, unless otherwise specified. Copyright © 1982 by Thomas Nelson. Used by permission. All rights reserved.