Eternal promises for those who overcome
The reward of living an overcoming life is indescribable.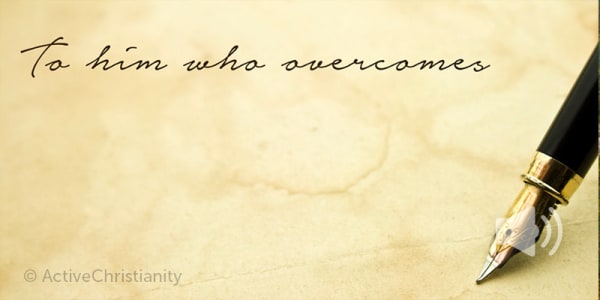 When the apostle John experienced the revelation on the Isle of Patmos, Jesus gave him messages to send to seven churches. Each of those messages concludes with a promise of the reward for those who overcome. Glorious promises that we, with our human understanding and perception, can't fully comprehend.
It's so important for us to focus on the reward that belongs to those who overcome in order to really get a vision for what it is that we are living for; why it's worthwhile for us to live a disciple life. So that when we are in those situations where we feel we are "hard-pressed on every side;" (read 2 Corinthians 4:8-11) when we feel like we are "grieved by various trials," (1 Peter 1:6) then we can actually rejoice!
"For I consider that the sufferings of this present time are not worthy to be compared with the glory which shall be revealed in us." Romans 8:18.
He who overcomes
To name just a few of the promises that Jesus gives in Revelation:
"To him who overcomes I will give to eat from the tree of life, which is in the midst of the Paradise of God." Revelation 2:7.
Eternal life with the Father and the Son!
"He who overcomes … I will write on him the name of My God, and the name of the city of My God, the New Jerusalem, which comes down out of heaven from My God. And I will write on him My new name." Revelation 3:12.
The New Jerusalem is the bride of Christ (Revelation 21:2,9-11). By writing on us the name of God, the name of the New Jerusalem, and His own new name, Jesus claims us as His own; it is an acknowledgement that we belong together with Him and His Father.
"To him who overcomes I will grant to sit with Me on My throne, as I also overcame and sat down with My Father on His throne." Revelation 3:21.
We will reign together with Jesus!
"He who overcomes shall inherit all things, and I will be his God, and he shall be My son." Revelation 21:6-7.
Continue reading below ↓
Like what you're reading?
A heavenly vision
Our eyes are turned from valuing earthly things, because we have something so much greater to look forward to. When we really believe in the glory of the reward that awaits genuine, tested faithfulness, we are filled with a spirit of expectation. Then we experience that our kingdom is truly not of this world. (John 18:36) Our life is lived in righteousness, eagerly looking forward to the day when we are united with Jesus, and we receive our eternal reward.
And "reward" is not a strong enough word for what we will experience there in eternity. You could probably search languages the world over to find a word to describe how great it will be, and never find one that does it justice. When we believe in this it becomes easy to "count it all joy when you fall into various trials." James 1:2. Think what the end result will be!
"All our tribulation is but short and light, my friend. Glory upon glory in return the Lord will send. We'll receive abundantly." (from the songbook "Ways of the Lord" #179)
How to be an overcomer
What is it that we need to overcome? Sin; the lusts of the flesh, as Paul talks about in Galatians 5:24. "And those who are Christ's have crucified the flesh with its passions and desires." And how are we to do this? Just like Jesus did when He was on earth.
"Seeing then that we have a High Priest who has passed through the heavens, Jesus the Son of God, let us hold fast our confession. For we do not have a High Priest who cannot sympathize with our weaknesses, but was in all points tempted as we are, yet without sin. Let us therefore come boldly to the throne of grace, that we may obtain mercy and find grace to help in time of need." Hebrews 4:14-16.
Jesus overcame when tempted to sin, and so can we, by going to the throne of grace and crying out in prayer when we are in need. Then we will get the mercy, grace, and help to resist sin; to overcome. Then we will get content in our lives that we will take with us into eternity.
Eternal life
What all of these promises add up to is a rich eternity. Eternal life in which there is no sin, no temptation. We will experience nothing but goodness, peace, love, joy; all of the fruits of the Spirit which we already begin to taste while on earth. (Galatians 5:22-25) We will be together with all of those have been overcomers, forever in an eternity that we can't even imagine.
"Then I, John, saw the holy city, New Jerusalem, coming down out of heaven as a bride adorned for her husband. And I heard a loud voice from heaven saying, 'Behold, the tabernacle of God is with men, and He will dwell with them and be their God. And God will wipe away every tear from their eyes; there will be no more death, nor sorrow, nor crying. There shall be no more pain, for the former things have passed away.' Then He who sat on the throne said, 'Behold, I make all things new.'" Revelation 21:2-5.
What a future we have before us – what a hope! Endure! Don't give up! Fix your sights on the eternal! We have to actively be overcomers in our own lives. You know the prize you are fighting for, now go out and make yourself worthy of it.
This post is also available in
Scripture taken from the New King James Version®, unless otherwise specified. Copyright © 1982 by Thomas Nelson. Used by permission. All rights reserved.