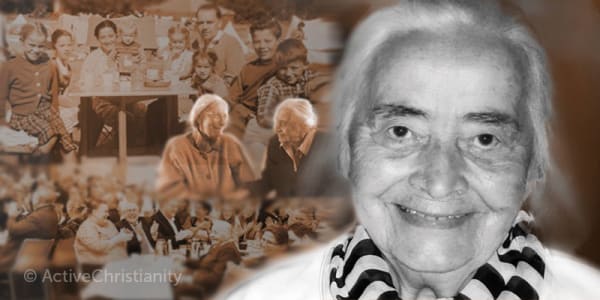 It is extremely important that God can speak to us all the time
Esther Smith was a "prayer warrior," a God-fearing woman with a strong personal connection to Jesus.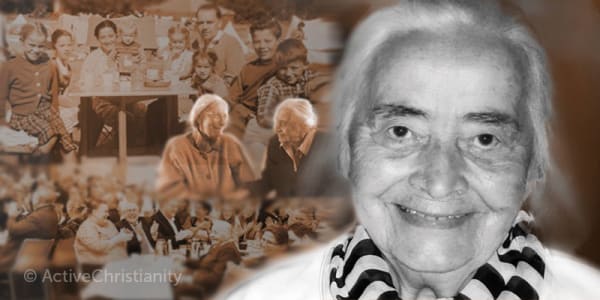 Esther Smith was a "prayer warrior," a God-fearing woman with a strong personal connection to Jesus.
She fought for herself and others in her prayers. Her prayers had power with God, and through this personal connection with God she could also hear from Him. She was a servant of the Lord and a solid pillar in the church, and not least in her own home.
Below is a collection of quotes from Esther Smith, recorded from conversations with her before she went home to Jesus in 2007, and compiled into a book, "Esther Smith – A Life in Fellowship with Jesus and the Saints."
"We must constantly remain in a state of prayer; it is not something we do for just a few minutes now and again, or on certain occasions when we are especially in need. It is extremely important that God can speak to us all the time. This makes it much easier to seek the kingdom of heaven at all times."
A co-worker with Jesus
Esther Smith had power in her spirit. Through praying and communicating with God, she also received promptings regarding various situations concerning her life and the church. She had an open connection with Him in her heart, a two-way conversation. She was a co-worker with Jesus, a trusted co-worker with authority in her spirit.
"If you're awake, God can prompt you about the most amazing things. My desire is to be quick to hear and quick to act."
"Today, I do nothing without laying it before Jesus. He is my best Friend, and I am glad that I have understood the orders He has issued. We have such a good life when we give ourselves completely to Jesus' will, and we can also explain that to our children. When you place yourself in Jesus' hands, difficult times and times of trial become short and light. I feel very dependent on God's Word – I need it every single day."
"In certain situations and with certain people, maybe we see that we are not filled with every desire for what is good. Then, in all simplicity, we can just pray, 'Dear God, fill me with every desire for what is good!' I know that this is a prayer according to the will of God, and I can believe that I have received what I have prayed for, as it is written, 'Now this is the confidence that we have in Him, that if we ask anything according to His will, He hears us. And if we know that He hears us, whatever we ask, we know that we have the petitions that we have asked of Him.' 1 John 5:14-15.
"Teach the children to pray that they can be filled with every desire for what is good. We should learn more and more to work together with God in this fight – our work must run parallel with God's work. Jesus prays for us day and night, and we should melt together with His prayers for us and for the church."
"Prayer is incredible! God has ordained things so that He allows Himself to be influenced by our prayers! 'The effective, fervent prayer of a righteous man avails much.' James 5:16. It moves God's heart to act, and He sends out His angels to protect and save those we pray for."
A sigh in the day-to-day
"Prayer has really been a cornerstone in my life. We can come to God with everything. Of course, we pray for spiritual things in our battle against sin in our own flesh, but I have also often prayed about everyday matters. When I am standing over the stove making dinner, I often pray that He will bless the food and those who are going to eat it. I also pray for people the Holy Spirit prompts me to pray for."
One of Esther's children relates: "'Dear Jesus, Dear Jesus!' At home, we heard this simple heartfelt prayer time after time. When there was a difficult situation, we heard it extra often, but we also heard this sigh from her heart regularly in the daily life – a sigh that sprang from her upright desire to live a life worthy and pleasing before His face.
At home it was natural to pray about everything. Prayer came very naturally. It wasn't something put on, but a prayer straight from the acknowledgement of her need for God's grace and help in life's manifold situations. Mama's godliness wasn't something 'packed away' and brought out just on special occasions. It was an everyday Christianity, in the best and deepest sense of the word. Whether it was tests at school, or especially challenging decisions during the day, when there was danger or various kinds of need, Mama prayed. Even for daily tasks, cooking or washing dishes, we could constantly hear these sighs from her heart: 'Dear Jesus! Dear Jesus!' She persevered in prayer and did not give up until she was heard. Her prayers had power with God and were effective."
Pressing in to God with a personal need
"Why should we pray? We pray because we lack something. Those who are rich and satisfied don't need anything more. We must be humble and full of acknowledgement, and we must search for things in our own life that we can acknowledge. To grow in Christ, you must take careful heed to yourself. It really is important to pray that you find things to acknowledge. I have prayed a lot about this throughout many years, and it is vital to do so.
When you acknowledge the truth, you become genuinely happy and liberated from the things that have bound you. It is one thing to be liberated from manifest sin, but our calling is also to be liberated from ourselves, from our nature, from the way we are. We are to be conformed to the image of Jesus Christ."
"I have always been in need and poverty of spirit. When situations have come, I have always prayed and received help, usually through a word of God. We should talk to God about our situations, and then listen and read. In this way, we receive counsel from God and true help in our situations."
"We must have a fire of zeal against sin. It is incredibly important to plant this into the hearts of the young people. The devil wants to destroy their souls.
It really is possible to live a happy life in the midst of resisting sin to bloodshed. The more you practice this, the quicker you get finished with sin, and then a heavenly joy and happiness result. Then you are constantly happy; you have a very good life which also makes it possible for you to bear others' burdens with joy."
"I pray earnestly to be filled with a boundless thankfulness for everything that happens. I pray to be filled with a heavenly joy and be preserved with faith burning in my heart right up to my last breath. God has things He wants to do in us while we are here. As long as we are on earth, there are enemies to overcome."
Excerpts are taken from the book "Esther Smith – A Life in Fellowship with Jesus and the Saints," originally published in Norwegian in 2012 by Skjulte Skatters Forlag.
© Stiftelsen Skjulte Skatters Forlag
This post is also available in
Scripture taken from the New King James Version®, unless otherwise specified. Copyright © 1982 by Thomas Nelson. Used by permission. All rights reserved.