I don't need to be persecuted by my lusts!
Our lusts are powerful forces drawing us away from God. What must be done to come to freedom from them?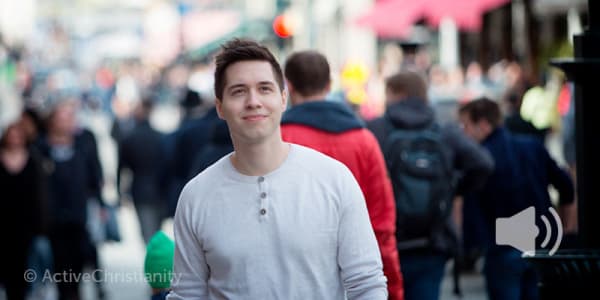 "And those who are Christ's have crucified the flesh with its passions and desires. If we live in the Spirit, let us also walk in the Spirit. Let us not become conceited, provoking one another, envying one another." Galatians 5:24-26.
"Likewise you also, reckon yourselves to be dead indeed to sin, but alive to God in Christ Jesus our Lord. Therefore do not let sin reign in your mortal body, that you should obey it in its lusts." Romans 6:11-12.
Lusts are wishes or "needs" with an intense longing to be gratified. James writes that all wars and fights come from the lusts that war in our members. The lusts are a great deception, and their brief enjoyment is only an imaginary gate to glory that leads to an even greater emptiness.
Strong forces against us – but we are not powerless!
Many kinds of lusts dwell in the body, and most people are slaves of their own body. However, this is not true of those who belong to Christ. They are willing to be crucified with Christ by faith in the power that is accessible through the gospel. They reckon themselves dead to sin together with all its desires and passions that demand to be fed and gratified. This makes it possible for their spirit to come into contact with God, so they can hear His voice. This is the normal, Christian life! Nevertheless, it seems that Paul had to confirm this when he wrote to the Romans, "And if Christ is in you, the body is dead because of sin, but the Spirit is life because of righteousness." Romans 8:10. When the Spirit of Christ dwells in us and we are obedient to Him, the intention is that the body is to be dead to all the lusts that dwell in it. This is the only way for us to come to life and a development in our spirit.
When we think about some of these lusts, for example, the lust for honor, envy, sexual immorality, anxiety, love of money, seeking one's own, the lust to be a busybody in other people's affairs, etc., we realize these are strong powers that dwell in a person. They are so strong that even God-fearing people in the old covenant were powerless when they had to contend with these desires that dwell in the flesh. As a result, a great need for a Savior and Redeemer arose!
"For what the law could not do in that it was weak through the flesh, God did by sending His own Son in the likeness of sinful flesh, on account of sin: He condemned sin in the flesh, that the righteous requirement of the law might be fulfilled in us who do not walk according to the flesh but according to the Spirit." Romans 8:3-4. The righteousness of the law required that there be a death over the passions and desires. (Romans 7:7)
Now it is our turn! Now we have the opportunity to enter into His rest – a rest in which we are no longer bothered by desires and passions in the flesh. The same zeal and determination must be in our hearts when we meet the enemies that persecute us.
Continue reading below ↓
Like what you're reading?
Are we filled with indignation against sin?
"O Lord, You know; remember me and visit me, and take vengeance for me on my persecutors. Do not take me away in Your longsuffering. Know that for Your sake I have suffered rebuke. Your words were found, and I ate them, and Your word was to me the joy and rejoicing of my heart; for I am called by Your name, O Lord God of hosts. I did not sit in the assembly of the mockers, nor did I rejoice; I sat alone because of Your hand, for You have filled me with indignation." Jeremiah 15:15-17. Surely, all of us are acquainted with these enemies in the flesh who desire to persecute us. Unless we hate sin, it will persecute us for the rest of our lives.
I wonder if there isn't a need, even in these days, to sit alone and let God's Spirit work and fill us with indignation. There is great liberty and many opportunities to see, hear, and experience many things. The question everyone should ask himself is: How does all this influence my spirit? Does my spirit give off an aroma of the power of victory? Does it testify of wholeheartedness, zeal, and godly fear? It is rewarding to stay away from such "fun" parties where, in their hunger for some kind of experience, people rejoice because they feel so good on a human level without being able to discern whether the Spirit of Christ is present or not. Such a life leads only to emptiness and deception. Such a person's spirit will testify of self-satisfaction, superficiality, slothfulness, and laziness.
Blessed is everyone who has a powerful day of reckoning with his lusts and wields the blows that are necessary to enter into rest. Blessed is everyone who is willing to be filled with the Spirit of power and is raised up to rule in the midst of his enemies, who fights his way through and does not turn back on the day of battle! Yes, blessed is everyone who leaves the sacrifice on the altar until it is consumed and does not begin to eat at a later time of what in his godly zeal he has previously cursed in his life!
This article was first published in Norwegian in BCC's periodical "Skjulte Skatter" ("Hidden Treasures") in May 2005, under the title "Rest from the lusts!"
© Copyright Stiftelsen Skjulte Skatters Forlag
Scripture taken from the New King James Version®, unless otherwise specified. Copyright © 1982 by Thomas Nelson. Used by permission. All rights reserved.