Godly love—is it a feeling?
How can Jesus command us to love people? How can you make yourself love someone else?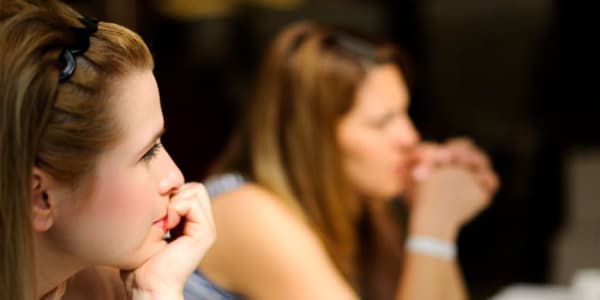 Check out the "Living the Gospel" podcast episode based on this article!
"See you later!" I call cheerily as I wave goodbye from the front door. I walk slowly inside, close the door, and a small sigh of relief escape me. Immediately I feel guilty! A perfectly nice girl, and I just don't like being around her—I don't know why.
"You're such a hypocrite!" a small voice in my head jeers at me. "Call yourself a Christian? Christians are supposed to love their enemies; everyone knows that. You don't even love your friends!"
Trying to love didn't help
"I've tried!" I say sharply out loud, in a vain attempt to silence these unpleasant thoughts. It's true—I have tried. For a long time I've made a concerted effort to really love the people around me, especially the ones I feel I don't "click" so well with. I haven't avoided being around them, and when they have done or said things that cause me to feel irritated or annoyed, I've recognised that the irritation is coming from within me, and conscientiously denied myself.
But it hasn't helped. True—maybe I don't really dislike them, but even after I've denied my irritation and annoyance, all that's left is a kind of neutrality towards them, an empty space devoid of any kind of feeling. I can't say I enjoy being around them, let alone love them.
Continue reading below ↓
Like what you're reading?
How can Jesus command us to love?
I sink wearily into an armchair, feeling rather dispirited. Why does it have to be so hard? Once again I look up the well-known words from Jesus' Sermon on the Mount where He tells us to love our enemies.
"But I say to you, 'love your enemies, bless those who curse you, do good to those who hate you, and pray for those who spitefully use you and persecute you." Matthew 5:44.
Looking at the verse, something strikes me. Jesus gives us four exhortations here, but the final three are things you can actually go out and do. I mean, it might be difficult, but if someone curses you, you can bless them. It's possible—you can't say it's impossible! The same with the next two, you can physically do good to people that hate you, and you can pray for people even if they are awful to you.
But how can Jesus command us to love people? I mean love is a feeling, an emotion. Entirely regulated by the limbic system in our brain or something. How can you make yourself love someone else? You love them or you don't—that's how it seems to me anyway.
Love is an action
Eventually I decide to talk to Bernt Stadven, an older Christian whom I respect and trust a lot. I explain my dilemma, and conclude by saying that it doesn't seem fair of Jesus to command us things outside of our control, like how we should feel towards others.
"No, no, you've got it all wrong!" he says enthusiastically. "The love Jesus is talking about there isn't a feeling. It's just as much an action as all the other things He is telling us to do."
"Really?" I ask doubtingly, not quite understanding what he means.
"Of course," he replies. "You know what's written in 1 Corinthians 13, don't you? That's the chapter where the Apostle Paul describes what divine, or Godly, love is. Read it carefully—there isn't one single mention of a feeling there."
I obediently open my Bible to check it out. Sure enough, in 1 Corinthians 13:4 it's written, "Love suffers long and is kind; love does not envy; love does not parade itself, is not puffed up; does not behave rudely, does not seek its own, is not provoked, thinks no evil…"
"See that is what it means to love someone," explains Stadven. "If you are kind to people, and good to them, and don't envy them, and are not rude to them, then you love them, and it doesn't matter what your feelings tell you. Then you are obeying Jesus' command totally and completely."
It's like a light switches on in my head! This is something I can do! All this time I've been waiting for feelings to come as proof that I love people. I want to feel that I love people before I go out of my way to be kind, longsuffering etc. But it's the other way round! It's the actions I perform because I want to love people that are the proof that I do actually love them.
I thank Stadven with a bright smile, and leave with a new hope within me. Now I know that no matter how I feel, I can love every single person I know in the same way that Jesus did.
"Love bears all things, believes all things, hopes all things, endures all things. Love never fails." 1 Corinthians 13:8-9.
This post is also available in
Scripture taken from the New King James Version®, unless otherwise specified. Copyright © 1982 by Thomas Nelson. Used by permission. All rights reserved.