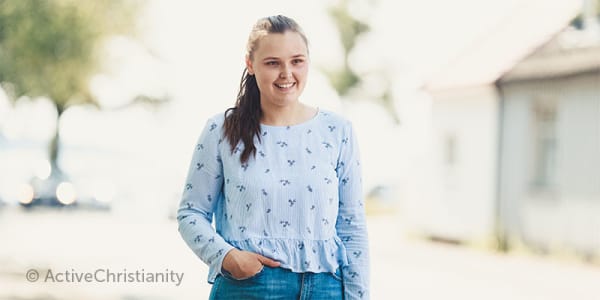 Believe in God's love for you!
We can accept God's love, and in return learn to love as He loves!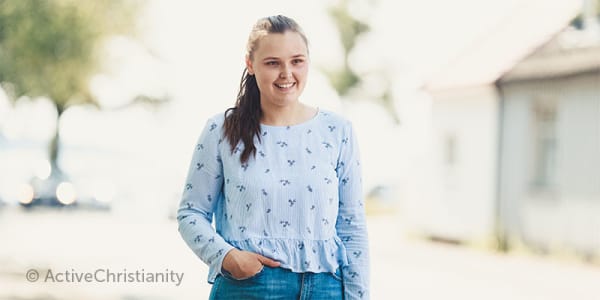 "The Lord has appeared of old to me, saying: 'Yes, I have loved you with an everlasting love; therefore, with lovingkindness I have drawn you.'" Jeremiah 31:3.
This verse is God speaking to Israel, His own special people. It is also a verse for each individual who will believe it! It is a fact – God loves you and me! It is a pure love; it doesn't depend on us doing anything to deserve this love, or to earn His love. It is not human love, often with its unspoken demands and reservations; it is absolutely pure, intending the very best for us.
Most of us are subject to feelings of inferiority: there's always someone who is better than us, whether in looks, personality, intelligence, achievements, social status or circumstance, and so on. God doesn't look at any of these things. He made us as we are, and He wants to do a work within us, starting from where we are, and not from some goal we think we should have reached before God will accept us. No, we don't need to do anything to earn God's love. It is offered to us, if we will humble ourselves and accept it. This is one of the most transforming things a person can do in their life – and it becomes the start of a completely new way of living.
God wants to "rebuild" us
The Bible goes on to say in Jeremiah 31:4, "Again I will build you, and you shall be rebuilt, O virgin of Israel! You shall again be adorned with your tambourines, and shall go forth in the dances of those who rejoice." "Again," says God. That must mean we have already been built!
David writes in Psalm 139:13-16, "For You formed my inward parts; You covered me in my mother's womb. I will praise You, for I am fearfully and wonderfully made; marvelous are Your works, and that my soul knows very well. My frame was not hidden from You, when I was made in secret, and skillfully wrought in the lowest parts of the earth. Your eyes saw my substance, being yet unformed. …" Yes, God knew what He was doing when He made us in our mother's womb; each one of us was being created as the special, unique person that we are. We were made as intended by God; but He hasn't finished His work with us. He wants to "rebuild" us!
We were born with a sinful nature, so sinful that it hates God vehemently. (Romans 3:10-18.) Yet, this doesn't lessen God's love for us and to us. He loves because He is love, and He can't do anything but love. In this state, He wants to rebuild us.
Continue reading below ↓
Like what you're reading?
What we are being "rebuilt" to
We are to become a people who love God in return for His love to us, and we are to come to the point where we can love other people with that same love! That takes a thorough rebuilding! But it is possible. It comes through learning to obey God's laws and commandments. These are actually impossible to carry out ourselves; we need God's power and grace to do it.
Jesus says these powerful words, "You have heard that it was said, 'You shall love your neighbor and hate your enemy.' But I say to you, love your enemies, bless those who curse you, do good to those who hate you, and pray for those who spitefully use you and persecute you, that you may be sons of your Father in heaven; for He makes His sun rise on the evil and on the good, and sends rain on the just and on the unjust. For if you love those who love you, what reward have you? Do not even the tax collectors do the same? And if you greet your brethren only, what do you do more than others? Do not even the tax collectors do so? Therefore, you shall be perfect, just as your Father in heaven is perfect." Matthew 5:43-48.
Who is able to carry out these words? Jesus did it – a man who was created just as we are; a man with flesh and blood, with the same nature that we all experience: yet, the Bible says, He was without sin in all the temptations that He suffered down here. Just before the end of His life, He concluded His "high priestly" prayer with these words, "… that the love with which You loved Me may be in them, and I in them." John 17:26. And that prayer is still relevant today – that "the love with which You loved Me may be in them, and I in them." Through the Holy Spirit, He will give us the power to overcome our sinful nature, just as He overcame.
Let us so give ourselves unreservedly to God that we get to know, personally, this great transforming power of His love. When we do, we will never be the same again!
Scripture taken from the New King James Version®, unless otherwise specified. Copyright © 1982 by Thomas Nelson. Used by permission. All rights reserved.