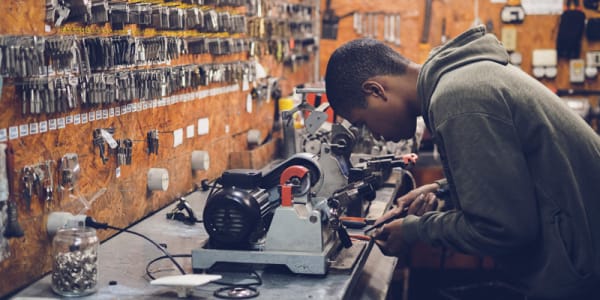 God's will in our earthly work
God wants us to seek His will in everything—also in our earthly work.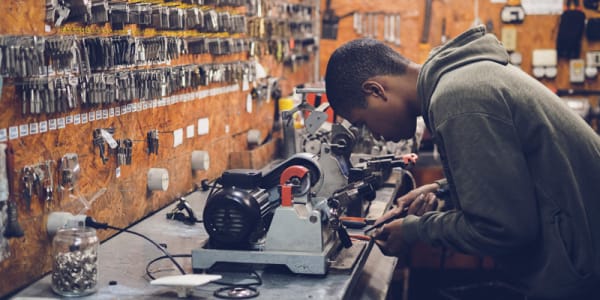 God reveals His will to a person at the very moment in which he is living.
God's will now—where we are!
He who discounts the present moment does not know that God's will is always at hand—precisely in the state he is in and for the work he is doing. God's will is always ready to intervene where we are, for God is always very near to everyone.
Someone who is unsure often believes that God's will lies only in visiting the sick or in getting up and giving a testimony. Satan always covers up those areas where it should be most obvious to seek God's will and he leads the person's thoughts further away. For a spiritual person, he usually covers up earthly issues as something that has to be separated from the spiritual. In this way, he hinders the person from presenting his body as a sacrifice in order to fulfill God's will. Everything we use our body for according to God's will is our spiritual service. Therefore Paul says so aptly concerning our earthly work: "Bondservants, be obedient to those who are your masters according to the flesh, with fear and trembling, in sincerity of heart, as to Christ; not with eyeservice, as men-pleasers, but as bondservants of Christ, doing the will of God from the heart, with goodwill doing service, as to the Lord, and not to men [...]" Ephesians 6:5-8.
Continue reading below ↓
Like what you're reading?
Do your earthly work as if for the Lord
We see that every work in our earthly calling is to be done before the Lord, as unto the Lord. It is as if the Lord Himself were standing there and watching you, making sure that you are doing the work for Him. When you do your work under His eyes and supervision, you will experience in your inner man that His eyes (through your spirit and your conscience) will follow the work you are doing, even to the last small detail—point by point. He will then become the One who guides your work. If there is one particular point in your work where you have not been fully obedient, and the work at that point was not done as you know it should have been done, then this will be felt as a pressure on your conscience, and He will lead you back to complete what is lacking. Your obedience and patience will lead to a perfect work according to the light and understanding that you have.
When you thus serve as unto Him, and your desire is to do God's will, you will do your work willingly and faithfully, and you will receive your reward from the Lord, for it is for Him that you do your work. He will pay you what is right, even if you do not receive what is right from people. The wages you receive from people—the unrighteous mammon—are your earthly livelihood by which God lets you live so that He, during the time that you are on earth, can present you as an example and an adornment of His doctrine. When you are obedient in this , you will be watchful in your work before His face all day long, so that you with your work and with your life can please Him. He is your co-worker in each work just as you are His co-worker in the work, for He works in you to will and to do all things for His good pleasure. Therefore do your work "without complaining and disputing, that you may become blameless and harmless, children of God without fault in the midst of a crooked and perverse generation, among whom you shine as lights in the world" (Philippians 2:12-15). All obedience to the Lord is part of your salvation. By obedience you fulfill all righteousness in your daily life. This is how you live in the Spirit in every earthly work. These works are His works that you must keep with care while walking in them. Thus each work is of heavenly worth—first to the Lord, then to others, and finally to you.
The Lord gives other people grace through you!
If your heart is wholly for the Lord, then you know that His eyes go over the whole earth to strengthen such people mightily in everything they do, and consequently they will succeed. The works you do benefit the others, either directly or indirectly, and this is how the Lord still serves mankind today through His children. However, few people are aware of His ministry; few people appreciate it as coming from Him. Nevertheless, His servant's mind is without limits, because love never fails. He serves others through you when you serve as unto Him. Thus He exercises the same grace even today through the members of His body on earth, just as when He Himself walked on earth. The Lord could take those who are His home to Himself, but in His grace, He appoints them to finish the work that He gives them to do, so that His grace can reach even more people. Thus He lets the earthly work be a heavenly seed. We live His life, and in this way Jesus is still walking on earth through the members of His body as a son of a carpenter from Nazareth, dutiful in all things.
This is how, in a practical manner, you can gather treasures in heaven at all times of the day. Perfect obedience on earth results in perfect joy—His joy in you and your joy in Him.
When it comes to these things, Satan darkens many people's vision. In the various assemblies, we see many people who confess Christ, but their earthly work is not being carried out with a willing mind as to the Lord but rather with complaining and carelessness as to men. Therefore we find that many of them are "bored" and "upset." If they would seek God's will in the things at hand and perform them in perfect harmony with their conscience, we would see them rejoicing in God's pleasure. However, in order to carry out everything in harmony with your conscience, you have to practice patience, and this leads to a perfect work.
This article has been translated from Norwegian, and was first published with the title "Guds vilje i det jordiske arbeide" in the periodical Skjulte Skatter (Hidden Treasures) in January 1913.
© Stiftelsen Skjulte Skatters Forlag | ActiveChristianity
Scripture taken from the New King James Version®, unless otherwise specified. Copyright © 1982 by Thomas Nelson. Used by permission. All rights reserved.