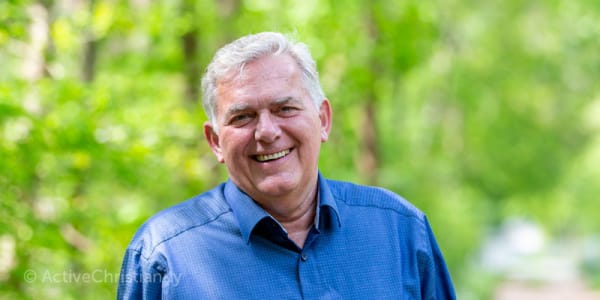 Holding on to God's word on the brink of death
Hospitalized with COVID-19, the Bible verses that kept coming to his mind were something for Hermen to hold on to.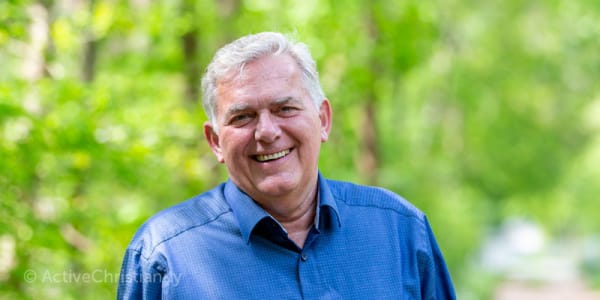 While hospitalized and isolated in the lung unit this spring, Hermen was so sick that he was barely conscious of being alive. The atmosphere in the department was frightening; patients started panicking because of the erratic and unpredictable course of the disease. In those difficult days and long, sleepless nights, Hermen clung to verses from God's word that came to mind.
"Today my wife and I went on a bike ride together so I could start regaining fitness," Hermen says enthusiastically when we greet each other in a video call. His voice sounds cheerful, and it's hard to imagine that he was on the brink of death just a few weeks ago. "God's grace is the recurring theme in my life," says Hermen. "I owe Him everything."
"God kept knocking on the door of my heart"
Hermen grew up with six sisters, and the Christian faith had a central place in the family. He has fond childhood memories and still remembers how vividly and enthusiastically his father told them Bible stories. But when he was an adolescent, Hermen went his own way, and his childhood faith faded into the background.
"It's pure grace that God kept knocking on the door of my heart," says Hermen emphatically. He was 18 years old when he went on a holiday to the South of France with a friend. It was not all what he had imagined, and Hermen returned home disillusioned. "From that moment on, God's Spirit started to speak to me powerfully; it was as if God grabbed me by the scruff of the neck and said: 'Hermen, what do you want with your life? I want to show you a completely different way!' By God's grace, I was able to repent at that time. I am convinced that I also owe that about-turn in my life to my parents' prayers."
Continue reading below ↓
Like what you're reading?
Desire for an upright Christian life
The newly converted Hermen felt a great need to delve into the Bible. He longed for the honest and upright Christian life that he read about there. Several times a week, Hermen held a prayer meeting with some friends, often in the forest, and they prayed to be filled with the Holy Spirit. "I read in John 3:8 that whoever is driven by the Holy Spirit is as flexible as the wind, and that was exactly how I wanted to live! As human beings we can be so narrow-minded and worry about useless forms and appearances. But when we are inspired by God's Spirit, we become pure and uncomplicated and we learn to be flexible. Then God can use us to live to the glory of His name."
Sharing the joy of the gospel
He wanted to share his joy in the gospel he was reading in the Bible with others. "I love people, and I also wanted others to experience the happiness that I had found through the gospel myself. The gospel can liberate people and give them hope and light! Spreading the gospel, the good news, is very close at hand, starting at home and with the people close to you."
But his love for people also brought Hermen across international borders. His first trips were to Eastern Europe, and later he also traveled to other continents such as South America and Asia. "If you have come into contact with people who long for inner peace and liberation, you feel compelled to visit them again to strengthen them," says Hermen, explaining his many journeys. He is moved when he talks about the friends he has made across the globe, about their steadfast faith, even in the years when communication was still very difficult due to their primitive living conditions.
Infected with the coronavirus
This spring, Hermen fell ill. At first it seemed like a minor flu, but soon the symptoms worsened: burning muscle pain, fever and increasing shortness of breath. In the end, an ambulance had to be called, and on the way to the hospital he was immediately put on a ventilator. His suspicions were confirmed by a test in the hospital: he had been infected with the coronavirus.
Hermen's condition deteriorated rapidly. Maximum oxygen delivery was not enough; he was still very short of breath. In the lung unit he received oxygen through an active respiratory mask. "A hood is fitted tightly around your head and the air is blown into you like a hurricane. It was no use trying to sleep. I had such difficulty breathing and felt so sick that I barely registered being alive. Afterwards I heard that all five lung lobes were inflamed, so they could hardly absorb oxygen."
"When panic threatened, I clung to Bible verses"
The atmosphere in the unit was oppressive. "I was in a ward with two other patients. Uncertainty and fear made people panic. Next to me was a man who was coughing really badly. During one of those nights, the coughing suddenly stopped. He died without his loved ones around him. That was also very difficult for the nursing staff."
In those difficult days and hours, when panic was sometimes very close, Hermen clung to Bible verses that came to mind. "The Bible is like a treasure trove, full of help. I won't list all the verses that have helped me because there are many. But one amazing verse in Psalm 119:143 often returned to my thoughts: 'Trouble and anguish have overtaken me, yet Your commandments are my delights.'
"As I lay there, I thought about the words in the Bible. For example, 'Be anxious for nothing …' (Philippians 4:6.) I repeated that over and over: 'Anxious for nothing!' I noticed that when such words came to mind, they helped me control my breathing. They gave me peace and became a source of joy, a delight, as it says in that verse in Psalms!"
Delve into God's word!
"You can imagine how grateful I was that I had read the Bible a lot when I was young, so that those words could come to my mind and help me! I would recommend that to every young person! When you are young, you have time. You may think, 'I still have years left,' and that is usually the case. But in this day and age, when there is so much digital information and entertainment on offer, you can easily let your time slip through your fingers.
"There is no better investment in your life than delving into God's word. Consciously take the time to do this, not just a cursory reading of the Bible, but thinking about what it means for you personally. Then those Bible verses come to your mind and become a help to you in all circumstances. By being occupied with God's word in this way, you get to know God yourself! That gives you a solid foundation in your life."
This post is also available in
Scripture taken from the New King James Version®, unless otherwise specified. Copyright © 1982 by Thomas Nelson. Used by permission. All rights reserved.